If you are looking for the cheapest domain name registration in UK for .com and .co.uk SeekaHost is the place for that.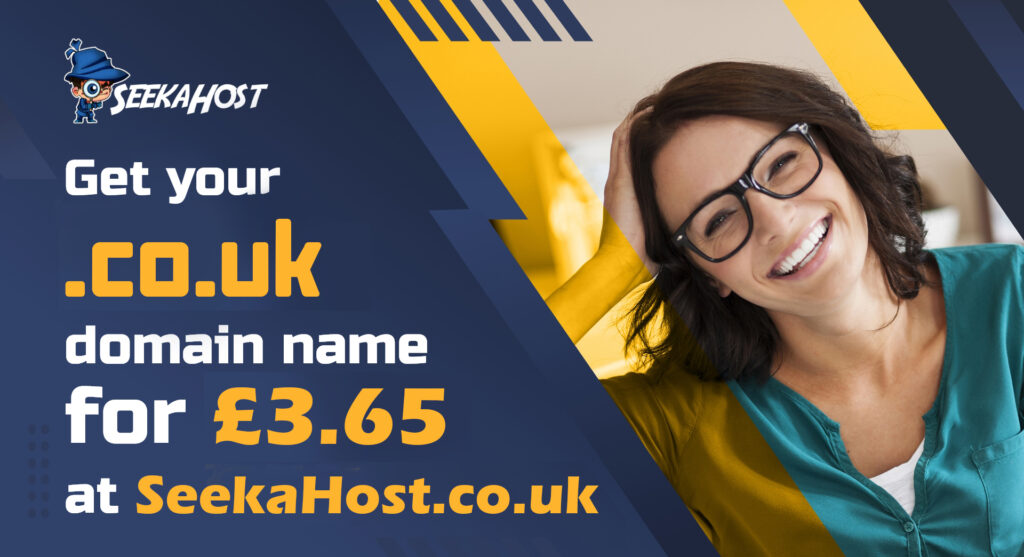 Let me start by telling you a little anecdote. One fine day I found a domain registrar offering .com and .co.uk domains for £0.99.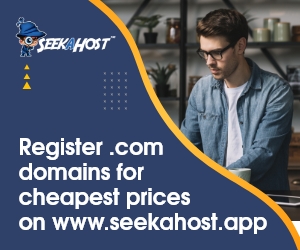 At first glance, I couldn't believe my eyes. Maybe it was £9.90 and my mind was playing tricks on me. So I checked it again. And the second time, I was 110% sure it read £0.99.
Now, I also own and manage a domain registration company. And my first question on seeing the rock bottom rate was: How are they meeting their costs?
Mind you, I am not talking about profits here. Covering the per domain cost is impossible for £0.99.
I was curious. I went ahead to the domain buying zone. Found a .com and a .co.uk domain, added them to my cart, and hit Proceed.
The big reveal now: £0.99 was the per month cost.
The annual cost was almost £12. Now that's not cheap, by any means.
I was furious now. Even though I didn't need a domain I was irked by the gimmick marketing strategy.
And that's what made me realize how many people really need cheap domain name registration options. The desperation forces people to fall into the trap of clickbait ads and promos. But when you see the final amount that you have to pay, it dampens the spirit and breaks your will to start a website.
As the commander of operations at SeekaHost.co.uk, I figured I might just be able to do something for you. Offer the cheapest possible domain name registration services.
So that's what I did. At SeekaHost, you can now get .com and .co.uk domains starting at £4.49 and £3.65 per annum. That's the annual cost. Moreover, for those who are interested in building websites for the long term, registering domains for 2 or 3 years is even more discounted.
Now, a lot of people ask me how SeekaHost offers such low-cost domain name registration.
Well, it is all about economies of scale.
Cheapest Domain Name Registration In UK for .com and .co.uk TLDs
At SeekaHost, we have several domains available. And these domains come with several different extensions. For individuals and businesses based in the UK, .com and .co.uk are the best options out of the lot.
Now coming to another scam – the renewal charge scam.
Picture this. A domain registrar offers you domain registration at £1.00 per annum. You are beyond pleased. You quickly grab your credit card, find your domain name and register it.
Cut to 365 days later, your credit card gets billed for £17. Now you are shocked. You check the details of your card bill and see it is the domain renewal charge. Now you are stuck with the cheating domain registrar for at least another year before you can transfer your domain. Not to mention transferring a domain name from one registrar to another would involve hassles.
The bottom line of the deal: you pay an average of £9 per year for the domain. And, you get stress, hassles, and broken trust as a free extra.
Don't want that, right?
When you buy from SeekaHost, there's no funny business.
Our renewal charges are mentioned upfront and they are roughly the same as your first year's charge. Transparency and trust, I have learned from practical experience, take you places. And I vow to continue that, today, tomorrow, and every day.
I don't mind paying extra for additional services with domain registration.
Many people have this mentality that when they are paying something extra, they are going to get additional services. But the higher cost is not associated with a higher level or more services.
How do I know that?
Well, because at SeekaHost I offer all the services you'd require with domain name registration for the cheapest possible price of £4.49 & £3.65 for .com and .co.uk domains.
Here's what you get, for free, when you register your domain with SeekaHost:
Domain forwarding
Privacy protection
Free email account
DNS management
Domain theft protection
Easy domain transfer anytime you want
Now, that's a full bundle of extra services, right?
And what do you pay for all this?
A total sum of £0.
But wait till you hear more.
SeekaHost also offers hosting services. And if you decide to host your website with us, you can claim your free first-year domain registration too.
Whether you have a WordPress website or multiple sites in your PBN, we have got special (and of course, affordable) hosting plans for you.
We have UK Minecraft server hosting too for the gaming geeks.
Want to manage the multi-IP address hosting for your PBN sites from one unified dashboard? We've got the SeekaHost app for you.
Want web hosting consultancy?
Website building guide?
Free SSL certificate?
Just head to the SeekaHost.co.uk  website. We've got you covered on all grounds.
Best Cheap Domain Name Registration In the UK
The discounted cheap domain name registration and hosting prices are waiting for you at SeekaHost.
Get your cheap .com or .co.uk hosting with a host of freebie services today.
Email any questions or queries that you may have or use the website live chat support to get in touch with me and my team.
Me and my team are on a mission to help 100 million people get online with a domain name and self-hosted website and share their message.