Is your ecommerce website getting boatloads of traffic but not enough conversions?
You're not alone.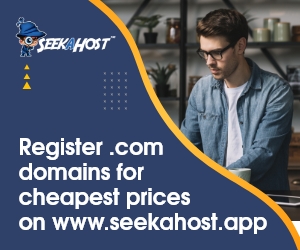 Getting visitors to your website is only half the battle. You need to be strategic with your marketing efforts to convince your visitors to buy.
The challenge is that marketing is a broad undertaking and covers everything—from lead generation strategies to creating compelling content that drives sales.
Fortunately, I got you covered.
Jumpstart your marketing efforts to convert your ecommerce website visitors into paying customers with the four tips below.
1. Create content that resonates with your prospects
First-time visitors are not likely to buy from your website immediately because they don't know or trust your brand yet.
To help you nurture trust with your prospects, you'll need to provide value—something that they can resonate with and address their pain points.
Create content that can solve your visitors' problems and evoke certain emotions to help compel them to act on your offers.
You can produce relevant blog posts, articles, videos, images, email newsletters, social media posts, and other content types.
It's an excellent way to build an emotional connection with your visitors while letting them know you understand their pain points and that your product or service can help resolve their problems.
Creating relevant and compelling content can take time and effort, but you can streamline the process with reliable tools.
For example, you can use the social media marketing platform Vista Social to map, organize, and schedule your content, such as your poll questions for IG.
You can create and edit your Facebook, Instagram, and other social media posts and set an auto-publish schedule at peak times and dates.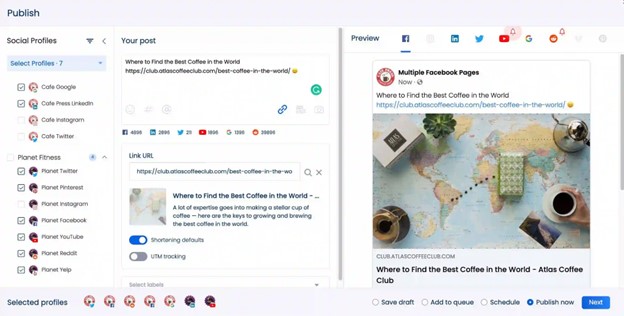 A robust social media marketing platform simplifies your content planning, production, scheduling, and distribution.
You can save time and energy and focus on creating compelling content for your social media pages and website and follow reliable content writing tips.
It can help drive visitors (who are likely interested in your products and services) from your social media channels to your website, boosting conversions and sales opportunities.
2. Make your offers highly visible
Entice your visitors into taking that final step into buying by displaying your sales, special offers, and value proposition prominently on your website. It's an excellent way to hook in your visitors and convince them to buy.
Showcase your site-wide offers through static banners to make them eye-catching to visitors.
For instance, if you provide Search Engine Optimization (SEO) services, you can display a static banner with a discount offer when customers buy SEO articles.
Besides making your offers highly visible, leverage scarcity to help speed up your audiences' purchasing decisions.
Showing scarcity on a specific item can indirectly add more value to it. Essentially, people are more likely to buy a "scarce" item for fear of missing out.
Some of the best ways to leverage the scarcity principle in your marketing efforts include the following:
Display your offers and discounts for a limited time to evoke a sense of urgency among your ecommerce website visitors.
Show the amount shoppers can save when buying your product for the specific promo period. Include a Call-to-Action (CTA) that encourages your visitors to buy before the savings expire.
Provide discounted or free shipping to customers who order during your specified promo period, event, or special occasion to entice your visitors to buy and not miss out on your special offer.
For instance, you can run a Father's Day special promo, such as the discount offers on the Sally Beauty website.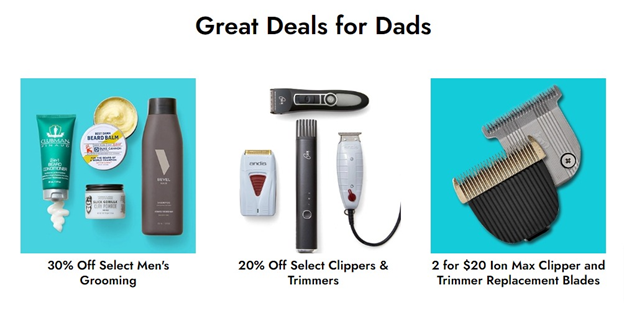 Leverage robust customer tracking software to determine which special offers your visitors are most likely to want or respond to.
You'll get insights into your customer preferences and needs, allowing you to tailor your offers to them. It can increase your chances of turning your passive visitors into paying customers.
3. Use a dedicated landing page
Website visitors generally want to know the benefit they can get the minute they land on your website—and a landing page is an excellent way to help you provide that "instant" value.
Design your landing page to feature elements that encourage visitors to sign up for offers, subscribe to your email list, join an event, buy your product, or avail of your services.
Learn from the following tips to create compelling landing pages.
Stick to a clean and simple design. Use a cohesive, simple design that can convey your product or offer's value to your visitors while staying true to your brand.
Avoid overly complicated designs that drown out your main message, defeating your landing page's purpose.
Include only necessary information. Keep the information in your landing page to the essentials and avoid overloading it with too many details.
Stick to the necessary information, such as your heading, main message, CTA, and other vital elements that help encourage your visitors to convert and buy.
Meal delivery service Freshly's landing page is a classic example.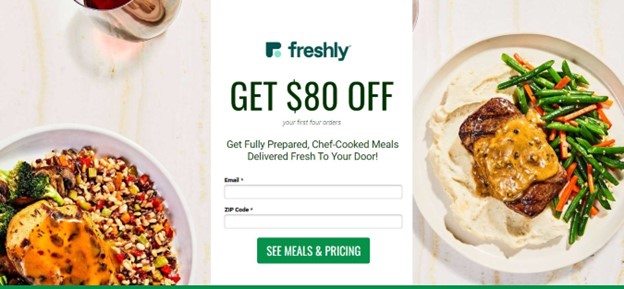 Highlight your offer's value. Ensure your landing page focuses on what your brand, services, and products can do for your website visitors.
Emphasize how your business can help your visitors. It can keep your prospects engaged, making them more likely to buy from you.
Being overly promotional can turn off your visitors, and you'll lose conversions and sales opportunities.
Place a CTA in the header. Consider using a CTA in your header to help capture your visitors' attention when they see your landing page. It can be a great way to draw them in, enticing them to act on your offer.
Create CTA headers that are eye-catching at first glance. You can use complementary colours that make your CTA pop against the background.
Test your landing pages and include them in your content tracking strategy to measure their performance and assess their effectiveness in getting your visitors to buy.
4. Share social proof and testimonials
New visitors are bound to be wary about your products and services since they don't know your business yet.
Your prospects need to trust your brand first before buying.
One way of building and nurturing that trust is to share positive reviews and testimonials from other customers.
Let your satisfied customers speak for your brand. It can help you establish your brand's credibility among your website visitors and, in turn, encourage them to buy.
Display ratings and reviews strategically on your ecommerce website, the way premium office furniture seller Branch did with their customer testimonials.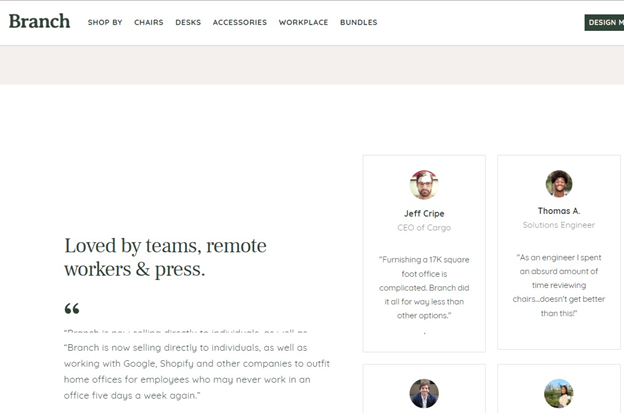 Reviews and testimonials can serve as social proof, boosting your business's credibility in your website visitors' eyes.
Affiliate marketing is another marketing tactic to help you foster trust and build solid relationships with your visitors.
It's an excellent strategy to get other people to market your business for you in exchange for a commission. Your affiliate marketers can be your website visitors and customers turned ambassadors.
Use top-notch affiliate marketing software to optimize and stay on top of your affiliate programs.
Boost your sales with strategic marketing
Converting your passive visitors into paying customers can require blood, sweat, and tears, but it's not impossible to succeed.
Learn from the time-tested tips in this guide, leverage the best-fitting tools, and develop a solid marketing strategy to turn your website traffic into sales.