How to rank for a keyword on Google: I'm going to rank again for SEO Consultant London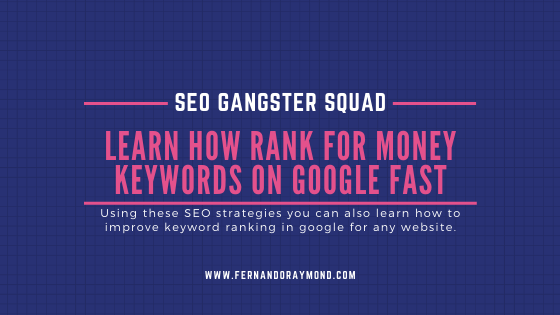 Many people ask me how to rank for a keyword on Google. And most of them want to know how to ranks for a high competitive keyword fast.
Learn how to rank for high competitive and increase Google ranking for free
When it comes to learning how to rank higher on Google, there are many ways and most importantly it should be a keyword that has a buyer value.
The primary goal to rank for a keyword on google is getting leads, sell products or at least build brand awareness.
In this post I will tell you how to rank for a keyword on google, with a case study I will be continuously updating as I go about ranking for the keyword "seo consultant london"
Using the SEO strategies you can also learn how to improve keyword ranking in google for any website.
Before going any further, if you are new to the SEO Rank & Bank games, learn how to rank for a specific keyword with these 32 Steps to Get Your Website to the Top of Google
Please read it so you can understand what I'm about to teach you.
And then read the 12 Step WordPress SEO Guide which will show you how to do SEO For New WordPress Website
If you are a blogger you may check this free blogging course I have put for you.
Now let's get to the strategy….
I ranked for SEO Consultant London back over 4 years ago and am still on the first page with the ClickDo SEO Consultant web page.
That ranking changed my life by helping ClickDo get hundreds of UK business clients to hire me and my team for local SEO services, on page SEO auditing and optimizing the site, guest posting services and buying backlinks daily on our ClickDo blogs.
Last month I've decided to put up another web page on SeekaHost UK for the keyword "seo consultant london" which you can see here https://www.seekahost.co.uk/london-seo-consultant/, which was written by one of our writers after getting my ideas for the content.
I could have made it better by not having london on the URL slug and ranked all over the UK, but I just want to rank in London and show my skills to other SEO consultants and of course create brand awareness for the SeekaHost.co.uk website.
As of now, today I have not done any links to https://www.seekahost.co.uk/london-seo-consultant/ and only wrote the content and did some on page SEO.
I'm also testing how such articles can go about ranking for such money terms and how long it will take to come to the first page.
There will be a lot of testing so if you are you in the SEO Consultants Facebook group, you can see how I go about ranking this website on the first page of Google.
I feel I will do many changes as I test the on-page and how the website reacts to backlinks.
As I said no backlinks yet and this ULR slug > https://www.seekahost.co.uk/london-seo-consultant/ above is the first link.
If you wish to learn how to rank local business websites on Google's first page you can learn it all at SeekaHost University.
I'm giving away the LOCAL SEO BLUEPRINT for free these days so email me to get free access and learn everything about local SEO services.
More to come as the ranks come.
Ask me any questions below on comments.