Best SEO Services project 2019: Climbing from below the 10th page to the 1st page on Google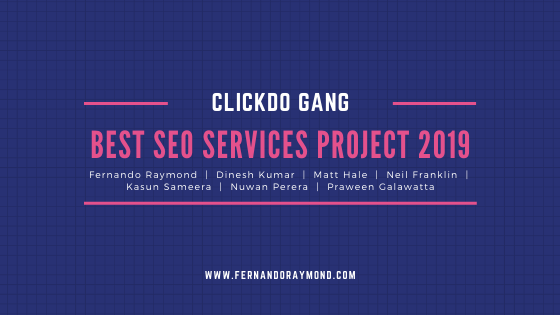 This year has been great so far for ClickDo when it comes to local SEO services project. 
A few months back the leading pest control company in London contacted us to buy backlinks for them. 
They found us on Google for the keyword "buy backlink packages" (we rank #1 on Google UK) and then inquired about our backlinking services. 
I observed Dinesh talking on the live chat support to them, so I asked him to get the person's name and number in order for me to give a call. During this call, I could spot the issues with the website. 
The on-page SEO was pretty bad and that's one main reason the site wasn't even amongst the top 10 pages on Google for the core keyword "pest control london". The domain name is an EMD (https://www.pestcontrolinlondon.co.uk/) but it still couldn't reach to at least the top 10 pages. So I told the website owner that the website first needs an on-page fix and then afterwards they can buy some guest posts on authority websites like the UK Business Blog. You can see a sample guest post https://business.clickdo.co.uk/start-pest-control-business-london/ and see how a reference link was given. That's just one example. I will let you see more guest posts we did later in this article. 
The Pest Exterminators agreed for us to do the On-page SEO, I personally worked on fixing on-page SEO issues and Matt gave great support in testing page after page for microelements and image fixing. 
After fixing the on-page SEO the website moved to the 8th page for "pest control london" and we did the UK business directory listings on the top 100 sites. That gave a massive boost and started to bring the websites further up on Google search results pages. 
The client placed some orders for guest posting services packages and Dinesh worked with our content writers to create business stories which got published on high-profile sites like BM Magazine, Talk Business and many other pest removals niche related websites. You can see this example https://www.bmmagazine.co.uk/business/pest-control-services-in-london-by-pest-exterminators/ so you can get an idea of how ClickDo guest posting services work.
Another example is https://www.talk-business.co.uk/2019/09/18/reasons-to-use-pest-control-services-in-london%ef%bb%bf/ which gave a greater boost for the domain authority.
Every site we used is high in domain authority and carries the greatest trust score on Google. 
Sites like BM magazine have their Wikipedia pages and guest blogs get indexed in less than 24 hours. 
I could share more and more, but you can see the backlinks if you know how to find the backlinks by using a software tool. 
What we learned by doing this SEO project?
How SEO works in 2019

On-Page SEO is vital for website SEO

Citations are a must to give the initial SEO boost

Guest posts must be published on authority sites

Importance of getting niche relevant backlinks 

Blogging helps the root domain
What's the goal now for Pest Exterminators SEO?
The goal is to rank #1 for "pest control in london" and "pest control london" and there's still some more hard work to be done. 
Bringing a site to the first page is a big deal as the best clicks that convert to business are found at the top 3 spots. 
SEO is a long term game and works well when done the right way. 
SEO is not something where a business owner can buy some backlinks for a month and expect big ranks. 
You must work with an SEO consultant or know how to buy backlinks in a strategic manner. 
When buying backlinks what to look at?
Website activity

Does the website get traffic?

Niche relevancy 

The anchors 

Verify the anchors to be safe and rank steady
When buying backlinks many business owners try to go for direct anchors thinking they can score fast by hitting hard with direct anchors. However, that's wrong and that does not work that way. 
Talk to Dinesh or one of our SEO experts who I've personally trained on SEO backlinks. 
You can call the SEO backlinks team hotline Link Building/PR: 020 8638 5857