What is SEO Consulting: 7 SEO Services You Need To Make Search Engine Traffic Explode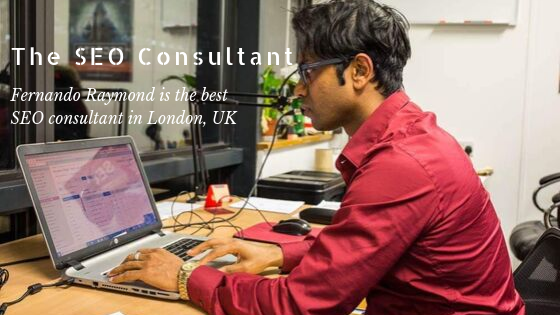 Looking to learn what is SEO Consulting?
Then you should read this guide, which was written by the best ever London SEO Consultant who will explain to you everything about what he knows and the 7 SEO Services you need to make your Search Engine Traffic explode.
Below is one of the first 10 SEO clients I worked with back in 2014 and managed to rank at the top of Google to get tons of organic search engine traffic to their business websites. It's one of the most competitive niches in the UK and ranking #1 for "orthodontist London" was a tough task, but remaining at #1 for the last 6 years was even tougher and I had to offer the best game. Manuela Willbold at my digital agency ClickDo Ltd. took over the project in 2018 where she nicely managed to increase the traffic through relevant blog posts targeting important keywords and search terms.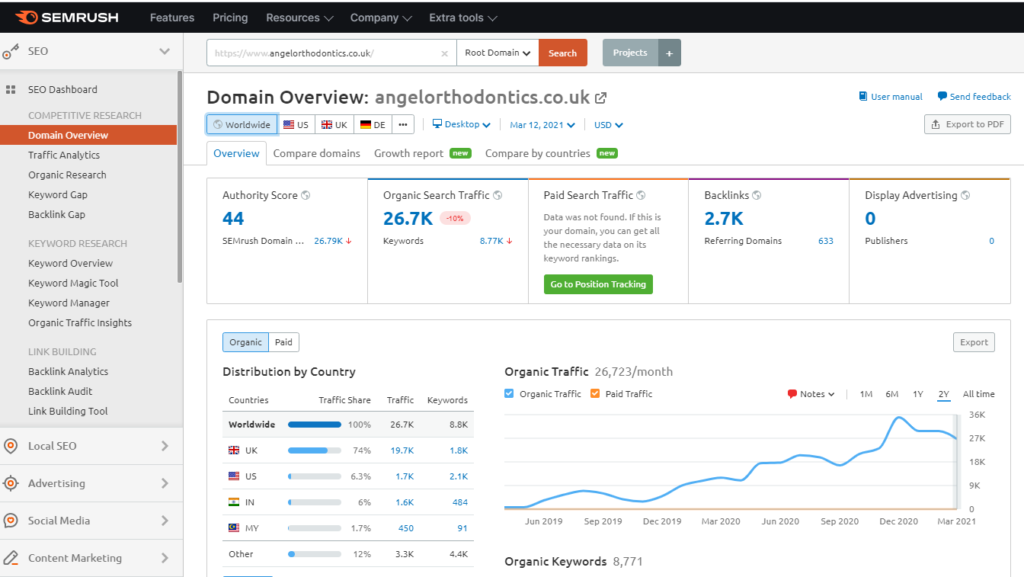 Below is the review by London's best Orthodontist (ranks #1 on Google as well for that same term):
Let me share with you another top-ranking website and review from one of my long-standing clients. Started with one of his sites years back and then ranked his second one as well on top of search engine. Aslam Saah at ClickDo manages this SEO project and has been doing great SEO work.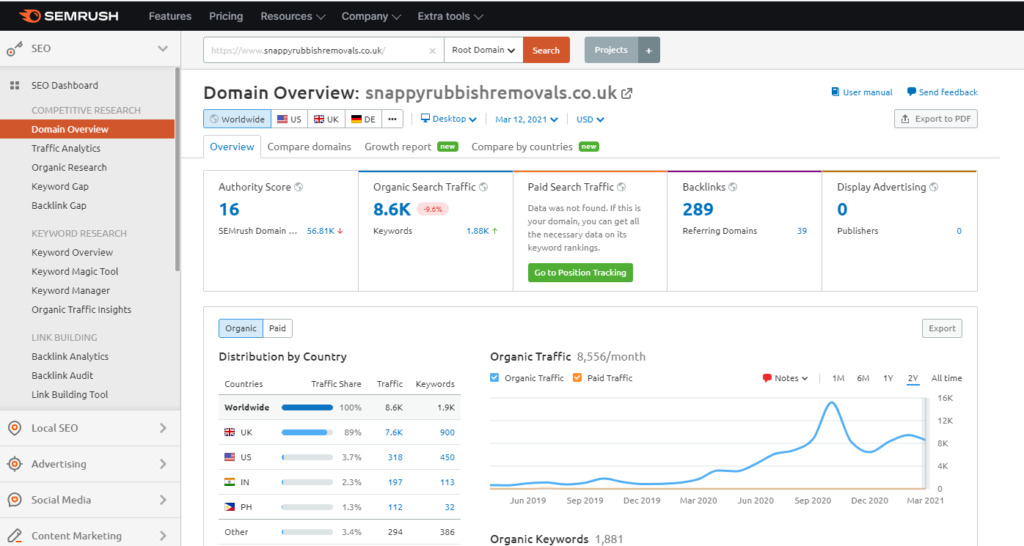 Let me share one more SEO case study that blew up with ClickDo SEO services with Dinesh Kumar managing the entire SEO project with me overlooking it for improvements.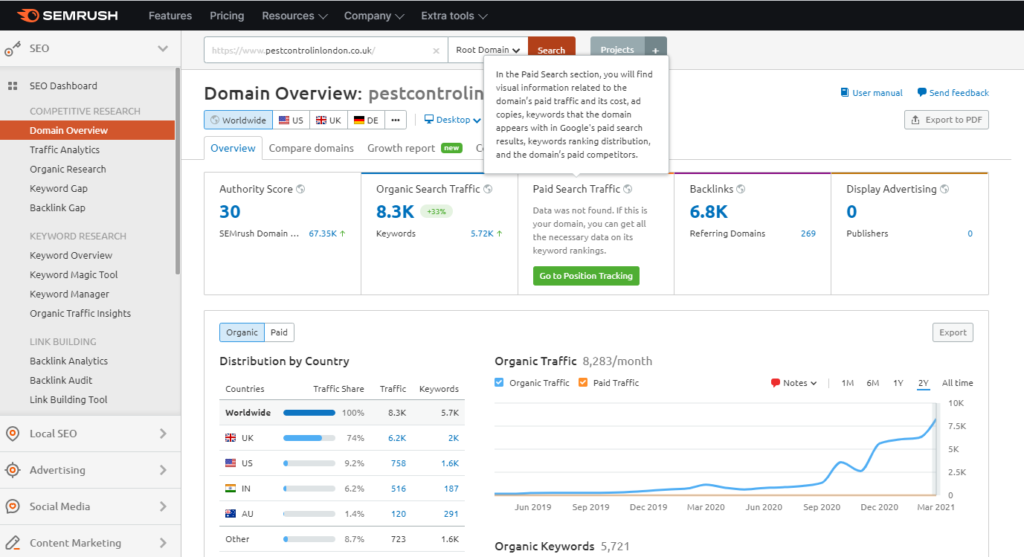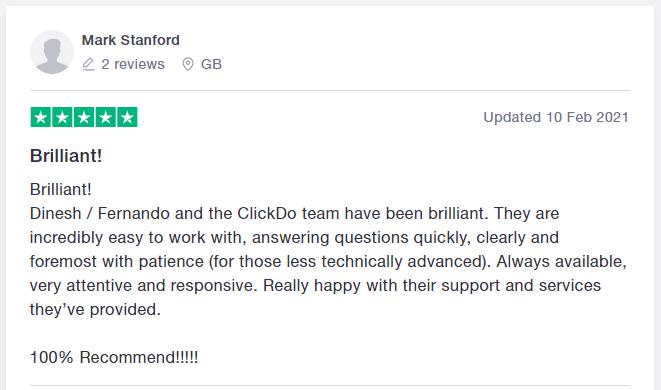 Do you want to always stay busy with customers and clients?
Do you want to be able to say that your calendar is full of client meetings and projects?
Do you want your website to be bustling with buyers?
Well, all that isn't possible overnight.
When you listen to the below review you will understand SEO does not deliver overnight success and peak ranks are only achieved after years of hard work. Dinesh Kumar VM manages the project currently and the client not only uses our SEO services but also Facebook ads and YouTube SEO as well to maximise search engine traffic.
No matter what "tried and tested trick" you use, leads don't generate themselves. You need to make efforts.
What efforts?
Traffic maximisation efforts.
Statistics suggest that only 2-4% of website traffic gets converted into customers.
So, to increase the leads, you first need to increase your website traffic. But that again isn't going to happen overnight.
But you won't get a good amount of website traffic unless your website ranks high in SERPs.
Don't expect prospective clients to jump to the second page or the third page to find your website.
Instead, you need to take your website to the top of the first Google search results page.
And that is possible with search engine optimisation.
No matter how big or small your business is, SEO can help you outrank your competitors.
You can start by first reading in detail about what SEO is and how it works. You can also check out my "How to rank higher on Google" Guide:
And then you can work on your website.
But it is no child's play. Search engine optimisation includes not one or two but seven sub-categories. And you need to make multiple efforts in all these categories to be able to succeed.
That sounds tough, doesn' it? Well, it is tough if you are doing it for the first time. After you have worked on dozens of websites and with multiple companies, things do start to fall in place.
I am not going to ask you to practice on ten or so dummy websites, though. Instead, you can depend on experts who already have the experience that you are looking for.
Now, there are three ways you can do that.
One, you can hire a search engine marketing firm. This gives you access to a team of experts specialising in different aspects of SEO. ClickDoTM is a UK-based agency that you can consider.
Two, you can get SEO consulting services. If you want an expert who can help strategize an SEO plan for your business, a consultant will be able to do it for you. Unlike search engine marketing firms, with consultants, you can be more involved in taking the required efforts for your business' SEO. If you want, I can be your man too.
Three, you can get expert-created courses to learn how to handle your SEO campaign yourself. SeekaHost University offers a range of courses that you can consider.
Today, we will be discussing the second option, which is getting SEO consulting services.
By the time you are done reading this, you'll know how and where to find the right expert. (And when you should not be going with SEO consulting services.)
So, let's dive right in.
What Services Should Your SEO Consultant Offer?
The only way you can find the right SEO consultant is by understanding if he/she can offer you all the services you need.
See, I am not saying that those who specialise in one aspect of SEO are any less of experts. If you have a limited budget or specific needs, you can take a look at the top 10 SEO services that are affordable options for small businesses.
But when you are looking for complete SEO solutions, you don't need the master of just one trade. (Don't go with the Jack of all trades, either!)
The perfect expert is the one who can aid you in all of these seven sub-categories of SEO.
1.   SEO Website Designing/Redesigning
If you do not have a website yet, it will be good if your SEO consultant can work in collaboration with your web developer. The site structure hugely impacts your search engine rankings. Google crawlers love a site that has a clean structure. And it is no surprise that your visitors will also prefer a streamlined structure. (As opposed to a messy navigation menu that doesn't take them to the right page)
In case you already have a website, good SEO consulting experts can redesign your website. Based on SEO principles. Redesigning your website with major and minor changes will make sure you get the best possible results without having to get a new website made.
2.   Website SEO Audit
Other than your website's structure, there are many small aspects of your website that the consultant should examine. It should include obvious aspects like the site's content and multimedia resources. And some not-so-obvious things like CTA buttons, canonical tags, meta tags, etc., should be audited too.
After a thorough full website audit, your SEO consulting partner will lay down all the problem areas. And the areas that can be improved upon. Unless your SEO consultant offers you a site audit, do not have him on board. Finding where you are right, and what needs to be corrected is the basis of any long-term strategy. If your SEO consultant tells you random things that he'll do without having thoroughly examined your website, it is time for you to RUN. Runaway from him and never return.
3.  Keyword Research and Planning
Like we discussed earlier, you need to be on page one of Google search results. But for what search queries?
If you exclusively sell women's clothing, ranking high on search terms like "high heels online" won't make sense. If that happens, you will get visitors who are looking for something you don't offer. This means no sales. And high bounce rates also send Google the signal that your website doesn't have relevant content. This means your rankings would soon go down.
Instead, you need to find out all the keywords that you need to rank for. And your SEO consultant should be able to offer you a list of different groups of keywords.
These keyword groups should include the following types of search terms:
High volume, high competition, short, and generic keywords. Ranking for such keywords would be a part of your long term strategy.
Continuing with the women's clothing store example, some keywords in this category would be – 'women's clothing,' 'women's clothing online,' shop women's clothing, buy women's clothing,' etc.
Keywords with medium search volume and competition – For these keywords, it is ideal to rank your category pages.
For example, for a search query for 'skirts online,' your skirts collection page should be ranking. You should not limit your efforts by trying to rank only your website's home page.
Long-tail, specific keywords – These keywords are relatively easy to rank and should be a part of your short term SEO goals.
Words like 'buy brown party dress online' or 'women's gowns for homecoming parties' should be targeted on the relevant pages.
Another possible group of keywords could be 'brand keywords.' These are search queries that include your brand name and have a high buying intent. The plan for these keywords should be ranking on the #1 spot.
Similarly, keywords with your competitor's brand name can also be targeted (Your SEO consultant should be able to proposition your website as the best possible alternative for your competitor's site.)
A good SEO consultant would offer you keyword groupings as well as the plan of action to rank for them.
You can see how I usually go about this in this video:
Not sure how your website can rank for multiple keywords at once? Here are a couple of quick tips and proven tactics that I use that will help you understand the process better.
4.   On-Site SEO Implementation
Once your plan of action is ready, your SEO consultant should be able to implement all the necessary changes on your website.
The changes should include but are not limited to:
Title and meta description
These appear in search results giving Google crawlers and visitors information about what content can be found on the webpage. The title and meta descriptions should be different for all pages.
Alt tags for all images
These tags tell Google's bots about the content of the image. And it helps your site rank in the image search for relevant queries.
Canonical tags
Google penalises contents that look similar. Canonical tags help the crawler understand that the pages are different versions of the same content, and thus, they should not be penalised in rankings.
In general, Google is likely to consider Home → Collection → X Product Page and Home → Sale → X Product Page as copied content. Thus, penalising both. Canonical tags help prevent such a situation.
Internal linking
Internal linking means using hyperlinks in your website content. This helps users easily navigate from one page to another on the same site.
Robots.txt file
It is a file that crawlers use to understand what pages to index and which ones to leave.
Like you might not want a specific landing page for a campaign to show up in search results.
Sitemaps 
The .html sitemap can be used by your site's visitors to jump to the desired page. The .xml sitemap is for Google crawlers to understand your site's navigation structure.
And the URL list (also sometimes called the text sitemap) is for Yahoo! crawlers.
Google Search Console and Google Analytics
These are analytics tools used to measure and monitor the traffic on your website.
Schema Markup
It is a small code placed inside the site's HTML code that informs Google what type of page it is, product page, service page, etc.
There can be many other SEO implementations that could be done depending on your particular website and its needs. But these eight are the must-use ones. No SEO consultant should skip these.
5.   Content Generation (Including PR Campaigns)
Content is at the crux of SEO. Without the right content, your website cannot rank among the top 10. And in the absence of quality content, even if you get visitors, they won't convert. Thus, defeating the main motto of SEO.
Your SEO consultant should be able to offer you content generation services too. (The consultant might outsource it to content writing specialists, though.)
The type of content that your SEO consulting service provider should be able to offer include:
Content for the website (All the different pages on your site). If your website is already populated with content, the consultant should optimise that content for SEO.
Blog content that can help build a dedicated readership.
PR content that can be used to promote your business online. You can also learn more about the best online press release services here.
Guest posting on high authority sites to drive traffic from there.
You can see in our Orthodontist case study how much organic traffic was directed to the client's website through very strategically written blog posts that focused on search terms and key questions people added in their searches regarding orthodontist services like "how much does invisalign cost":

Within 6 months the website saw an increase of unique page views by nearly 200% adding thousands of more visitors per month. This clearly shows the power of SEO copywriting, informative and well written blog content and professional guest posting, which is another key element for ranking for the targeted keywords. Manuela Willbold, who was in charge for the content creation and marketing for this client shares her strategies in this article.
6.   Link Building Solutions
Backlinks are among the most important aspects of search engine optimisation.
Before getting started, the consultant should audit your backlink profile. This helps identify the direction in which efforts need to be taken.
In simple terms, Google gives more rank priority to websites or web pages that have a lot of other sites pointing to them (in the form of hyperlinked text). If your website/webpage gets links from several other websites/webpages, Google will reward you with higher rankings.
Some of the ways in which SEO consulting service providers should carry out link building efforts include:
Get directory listings (This serves the dual purpose of getting quality leads as well). You can also check out the top 100 business listing sites in India. I have carefully curated this list to aid my reader's backlinking efforts. And all the mentioned sites accept small business listings too.
Getting hyperlinks from other businesses. Your partners could mention your business name, or your clients could acknowledge your services on their website.
Guest posting on high authority websites.
You can also refer to this informative content that I wrote earlier and learn about backlink creation best practices in 2021.
However, make sure that if an SEO consultant asks you to get backlinks from pornographic or gambling-related sites, it will do you no good. These backlinks have a negative effect on your rankings. Also, note that your backlink profile should be diverse and not just have links from one or two sites.
There are different ways in which you can get backlinks and often it takes good research into influencers and publications in your niche. You see, I want to build my name as a brand to be recognised as a digital entrepreneur. So I had articles published about my personal and professional success story on high profile publications in my niche as you can see here:
Fernando Raymond Builds 2 successful Internet Businesses with Self Taught SEO Skills
Young Sri Lankan McDonalds Jobber turns Digital Entrepreneur with 2 Online Businesses
Such publications, guest posts and posts on PBNs for example can all boost the ranks of your website and you can see how I have managed to increase the traffic to this very blog over the months by doing exactly that: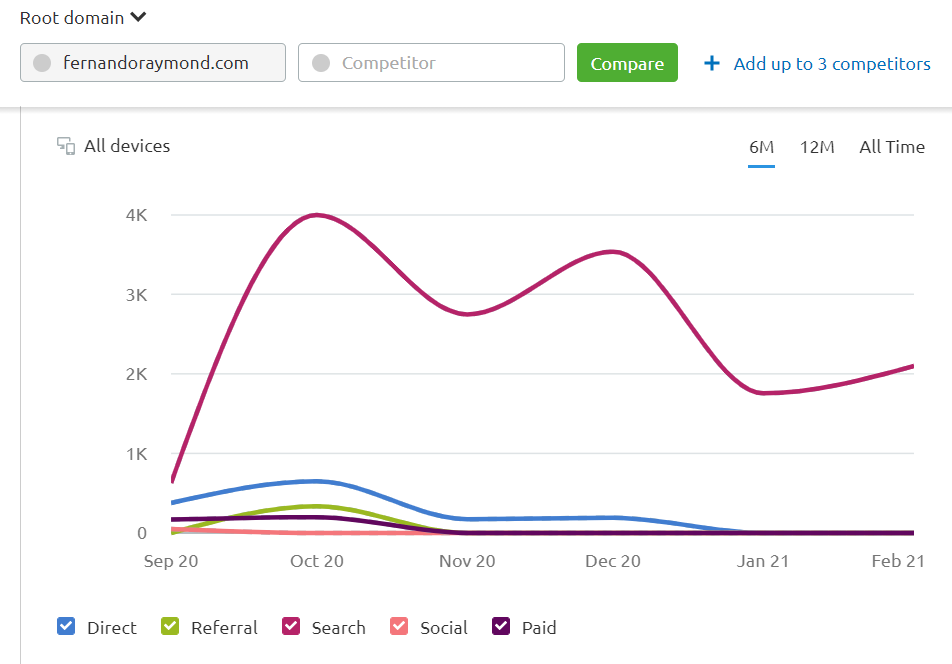 As this graph shows most of my visitors come from organic searches on search engines and it also shows how often ranks fluctuate so it is vital to continue to add new content, get more backlinks for content and maintain the ranks, if you want to increase the traffic over time.
7.   Monthly Reporting
You should get a monthly report of what efforts were taken and what results were achieved. If your SEO consultant does not promise to give you a detailed and understandable report of his efforts for your business, it is obvious that the consulting service provider is not working in your best interest.
As an SEO consultant myself, I offer services in all these sub-categories. And if you have some other specific needs, I can also custom-create an SEO plan for your business.
Situations When You Should Not Hire A Consultant?
Hiring an SEO consultant is a great option. In most cases. Not all.
If you get SEO consulting services in the wrong situations, it will cause your business more harm than good.
So, here are the situations when you DO NOT need an SEO consultant. (And also what you need instead.)
When you need SEO services from scratch, i.e., if you don't even have a website or if you have one, and it doesn't rank even in the top 100 search results. In such situations, you need a search engine marketing firm. The firm will help you create an SEO strategy from ground zero.
When you have an extremely small business. Or just a personal website. In such situations, hiring a consultant will cost you much more than your budget. Instead, you can go DIY. But don't just trust the tips and hacks you find online.
You can make use of this local SEO blueprint that I have created. Or get yourself enrolled in SeekaHost university's SEO training course.
In all other situations, hiring an SEO consultant is an important step towards digital success.
Getting Started With SEO Consulting Services
SEO is an undeniably important factor in business success but also for anyone looking to build, grow and monetise a blog or website. With SEO, you can boost website traffic and consequently get more leads and sales.
Hire a consultant right now or get in touch with me to know what I can do for you.