WordPress Vs Weebly Vs Wix Vs Squarespace – 2019 Comparison Review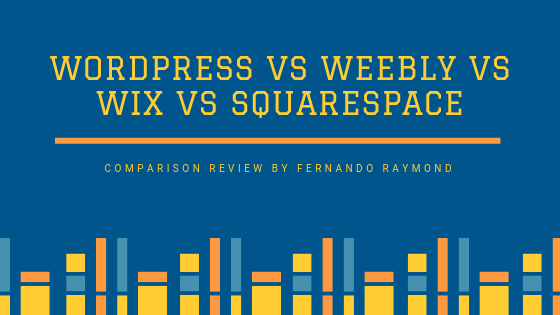 Everyone needs to create a website. Whatever your passion, interests or business; a website comes in handy for anyone who wants to share what they do with the world.
Coding a website takes special skills that involve knowledge of HTML, CSS, and JavaScript. Instead of taking months learning how to code, you can now use a website builder to set up your own website easier.
But the question is are you after easy solutions or are you the kind of person who will build your websites with these 7 steps? – If the answer is YES, skip and jump to this page
However, if you still want to know some popular options here are 4 of the most popular web builders today;
1. SquareSpace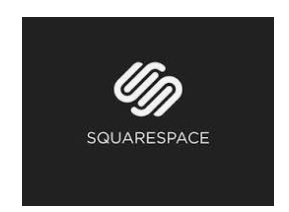 SquareSpace has eCommerce features, iOS and Android apps, an integrated donation feature and a music player. All templates are designed for high resolution devices.
One advantage of using Square Space is that all templates are mobile device ready. Each user interface for members has a specifically designed interface making it pretty easy to use.
The one disadvantage is that there are not too many UI options, however, each option is well designed and is of the highest quality.
SquareSpace uses the content block system which is used for adding elements. It also has many predesigned blocks such as the menu options, page designs, and add-ons.
It has an easy billing system where you can either pay month to month or pay yearly.
The service takes privacy security seriously and they don't release any of users' personal information or share site data to 3rd party companies.
Each package comes with a free custom domain and is free of ads.
There are free SSL security and no matter which plan you choose; you get e-commerce and 24/7 tech support. You can also opt for online floor plans that range from $26-$48 dollars a month that gives you extra e-commerce features for users who are more business-oriented.
Pricing
There are no free plans, however, users can opt for a free trial which, upon expiry reverts by default to the lowest pricing package.
You can get monthly pages from $12- $26 a month. For $12 you get 20-page galleries and blogs with unlimited bandwidth and storage. For $26, you get unlimited pages, unlimited bandwidth, and storage.
2. Wix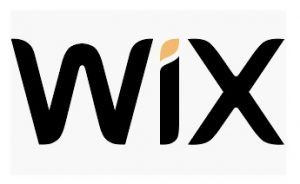 Wix is by far most people's favorite website builder. Its features include blogging systems, iOS, and Android apps, e-commerce system and is built for higher resolution devices.
They have a newsletter, a membership system and has one of the best starts from scratch systems to date.
Pros
With so many designs and templates to choose from, it makes it one of the most popular sites. Because it has all of the features needed to design a website, it is flexible and easy to design a website to suit anyone's interest.
Added Features
It has an integrated animation feature which makes one's website pop. It also has hundreds of apps to choose from.
Cons
If you are choosing Wix, you must be sure to choose a template you really like. This is because once you pick a template, you cannot change the template later or mid-design. You will need to start all over again with a new template.
Wix doesn't offer a source code option.
Since there are so many templates to choose from, it can be a challenge for novice users to get accustomed to building their website.
Another challenge could be the designs. As nice as they are, might not seem as professional looking as other competitive website builders.
Pricing
They offer a free plan and a premium plan that ranges from $5 – 30 dollars in a month.
You get from 1GB to unlimited bandwidth and you can get from 500MB to 20GB storage. You get a free domain on all but the lowest plans and there are no ads except on the packages on lower-tier plans.
Additional features include e-commerce and 24/7 technical support.
Wix SEO
SEO is important because it helps increase traffic to your website, ensures users are better engaged and you get long term results with the right team sorting out SEO for you. The advantage of Wix is that it offers tools and solutions for anyone who wants a functional website that focuses on its users.
Wix has a key SEO feature called Wix SEO Wiz. It is a great feature that helps search engines discover your website.
So how do you improve your SEO on Wix?
The advantage of using Wix is that the SEO function is built-in already and helps you focus on your main role; creating content for your website.
There is no coding needed and you don't need to learn any coding language to make SEO work for you.
There is no need for additional widgets or plugins since all functionality is already part of the Wix SEO dashboard.
All Wix websites are integrated into Google Search and Google Analytics. Both features are important SEO tools.
So how to you do you improve SEO on Wix?
Here are a few tips on how to improve your SEO on Wix;
Get it right from the start – Wix ensures you get a good start on SEO by getting the basics right. It has the tools to ensure your site talks to search engines effectively. This gives you good ranking and consistency which helps you with your long-term strategy of a higher ranking in the future.
Use all Wix SEO functionalities – you get to customize your SEO plan by answering a few short questions. It is a simple yet effective way of getting the right SEO plan for you.
The mobile device enabled – one of the key features search engines consider is whether a site is mobile friendly and Wix offers this in their website templates.
Make full use of your meta description which is 160 characters for websites and 130 for mobiles.
Wix is a great choice but SEO is tough and one of the ways to ease your trouble is to let ClickDo guys do that. Go to https://www.clickdo.co.uk/wix-seo/  and let ClickDo take all the hassle away from figuring out how to make SEO work for you.
3. Weebly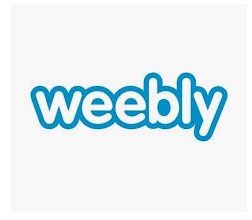 Some of the features on Weebly include an integrated blog system, e-commerce, iOS, and Android apps and a weekly Weebly blog called Promote.
It also has a membership system, it is multi-lingual, and it has the option to put a donations option on your site. It also comes with a basic integrated audio player.
Pros
Weebly has a wide range of great templates and great designs to choose from.
Many of the new templates come with the ability to work flawlessly on mobile devices.
It has one of the easiest user interfaces out of all the website builders available today
What makes the interface easy to use is that it uses a drag and drop system that is extremely responsive. While designing, it gives you options to move windows right off the dashboard while editing making it easy to design and see changes as you go.
There are a lot of customizable options such as adjusting longitude and latitude on your maps, adjusting colors, images and adding whatever type of medium you want.
It also has an app store unlike many other popular builders out there.
Unfortunately, there is no 'start from scratch' option and there are no options for custom coding.
Pricing
There is a free plan which offers 500MB storage. It has unlimited bandwidth for whatever plan you choose. The premium plans start from $8 -$54 per month and you get a free domain with an annual purchase. There is unlimited storage for all premium plans and there are no ads except for the free plans.
Weebly offers e-commerce and 24/7 technical support.
Click here to see the Weebly Review to learn more about Weebly.
4. WordPress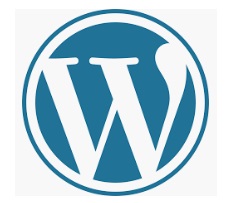 WordPress has been around since 2005 and it is one of the most popular website builders to date. It started out as a blogging builder but it has now evolved into much more It has an integrated blogging system and has the best blogging system to date. It also has e-commerce, iOS, and Android apps and a membership system. WordPress is Open Source and has a huge library of open source-related materials and developers.
It has many extensions and add-ons to choose from and it is multilingual.
There are a lot of custom coding options which you can use if you have coding skills in web development. WordPress is also easy to use and updating your content is easy. You won't have to struggle to use it. It offers system user integration and is still of the best blogging systems to date.
Cons
Some of the cons of WordPress is it has out of date and broken add-ons and extensions.
You also must add all the add-ons individually when it comes to building your website. This makes it quite complicated for novice users.
Cost
When it comes to pricing, without keeping in mind hosting and storage, the cost of designing your site on WordPress is absolutely free.
There is a free plan and WordPress offers from 3GB to unlimited storage depending on the tier you choose. Premium plans range from $2 – $25 dollars a month with more options.
For more about WordPress sites, you can visit this WordPress review to learn more.
Summary
WordPress is one of the most popular website builders and that's why there are thousands of users who have chosen WordPress as their website builder of choice.
If you wish to create a website that will rank higher on Google, you should get your website built on WordPress.
For all more on how to make the most of your website, visit https://wpsupport.clickdo.co.uk/custom-wordpress-development/to take your website and business to the next level.