How to Collaborate with me (Collaboration for brand exposure and content marketing)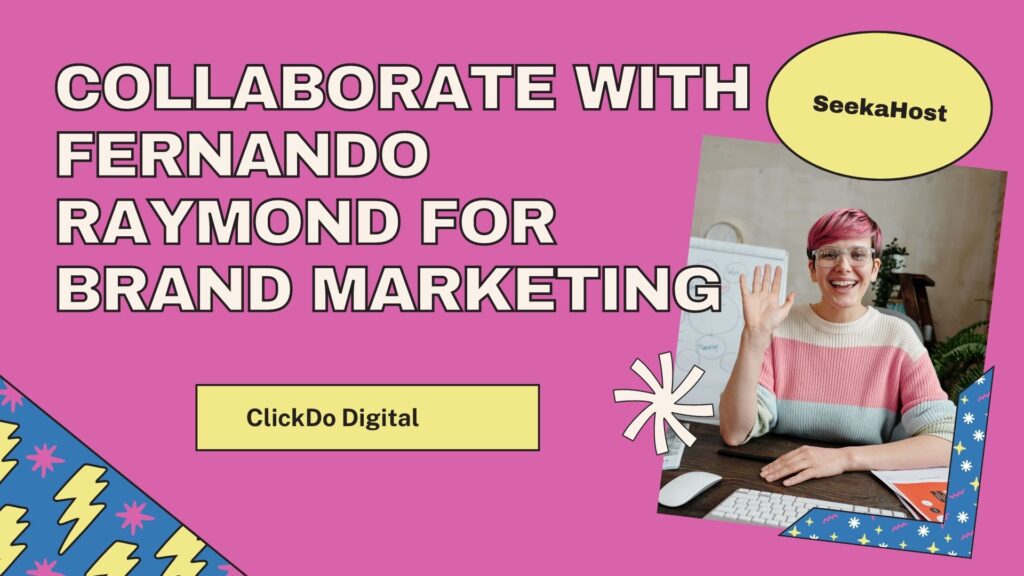 Looking for collaborations and getting your brand exposure done right by an SEO expert?
Then read this information about how you can get your brand in front of thousands of potential buyers and build a compelling brand name.
As a digital entrepreneur and SEO consultant, I am always open to professional collaborations that will add value to my community as well as others.
In the past, I have worked with other SEO experts and have shared my expertise at SEO workshops, webinars and online discussions or expert rounds.
https://university.seekahost.com/seo-international-webinar/
I am open to being booked as a guest speaker and am available for interviews:
https://techround.co.uk/tech/fernando-raymond-ceo-of-seekahost-and-clickdo/
Through my digital marketing agency ClickDo Ltd. I can offer my support to business owners and freelancers with content marketing. In my personal experience of over 8 years in the online marketing and SEO business, it is one of the best ways to facilitate a website's SEO and increase the ranks.
It also significantly boosts a brand's reputation and online visibility. You can contact me with regards to content marketing opportunities and I can make suitable recommendations according to your requirements as ClickDo oversees hundreds of high-quality websites and blogs that you can write for, become an expert author with and get published on.
I can also offer consultation for any PR and press related enquiries as I have been published in various high-profile magazines and publications and know what they are looking for:
https://www.entrepreneur.com/author/fernando-raymond
https://www.readersdigest.co.uk/inspire/down-to-business/from-tropical-beach-to-concrete-jungle-sri-lankan-entrepreneur-in-london-offers-the-best-wordpress-hosting-control-panel-to-support-bloggers
As you can see clickdo.co.uk is rapidly growing and one of
Together with my ClickDo team we have built and grown the best digital marketing blogs and business services and news platforms where we also offer press release publications and interviews. See some examples here:
https://www.londonbusinessnews.com/searchscene-founder-interview/
https://news.clickdo.co.uk/carwow-acquires-wizzle-for-better-online-car-buying-and-selling/
You can contact me for contenting or business marketing opportunities, and I can also consult you about ways to get your articles published with perfectly done SEO to ensure your content ranks.
My team can publish a business story about your company or venture, even if it's still a start-up, on niche relevant publications for better brand exposure.
Simply get in touch with me about any questions or queries with regards to possible collaboration ideas and suggestions and I will be happy to discuss these with you.