How to Learn Digital Marketing at Home in India for Free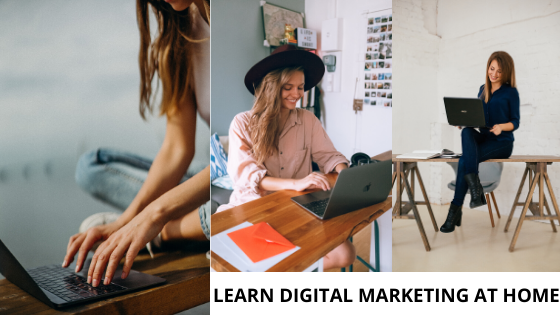 Do you want to know how to learn digital marketing at home in India for free? – Then let me show you everything you must know to become a digital marketing expert!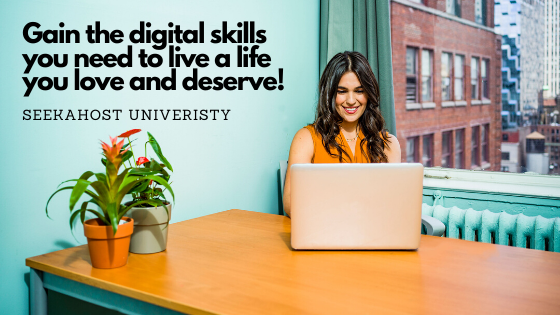 You have chosen to start a new online business in India from home. Perhaps you aim to be a renowned blogger by learning how to start blogging in India or sell Kindle ebooks on Amazon and earn something extra. Maybe you are ambitious and set your eyes on becoming a reputed graphic designer.
Read: 10 Steps: How to self-publish a book and become an author with books on Amazon
Great, but how do you get news of your skills out there? How do you get new clients or drive up traffic to your blog? The old fashioned way of newspaper classifieds does not work anymore.
The ultimate goal is to be able to find a digital marketing career path or become a digital nomad and work like many other people who makes money online in India doing what they enjoy.
You need to know digital marketing to promote your work and propel your new career to lofty heights. In fact, a career in digital marketing is among the most lucrative income opportunities in India, particularly for web-savvy and enterprising people. 
What is Digital Marketing?
The traditional avenues of marketing – newspapers, television, radio, and billboards are expensive and too general. They are unable to target themselves to a particular demographic by age, gender, education, location, interests.
That is why the RoI on them is abysmal. Digital marketing is the new way of getting publicity. It consists of using digital channels to broadcast the efficacy of your online business.
The main branches of digital marketing are –
Search Engine Optimization (SEO)

Social Media Marketing (SMM)

Search Engine Marketing (SEM)

Email Marketing

Affiliate Marketing
Let us take a look at these. If you want to learn about the subject in detail, there are several fantastic online courses, such as that offered by SeekaHost University.
Once you become proficient in any of these digital marketing strategies, you can:
Start freelancing and earning by the hour by selling your service

Get a job at a digital marketing agency

Build your own agency business around your specialization

Become a tutor

Use your knowledge to market and promote any of your own businesses
Here's a quick intro to the key digital marketing skills you can learn on your own by self-tutoring and experimentation online. 
Become An Search Engine Optimization (SEO) Expert
How does one get a website to rank up there on page one of Google? The answer is through Search Engine Optimization or SEO.
There are two types of SEO that you can learn. 
On-Page SEO
This refers to all the steps you can take inside the website and improve it to rank higher in search engine results.
Meta Tags – Meta tags are HTML snippets that tell the search engine what the page is about. It also explains the search engine when the page was last updated.

HTML Optimization – Every website is composed of invisible lines of coding in HTML language. 

Keywords – Keywords are common search strings employed by search engine users to find a website, such as – best pizza in Mumbai.
Off-Page SEO
The task of SEO does not stop inside the boundaries of a website. There is no way for Google or any other search engine to understand how good a website's content really is. That is why they depend on an ingenious device known as backlinks. Simply put, they refer to the number of times your URL has been quoted by other sites.
If these sites are reputed and quote a site, then the quoted site must be reputed too. The process is known as backlinking. The best way to build backlinks is through guest posts and writing quality content that is picked up by others.  
A comprehensive SEO training course to understand basics of on-page and off-page SEO, and to run your pilot project (ideally, for your own website), is the perfect launchpad for what could be a lucrative career for you in SEO. Read more about my SEO journey here.
Learn About Search Engine Marketing (SEM)
When your online business has just started, there is no way for you to rank high on a search engine. You do not have the reputation or backlinks to justify a high rank.
There has to be some way to get traffic to your account initially, and usually, the chosen method is Search Engine Marketing (SEM). These are paid advertisements on top and side of search pages that are marked as "sponsored."
You have to bid on keywords for which your web property would show up. Google PPC is the most sophisticated mechanism that offers excellent web traffic. Learn SEM to understand how brands budget their ad-spends over different ads, and you can then sell your service as a freelancer SEM expert. 
Dip Your Toes In the Waters of Social Media Marketing (SMM)
If you have been using Facebook to keep in touch with your friends, you know that social media is an ideal way to reach out to new customers.
Facebook, Instagram, Snapchat, Twitter, and LinkedIn have changed the way we can interact with customers. All of them provide directed advertisements that are shown only to a few based on their demographics.
It is very similar to SEM. Social media marketing is reasonably cheap, accurate, and swift. It takes little time to create a campaign and start marketing your products. Every social media platform gives you detailed feedback about conversions, and you can measure how your investments are paying off.
If you can demonstrate your caliber by helping brands optimize their social media ad campaigns, you can earn handsome amounts for your services. 
Learn The Best Practices of Email Marketing 
This is a tried and tested way and has existed for as long as emails have been around. You have to create an email list. The easiest way is to provide some type of free online course or discount if the visitor would provide their email address.
When you launch new products, it is easy to send emails to those on the list. Using email marketing tools such as MailChimp or Constant Contact, you could send personalized emails to everyone.
Make sure that the subject line is catchy and make the email brief – no more than 100-200 words. Just describe what you wish to promote – a new service or product range and urge them to visit your website through an embedded link.
Email marketing is among the hottest freelance services, attracting massive bids on competitive freelancer marketplaces. 
Try Your Hand At Affiliate Marketing 
Think of affiliates as digital salespersons. They recommend you on their site and provide a link to your website. If someone visits you via their link and buys from you, the affiliate earns a commission. Simply put, they sent you customers, and you gave them a share of your profits.
Since you are working with another person(s), there usually has to be a contract. You, as the advertiser, determine the percentage and the exact conditions under which you would pay. Both of you would have to agree to use a software plugin such as AffTrack or HitPath.
Next…
Digital marketing is dynamic. It is changing every year, and as more and more customers are buying online, it has become of utmost importance.
There are several courses available online such as at SeekaHost University, that make it simple and easy to understand for laypersons.
Read: