What's Limiting Sri Lankan's Make Money Online & Support The Economy?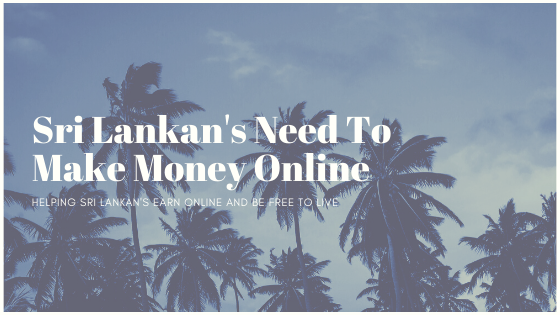 I'm in Sri Lanka these days and I'm digging deep about how can Sri Lankan's make money online.
Yesterday I wrote Ways to earn money online in Sri Lanka 2020
You can read that article first so you know how you can earn money online in Sri Lanka!
I've been travelling to Sri Lanka every year a few times since I become a full-time digital nomad
Becoming a digital nomad was the best thing I did!
I could become a digital nomad because of the skills I acquired and I believe anyone can do it if they want this lifestyle.
In this short post, I want to share with you what's limiting the Sri Lankan's make more money online.
After reading this do not let the limitations take over.
Take action and sort things out or move out!
What's Limiting Sri Lankan's from Making Money Online?
Slow Internet is a huge issue.
What can be done about the slow Intenet?
Get 4G Dialog line but even that's quite slow. Honestly, under 10Mbps, it's pretty slow and I can not even properly send an email from my Outlook. Takes time and crashes more.
Guys at Dialog should look into this and sort this off.
It's 4G so it should be at least 20Mbps plus or more.
Best if you can get the SLT Fibre line which is pretty fast and gives you a good speed. But the prices can be more flexible for students and people from rural areas needs more connectivity.
Internet is the lifeblood of earning online by working over the internet from home.
So many people have started to read the guide I wrote about ways to earn online working from home.
I'm thinking about how to make a movement in Sri Lanka and I feel the government will do something about this.
I have an office in India, Coimbatore and the internet is very good and overall in India landlines are very good. And that's one main reason I employ more people in India and we have server support running well from India.
I have a plan to set up a SeekaHost office in Katuneriya and for that, I'm seeking for the best internet. SLT Fibre is on my mind as of now and it should be good to see it expands all over the country.
What's next?
Payment methods.
Sri Lankan's need PayPal to get paid from sites like UpWork, People Per Hour, Fiverr faster.
The Government or someone should take initiative and try to get PayPal payment solutions to Sri Lanka.
If you are working for an overseas country right now, use Payoneer.
---
Those are the main limitations for people in Sri Lanka to join the make money online working from home movement.
It's fun to work from home over the internet and earn money online!