Top 35 Online Jobs in Sri Lanka to Work from Home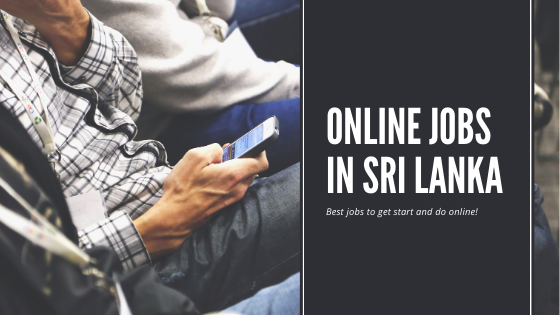 The internet has opened the world to job opportunities that never seemed a reality some years back. Most people and companies are embracing the work from home due to the cost-effectiveness and convenience.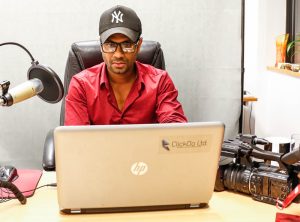 I'm making money online working from home right now from my brothers Colombo house.
I write about how to make money online in Sri Lanka and in that guide I shared the 7 core ways to earn online.
But in this article, I will show you 35 online jobs you can do from anywhere in Sri Lanka.
[Tweet "Here is all you need to know about online jobs in Sri Lanka that you can work from home or anywhere in Sri Lanka."]
Are Online Jobs in Sri Lanka Real?
Being a new concept, most people are torn about the validity of online jobs. Online jobs are real, and it is possible making a living working from home.
Still, some scams ask for money for work that you must be wary of.
Now that you have established online jobs are required real, here are valuable information to note;
Online work is not a get rich quick scheme. Developing and perfecting skills take time. You must also work hard and stay committed like any other job.
High quality work is non-negotiable.
Requirements to Start Online Jobs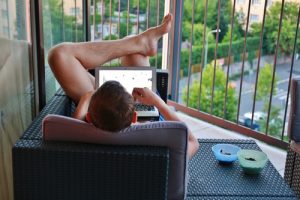 Now that you know it is possible to earn and make a living online, here are the must-have essentials:
Reliable Internet Connection – the internet is the main aspect when it comes to online work. A stable connection enhances research and communication.
Skills – like any regular job, you must have the requisite skills to deliver in online jobs. The more skills you have, the more opportunities.
Clients – the internet connection and skills won't amount to anything without the client. Polish your client-seeking abilities as you grow in the industry.
Top 35 Online Jobs to Earn from Home
Starting a Website or Blog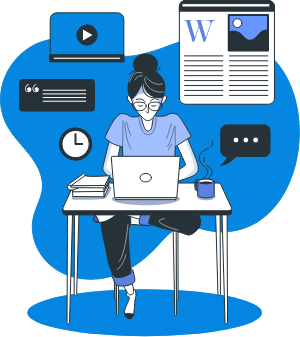 Do you have the skills to create content on any topic? Earn from it by creating a website or blog. Creating a blog is simple, with a little investment in the domain and web development. Once the site is up, continually produce high-quality content and build a following.
Some of the ways to earn from your blog include placing ads, sponsored posts, and selling your products.
Before you start this job ask some questions first:
Do you have the skills to create content on any topic? Earn from it by creating a website or blog.
Creating a blog is simple, with a little investment in the domain name registration and web hosting that comes with site design/development. Once the site is up, continually produce high-quality content and build a following that you can monetise.
Join the "Ultimate Blogging Course" at SeekaHost University for free and learn everything about blogging. And then take the blog for profits blueprint I have created. And that's free to join here.
Some of the ways to earn from your blog include placing ads, sponsored posts, and selling your products.
Sell Products and Services Online
The number of internet users in Sri Lanka has been on an upward trajectory in recent times. Most people prefer online shopping due to the convenience. You can make so much money buying and selling online. This is a great job to start from home and scale to big online business in Sri Lanka.
Take advantage of the influx in online shopping by creating an online business. Online shopping sites like sambole.lk allows you to set up seller profiles for your products.
Below are some websites to check:
Affiliate Marketing
Do you have what it takes to promote links and make sales? Several companies are willing to hire your expertise for a commission. Companies are willing to pay commissions of up to 70% on every purchase. Some of the top referral companies to work within Sri Lanka include VCommision, Click bank, and Flipkart.
You can do Affiliate marketing better with a website and you can learn how to create a website here.
With a blog, it's easier to promote affiliate products, so as I explained in the first point start a blog before you apply for affiliate promotional schemes.
Become a YouTuber
YouTube is currently the world's largest search engine for videos. The site allows you to create a channel where you post your content and build subscribers. YouTube, let's you earn from putting advertisements in your content. The more your viewers view the ads, the higher your earnings.
Get the Dialog 4G Unlimited Data for YouTube Video Blaster so you can learn from others by watching how they do it on YouTube and how they earn from YouTube.
Selling Photos Online
Making online for photographers in Sri Lanka is quite easy. Several stock photography sites allow you to sell your unique images. Some of the most popular photo selling sites include Adobe Stock, Shutterstock, and CanStockPhotos.
Online Consultation Services
Make your expertise in any field count by creating online consultancy services. Most people in Sri Lanka are looking for information on different fields. Package your ideas and support to provide solutions to those who need it. The more you provide stellar services, the more your profile expands for better income.
Social Media Management
Most companies and celebrities are looking for ways to make use of social media. They want to build brands that attract prospective clients from social media. If you have social media management skills, several companies are willing to partner with you.
Freelancer
If you have any skills, the online space allows you to offer it to several people worldwide. Whether you are good at article writing, resume writing, translation, and any other work package your services at a fee. Some of the top freelancing sites are Upwork and Fiverr.
Software Development
The technological development means that the demand for software is at an all-time high. Consider creating games and other Android or IOS software then list in Google Playstore and Apple Store. Creating useful software used by several people can earn you millions.
Data Entry
Data entry is one of the earliest online money-making opportunities ever in Sri Lanka. Several companies are looking for individuals with proper grammar and computer skills to handle their data. Be on watch out to avoid the many scams online for online entry. Avoid any site that requires you to pay to get work. Some of the reliable websites for data entry work are People per Hour, oDesk, and Freelancer.com.
Below are some advertised data entry jobs which you can apply:
Invest in Sri Lanka Stock Market
The Sri Lanka Stock Market is one of the major entities that allow you to trade online. Before you start, consider learning about trading as much as possible. Understand how to spot the most promising stocks and how to sell at the right time.
The stock market allows you to earn in two different ways: capital gains where you buy shares at low prices and sell at higher rates, or through dividends.
Building an Online Community
Social media earning opportunities are limitless. By creating a vibrant online community, you set yourself up as an authority in your field. With your influence, most companies are willing to partner with you to work as their brand ambassador or introduce their products to your loyal followers.
Online Surveys
Online surveys are some of the easiest ways to make money online in Sri Lanka. Several companies are looking for information about market trends and customer needs. The only challenge if finding a legit site will regularly supply of work.
Some of the top survey sites in Sri Lanka are Survey Network, Survey Scout, and Cash Crate.
Forex Trading
Forex trading is all about trading in different world currencies. It involves the selling and buying of the various currencies. Even though quite risky, the venture is lucrative if you get it right.
To start, you need intensive training on how to trade in the Forex. There are several learning tools on the internet to rely on, like the Investopedia guide.
Create Online Courses
Another way to earn online for experts in a subject is by designing and providing an online course. Most people are embracing online studies that provide for a massive market for your class. Either independently sell your courses from your site or sign up on other online study sites.
Travel Planning
The tourism scene in Sri Lanka is opening up, with most tourists looking to enjoy the unique scenery and history. Become an online tour operator by creating itineraries and guide for the visitors at a cost. Provide as extensive information as possible in your guides.
Digital Marketing
Digital marketing is one of the most significant ventures in the world today. Companies are hiring experts to help them reach new prospects online.
With the knowledge of Search engine optimization (SEO), email marketing, and other marketing strategies, you are right to work with different companies by creating marketing campaigns.
Online Modeling
Do you have the looks that smitten people when you walk around? It's high time you let your looks earn you money by posing for brands. Different products are ever on the look for faces to use on billboards and other marketing platforms.
Apps Review
Lacking coding skills does not mean you cannot earn from the software. Several developers allow you to install their apps on your devices, use for some then give your feedback. You don't have to keep the apps installed in your devices once the project is complete.
Trading Domain Names
Do you have a knack for identifying some of the in-demand domains? Register a domain at SeekaHost.com, then watch it become premium and sell at costs of up to $1000.
You can learn more about investing in domains here and use the SeekaHost Domains Auction for buying and selling domains.
Writing Ebooks
Like online courses, ebooks are the other options for experts to earn online in any field. Create an in-depth book with useful information and send out to buyers. Consider marketing your book extensively for better returns. You can also either sell it from your website. It partners with other sites like Amazon Kindle for publishing.
Photo Captioning
While almost everyone can take photos, not everyone has creativity for captioning. Connect with some of the renowned photographers online for captioning gigs. The other option is to list your services in Fiverr and other online gig sites.
Online Journalism
While most people are conversant with the traditional media, the internet has opened up opportunities for online journalism. Whether you are writing scripts, acting as a panelist, or analyzing different topics, an online journalism career is worth the effort.
Virtual Assistance
Imagine an office set up with all the assistants handling data entry, customer service, and other office duties. Well, virtual assistance is similar without the need to commute to the office. You complete all your tasks online. Some of the popular sites for virtual assistant jobs are Flexjobs and Fancyhands.
Selling Viral Videos
Do you have a funny video that is likely to go viral in your possession? Earn from the video by selling it to some of the top news and entertainment sites in the world. The sites will buy your video irrespective of subject or content as long as it is funny or informative and does not contain harmful content.
Product Testing
Before a product is released to the mass markets, most producers need customer views. Several companies are willing to ship their products to your doorstep for your honest opinion.
Crowd Funding
Do you have a project or an idea you would like to implement, but like the funds? The online community will come to your rescue through crowdfunding. Create a compelling story that moves the people to donate to your course. Some of the local crowdfunding sites in Sri Lanka are crowdisland and Tribesfund.
Online Real Estate Agent
The real estate industry is always expanding as people must seek for residential and commercial places. Not everyone has the time to move around looking for houses. Partner with real estate developers to find them the tenants and buyers for pay on commission.
Renting Out Your Property
Do you have some space or room in your home that you are not using? Rent it out temporarily and earn from it. Listing your property on Airbnb is the best co-sharing strategy for your space.
Answering Questions
Imagine how fun it is to earn from answering questions and advising people online. Sites like FunAdvice and Ether are some of the websites that allow you to make money answering questions.
Ad Revenue System
Other than companies automatically running ads on your sites, some allow you to purchase the ads and pay when people watch. One of the top ad revenue systems suppliers in Sri Lanka is Instamojo.
Online Voiceovers
Like online modeling for people with great looks, online voiceovers are an excellent earning way for those with great voices. Contact different enterprises and ad companies for Voiceovers gigs.
Playing Games Online
Any ardent gamer can earn online by testing the games. Most game developers allow you to play the pre-release version for your feedback and pay you.
Selling Artwork
The internet is a massive market for the pieces of your artwork. Market your work extensively to reach several prospective clients.
Start an Ecommerce site
All the world's biggest eCommerce today, like Amazon and eBay, all started small. Consider starting your website where sellers meet buyers for transactions.
Summary on Online Jobs in Sri Lanka to Work from Home
The internet is the ultimate avenue for anyone seeking to make a living from the comfort of their home. With the right skills and the internet, you can make enough to lead a good life. Several overseas companies are looking for talents all over the world, Sri Lanka included.
Click here for more information on how to go about creating a sustainable online business.
FAQ's
How can I work online?
There are many jobs that you can do online from home and some of the best IT companies in the world offers job vacancies. You can work remotely and start your own online business if you wish to become financially independent.
What are legit online jobs?
When it comes to the legitimacy of a job, you must do your research about the company that offers the job. Do not pay anything to get the job. Legit jobs do not charge you. Read their reviews and company establishment in the Sri Lanka or internationally. There are hundreds of jobs but as listed on this page you can see the most viable jobs you can start from home or work remotely from a café. IT field is a great industry that offers many opportunities.
Are there real online jobs?
YES, real jobs that pays real money to your bank account. The best jobs always demand a skillset and experience so be ready to show your skills and experience.
What is the best online job?
The best one is freelancing. This requires a skill however the earning potential is huge, and you can scale it to an online job that you can do with more people and eventually create a business.
What job can I do from home?
Most jobs you can do from home, if are interested in becoming a virtual assistant there are many international companies hiring for VAs.
What is the easiest only job?
Easiest is to work as a customer care representative. Many companies are hiring from Sri Lanka for their customer care department and you can do this over the internet with Skype and web chats. However, you need to speak English and understand well.