What are virtual sales and how to do virtual selling?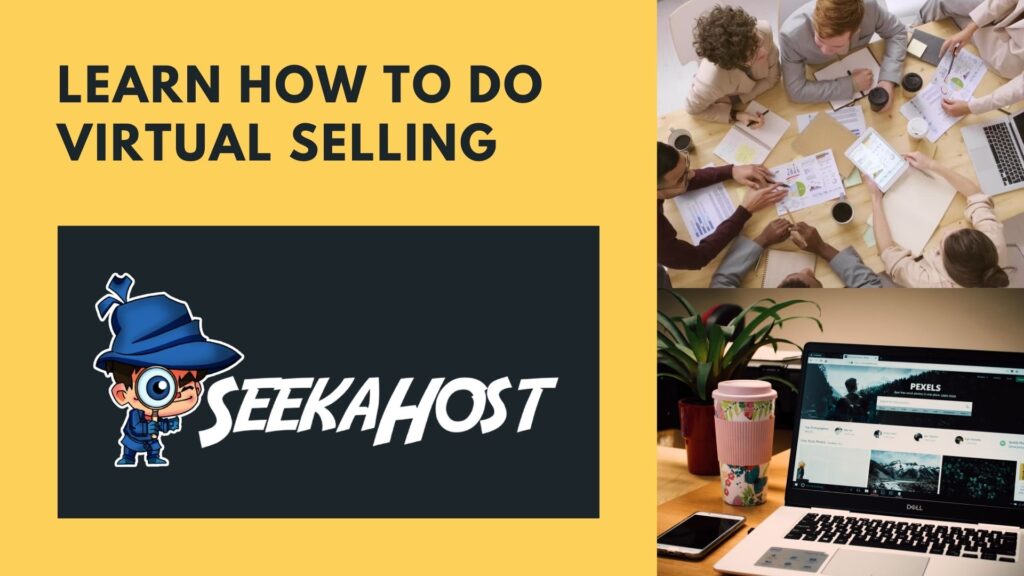 63% of sales leaders feel virtual sales meetings are equally or sometimes even more effective than face-to-face meetings.
75% of B2B  customers prefer virtual sales meetings over traditional meetings.
64% of sales teams that shifted to virtual selling models met or exceeded their targets in 2020, as opposed to only 50% of those that didn't.
The numbers say it all. Virtual sales are what buyers want, what sellers love, and what increases revenue.
But what are virtual sales?
How do you start virtual selling?
What are some of the key tips that can help you get ahead of competitors?
All answers right here. Keep reading.
Virtual Selling – An Introduction
Just like we do socialize online using text, image, and video-based social media platforms, work and sales are also shifting online. You don't have to your prospect's location to talk about the sales deal. Neither do they have to walk into your store or office.
You can quickly schedule a Meet via GoogleMeet, Zoom, Skype, Microsoft Teams, or some other video conferencing platform.
Or you could send them videos or emails. Regular audio calls are also often used. All this comes under the purview of virtual sales.
To sum it all up, any sales talk or transaction that happens online without meeting in person is virtual selling.
You go to Amazon.co.uk and buy a product by looking at its pictures and uploaded without ever meeting the seller is an example of virtual sales.
You signup for subscription-based online dance classes, that's virtual sales too.
And you buy your insurance by comparing options online, that's virtual sales too.
Why is Virtual Selling gaining ground? 
Why do people want to meet each other from either side of the camera and not sit across one another on a table?
Well, there are multiple personal, social, and situational reasons for that.
Some people are naturally shy. And for such introverts, in-person meetings can be stressful. Virtual sales meetings help them be at ease.
The pandemic has made virtual sales a safer alternative. We all know the struggle of masking up and keeping the distance. A video call or an online sales funnel is definitely simpler.
Moreover, with virtual sales buyers and sellers can cut down on travel expenses.
Convenience is another benefit of virtual sales. You can be in your bedroom, sitting with a crisp shirt and your shorts (because no one will be able to see 'em!) and be making a million bucks in sales deals.
How to start selling virtually?
Multinational organizations, small businesses, startups, and even freelances are gearing up towards virtual sales.
But how does one do it? Where does one start?
You start by redesigning your sales process.
Redesign your sales process – Quick 3-step guide to beginning the transition
The sales process you used to make in-person sales won't work for online or virtual sales.
Though the basics remain the same, you have to factor in specific aspects for making sales remotely.
And here is how you can redesign your sales process to start selling virtually:
Step 1: Change the customer touchpoints
Did you depend on people walking in your store to find start your sales pitch? That has to change. Now you have to start your sales pitch when a prospective customer visits your e-store or your website. You could also get proactive and use social media and emails are sales touchpoints.
Before we proceed: To start making virtual sales, having a website is important. Even if you don't sell something directly from your website, your website becomes the face of your business in the digital world. If you don't have a website yes, here is a 7-step guide that will help you build a website. And if you have questions about how you can get your website to rank higher, I have answered several FAQs in my SEO podcast. You can watch the video right here.
Step 2: Codify your sales process.  
Once you have made tweaks and changes to your sales process to make it for virtual sales, make sure you have proper documentation and reference material. This is especially important if you have a larger sales team working for you. You want everyone to be on the same page, so documenting the virtual sales process is important.
And yes, don't forget to extend training for salespeople and ensure everyone involved in the sales process refers and adheres to the codified virtual selling process.
Step 3: Set virtual selling goals 
Your salespeople 10 people each day and got 2 of them to convert each day. But now when they are working online and selling virtually, they might be able to meet 15 people. Thus, it is important to expect them to convert 3 prospects to customers.
Based on how the sales process has changed, you need to change your virtual selling goals too. 
Virtual techniques to enhance your bottom line 
Once you have designed your virtual sales process, here are some techniques you should follow to see better bottom lines
Note: There are many ways to make virtual sales. However, today I will be focusing on the techniques for making virtual sales through video meetings.
If you would like to know virtuals sales techniques for selling through social media, email, or other digital channels, tell me in the comment section below and I'll draft a guide for that as well.
Get the right sales tool – The choice between Google Meet, Skype, or Zoom is not a simple one. You need to look into their features in detail before committing. Also, you will also need a virtual sales management tool (Salesforce, for example) or a lead management system (like HubSpot). You might also want to project and team management tools. Finding the right tools is as important as finding the right ingredients for a recipe.
Be prepared – Yes, you don't need to step out of your comfort zone to attend virtual sales meetings, but be prepared. Professionalism is important even when you are closing deals from your computer. Be as prepared for the meeting as you would be if were happening in person.
Clearly communicate the sales process to involved parties – The process is new for you and for the buyer as well. Make sure to clearly communicate the process to the buyer as well. Let them know what will happen, how and when.
Monitor interactions closely – What went down in your previous meeting can help you avoid the same mistake in the next one. Closely monitor your interactions with prospective buyers to get actionable insights about proceeding with future leads.
Make buyers feel comfortable – A simple email reminder about a scheduled meeting, a follow-up email after the meeting, sending your sales pitch deck to buyers before the meeting, and ensuring seamless connectivity during the call… these are little things you can do to keep your buyers comfortable and engaged.
Track relevant metrics – Just like traditional sales, make sure you are tracking relevant metrics while selling stuff/services virtually. With the right data, you can be better prepared for the future.
Don't skim on the basics – Good video and sound quality, a problem-solving attitude, knowledge about using the video conferencing platform, and a prepared salesperson are key to conversions in the virtual world. Make sure you don't skimp on any of that.
With that, you have all the basic information about virtual sales and you can kickstart your journey.
Before you go, here is one parting piece of advice: Virtual sales are here to stay and it is best if you take time and make efforts in perfecting your virtual sales skills. Don't hesitate in experimenting and learn what works for you and your potential customers.
=====================
Sources: