What is VPS Hosting Service? – Best Guide To Virtual Private Servers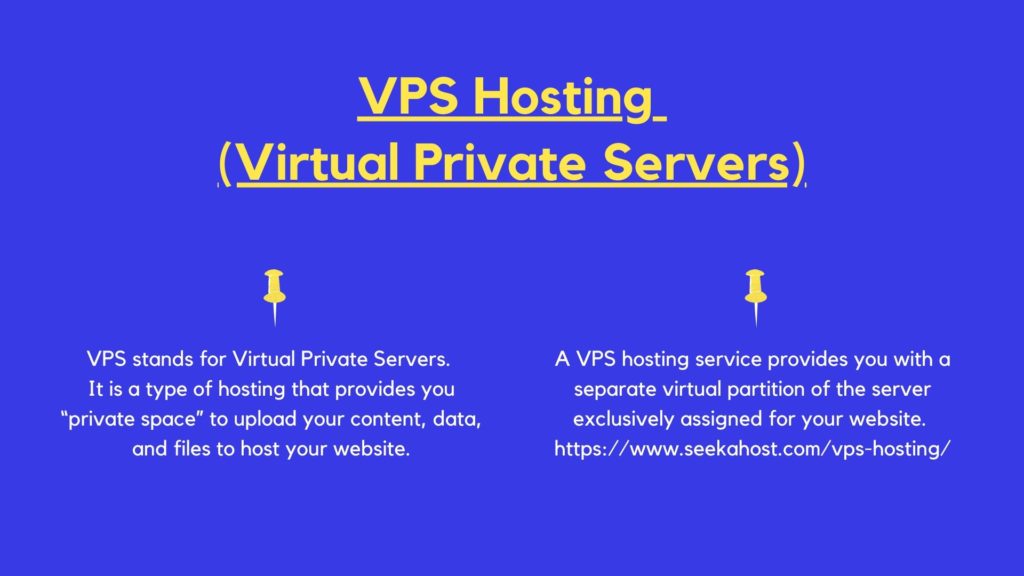 Just as you need a paper for writing, a canvas for painting, and land for building a home, you need web hosting service for creating your website. And for that, there are the virtual private servers that you can use. In this guide, I will answer your question what is a VPS hosting?
It is impossible to launch your website without reliable hosting and VPS host can certainly help in this. Learn how.. 
For the uninitiated, the first step to create a website is to upload its files on a web server. Such web server space can be easily purchased from hosting service providers or web hosting services. 
VPS Hosting
VPS stands for Virtual Private Servers. It is a type of hosting that provides you "private space" to upload your content, data, and files to host your website. 
A VPS hosting service provides you with a separate virtual partition of the server exclusively assigned for your website allocation. 
It is created using unique hypervisor software that separates the single physical server into several virtual servers. Simply said, a VPS hosting service creates smaller, virtual divisions from an actual physical server with the help of virtualization technology. 
It also offers the convenience of customization of add-on facilities based on the needs of the end-user:
Exclusive CPU

Individual storage system

Unlimited bandwidth

Operating system

Dedicated server
How does VPS Hosting work?
VPS works on the concept of running virtual operating systems from a single machine with the help of virtualization technology. The VPS hosting service works with the help of a software known as a hypervisor. The hypervisor installs virtual layers on the operating system of the server. These virtual layers act as virtual walls and actually divide the physical server into many smaller individual servers. 
The virtual walls are known as virtual machines (VM) or guest machines while the computer system is the host machine. The concept of VPS hosting is similar to creating smaller rooms inside a big house. While the VM's are the smaller rooms the host machine is the big house. 
Types of VPS Hosting
There are several ways of classifying VPS Hosting. The two main types of VPS Hosting are:
 

Based on Operating System: Windows Vs Linux

 

Based on Management Type: Managed Vs Unmanaged
Based on Operating System: Windows Vs Linux
The types of VPS Hosting based on the Operating System are:
Windows VPS Hosting
The Windows VPS Hosting is based on a Windows platform. It is best suited for clients who need to run Windows-based applications such as Microsoft SQL, SharePoint, ASP.Net, and other similar applications. 
Linux VPS Hosting
The Linux VPS Hosting platform is ideal for Linux based applications like PHP, POP3, and MySQL. Since Linux offers an open-source operating system, such packages are economical. 
Based on Management Type: Managed Vs Unmanaged
The types of VPS Hosting based on Management type are:
Managed VPS Hosting
A Managed VPS Hosting provides complete technical acumen and support for the efficient running of the hosting service. It is ideally suited for customers with limited technical knowledge or those sites who do not have a technical team. The Managed VPS Hosting provides services like:
o   Installation of server
o   Regular updates
o   Automatic backups
o   Regular checks for technical problems
o   Running maintenance procedures and security patches 
Unmanaged VPS Hosting
An Unmanaged VPS Hosting service is suited for clients who possess prior technical knowledge. Once the operating system has been installed, the client takes over complete control of managing the server. The responsibility of managing the server including functions like running backups, conducting security patches, and maintaining technical glitches will fall on the client. 
Difference between VPS and Shared Hosting
Both VPS Hosting and Shared Hosting share the server's resources. In case of Shared Hosting, the user doesn't have control over the resources of the server including the bandwidth. Shared Hosting also faces challenges of security, scalability, and handling traffic spikes.
On the other hand, VPS Hosting is a little bit more expensive than Shared Hosting. But it offers enhanced access to server resources like RAM, operating systems, and bandwidth. VPS Hosting offers the benefit of exclusively allocated resources making it a more powerful and secure option than Shared Hosting.
Difference between VPS and Dedicated Hosting
Dedicated Hosting means that all the resources of the server are exclusively assigned to the client's website. Due to the large pool resources, it offers better security and performance than a VPS Hosting server. Dedicated Hosting may turn out to be quite expensive especially for smaller websites.
A VPS Hosting server is cost-effective and offers adequate resources to meet the requirements of most websites. Also, they require less technical know-how as compared to Dedicated Hosting.
Why do we need VPS Hosting?
If you need the following features for your website, its time for you to consider investing in VPS Hosting:
 

Extra security features

 

Superior website performance and speed

 

E-commerce and online sales

 

Cost-effective website features

 

Increase in website traffic

 

Complete control over server configurations and applications

 

Enhanced privacy.
Pros and Cons of VPS Hosting
VPS Hosting services offer several benefits as compared to other hosting services:
 

Privacy: VPS hosting services provide enhanced privacy as your files and data are not accessible to other server users.

 

Scalability: VPS hosting offers efficient scalability. With growth taking place on your website, it is quite easy to scale-up the resources that you need.

 

Customization: VPS hosting allows you to customize the features that you need including the operating system, resources, applications, and other services that you may need based on your requirements.

 

Cost-effective: VPS hosting services are quite cost-effective compared to a dedicated server.

 

Reliable: A VPS hosting service is both faster and more reliable as compared to a shared hosting service.
Here are some problems associated with VPS Hosting that you need to keep in mind:
 

It is more expensive compared to shared hosting.

 

Few VPS hosting services face security issues due to weak passwords and are more susceptible to intrusions.

 

VPS hosting services require high technical, knowledge for better management.
How to choose the perfect VPS Hosting? 
Several VPS Hosting service providers that are easily available in the market. Here are some important considerations to help you choose the perfect VPS hosting service provider:
Cloud-based Vs. Conventional Server: Do you need a cloud-based server that offers higher flexibility, or will a conventional server work for you?

Professional Management: Do you require a VPS hosting service that offers technical support in managing the hosting service or do you have a professional team to help you manage your VPS services?

Operating System: Do you need a VPS server which is a Windows-based or Linux based system?

Pricing: Do you need an all-inclusive package or do you want to customize the add-on services to control the cost factor? What are the hidden costs that need to be considered?

Flexibility: Does the VPS server offer the flexibility to scale up the hosting capacity and bandwidth in case of future requirements?

Backup Solutions: Always give careful consideration to the backup solutions offered by the VPS service provider:
 

What type of back-up systems is used?

 

What type of contingency plan does the service provider offer?

 

Does it include unforeseen circumstances like electrical failures, natural, and man-made calamities?
Give your website the 3P's benefit: Performance, Privacy, and Price. Go for a VPS Hosting service today!