What Are Dedicated Servers? – Everything About Dedicated Hosting Service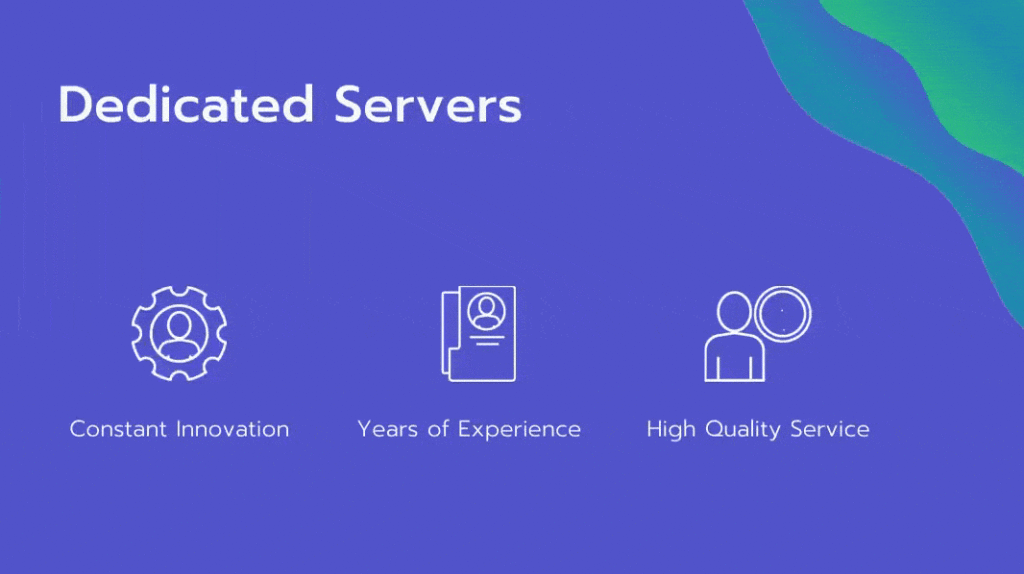 Have you outgrown your current web server? 
Does your website need extra power and performance to handle all the extra traffic you are getting?
Do you need the flexibility to run software configurations and applications? 
If you have answered yes to all the above questions, then what you are looking for is a dedicated server.
What what are dedicated servers used for?
Individuals and businesses looking for a robust server platform benefit from a dedicated server hosting as it offers a plethora of powerful features.
A dedicated server infrastructure provides exclusive access to all resources on that server such as RAM, CPU, or network to an individual or organization, without sharing it with anyone else.
Why Dedicated Servers?
Websites are the face of your business and enable direct interaction with your users. Businesses invest substantially to develop a high-quality website.
Servers are the most significant infrastructure element for a website to serve the online users. Businesses need reliable servers to operate at maximum efficiency. Choosing dedicated servers offers several benefits.
Administrative Access
You get administrative access with dedicated servers that allow the installation of the programs, track usage of server resources.
1. Reliable
The dedicated server lets a website take advantage of the whole server space, helping run the website operations smoothly. With a dedicated server, the website gets full access to all the resources.
2. Better Performance
With sole access to the resources, all tasks that need immense bandwidth can be managed easily hence improving the website's performance. A fast website delivers a seamless user experience without any hang-ups or interruptions.
3. Secure And Safe
As the server is not shared with anyone and you have complete control of the server, a dedicated server enhances security and minimizes the risk of unwarranted access to resources.
4. Greater Control And Flexibility
As your website has sole access to the server, it has thorough control over all the features of the server, thus lending flexibility for the website to be configured to your exact specifications.
5. Easy Upgrades 
With dedicated servers, you can effortlessly upgrade RAM, processing speed to manage huge incoming traffic, and increase website performance.
6. Higher Scalability
When your website traffic starts to grow, the server should also continue to support and offer the same user experience. A dedicated server is easily scalable, as and when you need it.
When Should You Switch To Dedicated Servers?
Often individuals and businesses overlook the fact that servers are the foundation of their website by cutting costs, sacrificing efficiency. Here are the key factors that will help you make a decision to move to a dedicated server.
Speed
When your site starts to slow down that is an indicator to consider dedicated servers. As the traffic to your website increases, the load on resources will begin to rise. A dedicated server offers your business the speed it needs to succeed.
2. Customization
With dedicated servers, you have a wide choice of applications, software, bandwidth, scripts that can be used to support your website.
3. Dependability 
Data security and uninterrupted service are the two key factors for a website, a dedicated server offers high-quality service with negligible downtime or system crashes and gives complete control over the data. 
Types Of Dedicated Servers
The most basic categories of dedicated servers are:
Managed Dedicated Servers
The web host of a managed dedicated server is responsible for all the hardware and software technical issues regarding security, maintaining servers up to date, configurations, server monitoring, as well as operating efficiently.
2. Unmanaged Dedicated Servers
An unmanaged dedicated server indicates that you will be responsible for each and every component of maintaining your server, from the installation of updates, patches as well as guaranteeing server uptime.
A managed dedicated server service is always better than an unmanaged one, as you will have a dedicated team round the clock at your disposal to resolve any technical issues, helping you focus on your business operations while being cost-effective.
Why Dedicated Servers Are Better Than Other Servers?
Dedicated servers offer a lot of advantages over the other types of servers such as Shared, Cloud, or Virtual Private Server (VPS). Let's take a quick look at how they fare against dedicated servers.
Shared Server
In shared servers, you are sharing the same server with other websites. Your website's performance is at the hands of the other sites using the same server. 
If you are sharing the server with a much bigger and popular website, chances are that it may have an unfavourable impact on your site's performance.
You will have no control over resources, performance, storage, bandwidth, and security.
2. Cloud Server
Though cloud servers have been gaining popularity, they are susceptible to cyber-attacks, data, and security breaches. 
The cloud server offers minimal flexibility and control over the cloud-based services and is also not immune to downtime.
As all the services are internet-based, you could face issues with data accessibility and speed.
3. Virtual Private Server
Initial configuration can take hours to days before you can be up and running. Maintenance and upkeep of the server would be your responsibility. 
Most of the time, the resources are under-allocated and inadequately utilized making it difficult to manage heavy traffic at peak times.
Overall, all the other servers fall short against dedicated servers when it comes to managing traffic, processing, availability, control, and security.
How To Choose A Dedicated Server Provider?
Choosing the service provider for a dedicated server is vital as it directly affects your website. Here are a few checkpoints to ease that pain out.
Operating System
You should have the freedom to choose the operating system that best suits your business requirements.
2. Server Configuration
You should be able to control and access the system through the server, hence the configurations should be accessible even remotely.
3. Hardware 
You should have ample choices to select the right hardware set up for your business, it should have the capability to increase performance without needing to pay extra.
4. Control Panel
Operating a dedicated server will require a control panel, the control panel should be easy and intuitive. Determine what the control panel entails against what you are trying to achieve.
5. Security
It is a primary factor to be considered when selecting a service provider, as your data and business are dependent on this single feature.
6. Server Management
Server updates, maintenance, monitoring, and general upkeep is a time-consuming activity and requires dedicated resources. Select a service provider that manages and maintains the server.
7. Technical Support
A 24/7 technical support is essential to online businesses, ensuring the servers are running efficiently and the website is operational at all times.
Why SeekaHost?
SeekaHost is a seasoned company with a team of experts that share the enthusiasm to serve their customers with the best service.
SeekaHost offers high quality managed and unmanaged dedicated server solutions at competitive pricing for all your business needs. There are no hidden costs and you get a bunch of additional benefits. 
The professionals at SeekaHost will guide you through every step from choosing the right plan to set up the dedicated server to providing 24/7 technical support.
Visit SeekaHost to know more!