Minecraft House Tutorial Step by step: How to build a house in Minecraft Survival Mode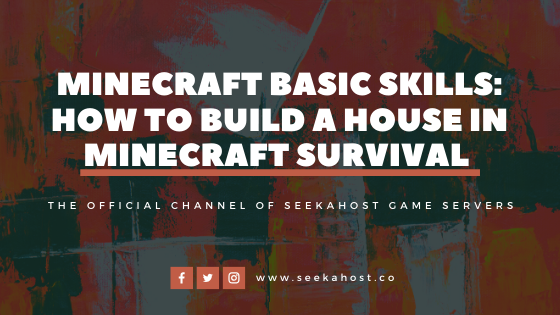 I discovered Minecraft very recently and wanted to dig deep about the Minecraft game, so I started with the Minecraft house tutorial step by step which shows how to build a house in Minecraft Survival Mode.
This is a fun game and increases creative things and survival thinking in the brain.
I was fascinated when I found about the game and how many people play it online.
Minecraft Game
There are over 18 Million global searched on Goole according to Ahrefs. And it's said to have sold hundreds of millions of copies of the game.
I see a massive demand for the game and many opportunities in the market. So I started to do my research and learn every aspect of the game by playing it.
So I decided what can I offer to the Minecraft gaming market and I found that thousands of people search on Google for Minecraft server hosting. Which means there is a need and that's something SeekaHost can cater.
Spoke to Kasun and assigned Wasantha to set up the Minecraft Servers at SeekaHost.co and it's going to be the world's best place to buy Minecraft server hosting.
I was speaking to Neil the other day about blogging and found out that his two sons play Minecraft and they've been playing the game for years now.
So I arranged a call with Louis and Sam.
Now here we are playing the Minecraft House building on survival mode and will be doing more and more videos showing how to build modern houses and everything that's on Minecraft.
Minecraft House Tutorial Step by step
Yesterday we played the game and built an hour in less than 40 minutes.
You can watch the video below and see how Sam and Louis built the house step by step while explaining commands.
Why play the Minecraft tutorial on how to build a house?
As you can see it gives the mind to think and plan things and this is great brain development.
I feel every parent should let their kids play the game and even grownups can play such games to improve their cognitive thinking.
The other day we played the Minecraft House Build Tutorial Survival & Creative | Minecraft Skills for kids to become experts. And that really shows how a kid thinks and walk through this process.
The plan is to play weekly and go through all the best modes and learn how to build a great house in Minecraft.
I will be doing a tutorial on survival & creative with Praween as well.
So keep tuned to my blogs and guides about Minecraft sessions.