Know What is Best Minecraft Server Hosting Service You Can use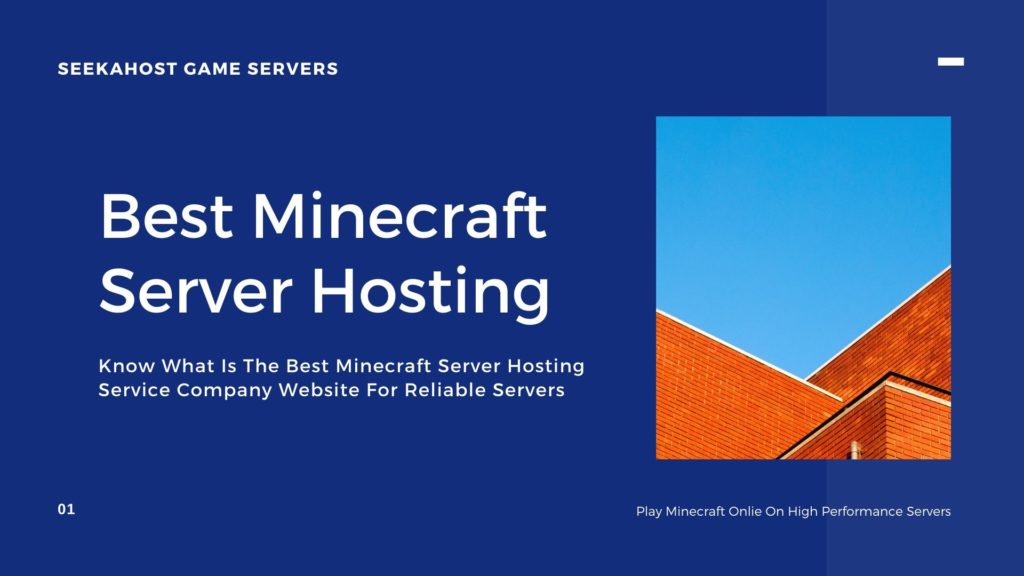 Are you looking to know what is the best Minecraft server hosting service you can use to host your own server?
Then you have come to the right web page where I will explain to you why it's the best how you can start using it without any issues with 24/7 live support.
I will explain to you what is the most viable host you can really on when hosting your own Minecraft servers for Java and Bedrock editions. There are many video tutorials that show everything about hosting for Minecraft servers James does the videos.
There are many companies that offer various services and no many give everything that the customers needs.
That's one of the reasons SeekaHost started to provide the best game servers in the market with best online tutorials that support how to set up your own and start playing while building your community.
There are so many resources and on this page, I will explain to you everything you must know before buying a server and what factors to consider when starting yours.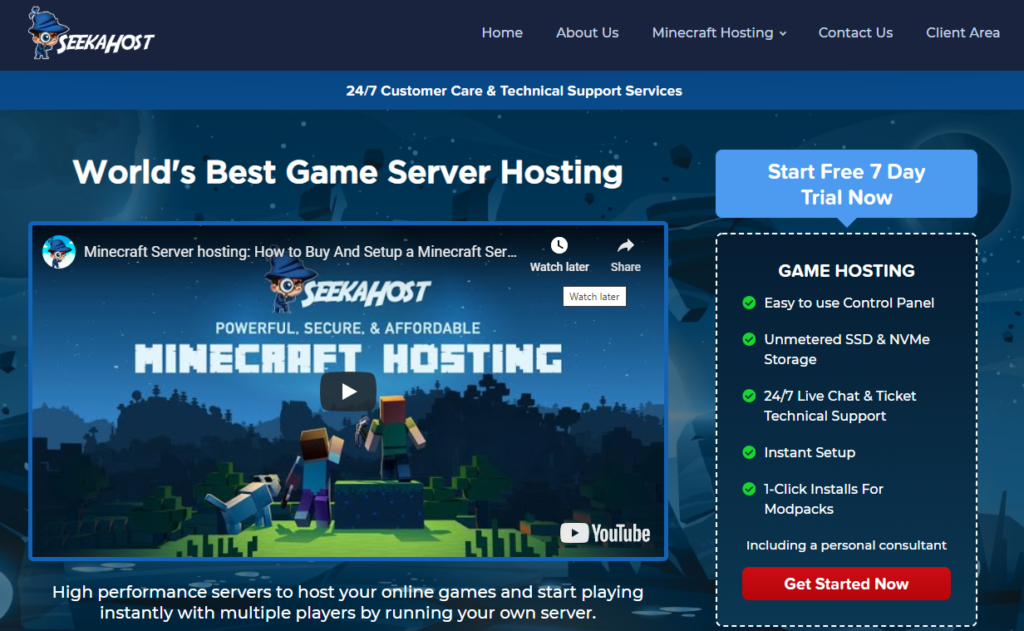 There are hundreds of Minecraft service providers and not many are established server hosting providers.
Most of them do not even offer 24/7 live support for their Minecraft server clients and that's why the team behind SeekaHost Game servers is dedicated to providing high-quality servers and customer services.
The Minecraft server hosting servers are designed for the location-specific gamers to buy exclusive IP address servers. The performance is outstanding and the online chat support and phone support in setting up the Minecraft servers are vital if you are planning to earn money from your Minecraft server hosting.
There are many guides on the web on how to earn money from Minecraft server hosting, but you can read this guide to earning from Minecraft.
SeekaHost offers the option to play Minecraft free online with friends before buying a server. So, it gives you the opportunity to test yourself how SeekaHost game servers perform.
What is the best Minecraft server hosting website?
It's no other than www.seekhost.co and you see how the experts at SeekaHost build the website with the team of expert ClickDo developers.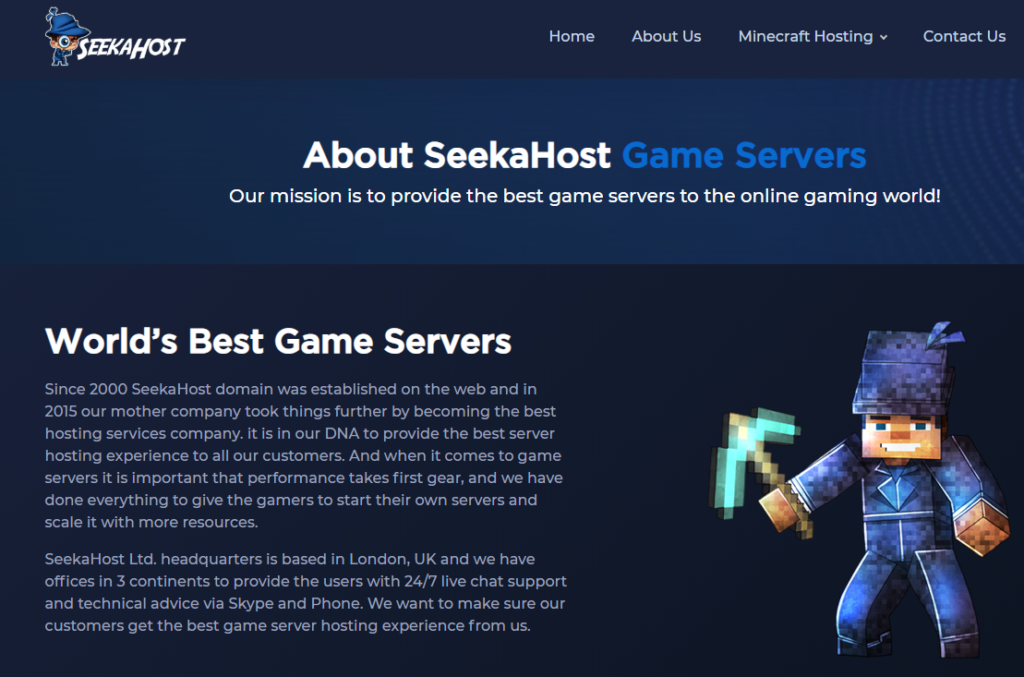 With a goal to help 100 million people get online, I have always taken the decision to work with the best and hire the best in the game to support our SeekaHost services and web hosting.
Currently, Praveen is building the SeekaHost office in Minecraft and we are very excited to see how it's setup.
Recently I listed the best RTX games list and you can read why I started the Minecraft Server hosting business.
It fascinates me to see how many kids have improved their cognitive power by playing the Minecraft game online.
I really believe every parent should initiate and help their kids play Minecraft and if money is an issue, they can always reach out to me for a free Minecraft server hosting experience.
Read about the Minecraft with RTX game experience to know what is possible in Minecraft and how our game servers support the greatest gaming experience.
You might think I am biased to say SeekaHost is the best, but you can take the time and read more on the web to know what is the best Minecraft server hosting company?

There is no other company that offers the level of support and help that SeekaHost do. The team consists of the best people and is growing daily towards becoming the best game server hosting provider.

Currently, we are expanding our servers and more Minecraft server lists can be found online.
If you do not want to take my word for it, join the SeekaHost Minecraft servers for free at demo.seekahost.co and play Minecraft for free with your friends on multiplayer mode and test drive.
You can email me at fernando@seekahost(dot)co to find out about why SeekaHost is the best Minecraft server hosting provider in the world.
How to buy Minecraft Server hosting?
If you are new the game and want to know how to buy a server to host your own Minecraft server, the detailed video tutorial will explain to you everything you need.
Watch the video and if you have any questions before buying a server you can ask on the live chat support or book a callback.
How To Setup A Minecraft Server To Run Your Own?
When it comes to setting up your own Minecraft server it's easier to do with a properly shown guide. The video was done by SeekaHost game sever profession and he shows everything about how to make a Minecraft server.
You can also read more on how to run a Minecraft server and grow your community here.
How to Install and Configure Plugins in Your Servers?
When it comes to plugin installation most of the plugins are installed by SeekaHosters. However, if you want to install any additional plugins you can do it as shown on the below Minecraft sever tutorial.

Watch the below video to know exactly how much does it cost to run your own Minecraft server at home.
As shown on the video you can get started a server for as low as $2 per month and gradually scale your server space and RAM when the community grows and you build the worlds.
There 6 main packages that you can buy at SeekaHost.co and below are the top 6 best selling Minecraft server hosting plans.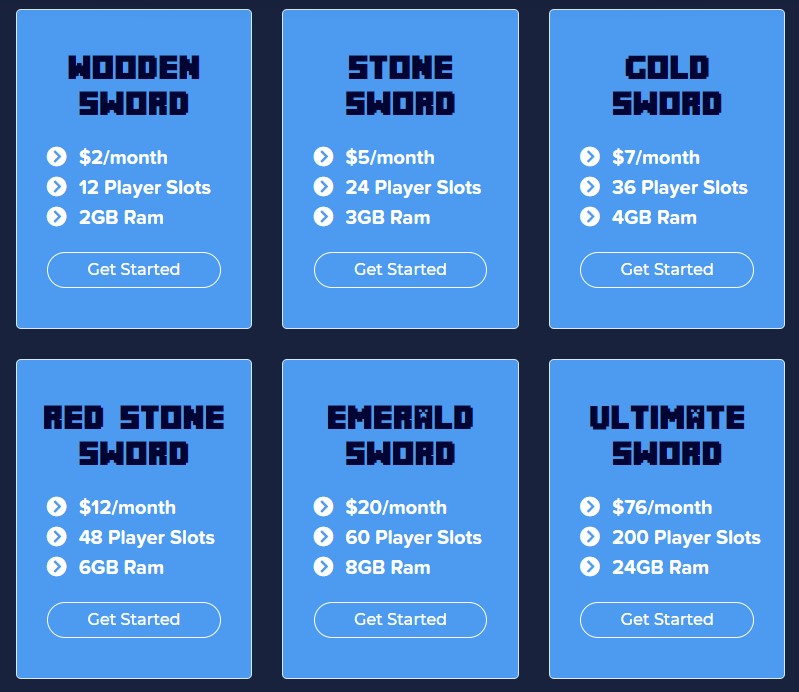 As you can see the prices are the best in the market and no other provider can match with the offering with customer support.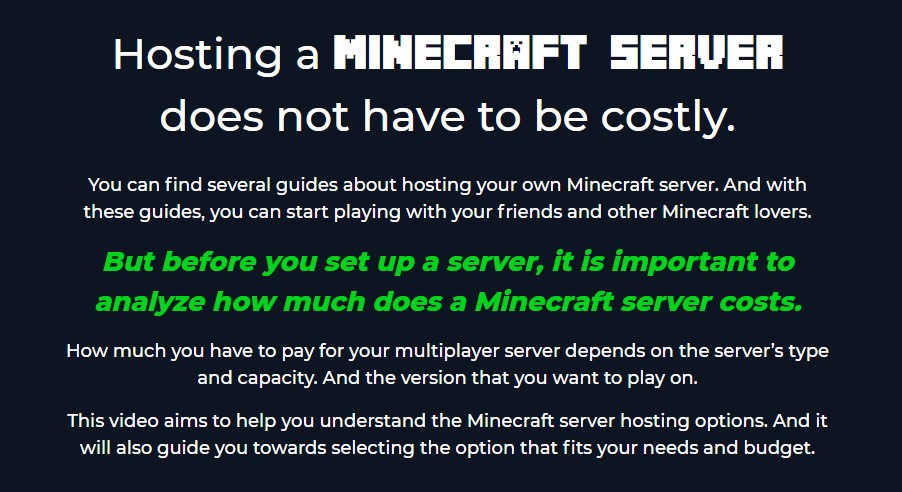 One of the main reason why I started this Minecraft server business is to offer the world the best at the most affordable prices.
5 things to know before buying Minecraft Server Hosting from SeekaHost
Why should you buy Minecraft Server Hosting from SeekaHost? What kind of services does SeekaHost provide to you if buying Minecraft Server Hosting? These are the questions that need to be answered while making your decision to buy Minecraft Server Hosting from SeekaHost.
Having an awareness that a Minecraft Server Hosting is an internet hosting which allows any individual or companies to host their Minecraft game on the World Wide Web, it's your job to seek the best Minecraft Server Hosting provider.
And SeekaHost seems to be the provider that can satisfy the customers through its service, yet many questions are to be answered.
Then let's get to the field to know the things before buying Minecraft Server Hosting from SeekaHost.
As SeekaHost is holding several services to make it best service provider, but we will now be knowing five things before buying Minecraft Server Hosting from SeekaHost. These are to be characterized below:
Provides good technical support
SeekaHost having the experienced technical team that provides the most comprehensive support in the Minecraft server hosting community. As SeekaHost representatives are having in-depth knowledge of Minecraft servers, they can make you access the support team 24*7 in the live chat or by raising a support ticket, leading to help you to solve any tech issues.
Having the availability of Modpacks
Mod packs like Forge, Bukkit, Tekkit and more available in the market, get the support of SeekaHost game servers. To know how to install mods on SeekaHost game servers, You can also visit the website for more. Also, SeekaHost popular Modpacks like Java Edition, Bedrock Edition, Spigot, etc.
Gives Multiple Locations
SeekaHost gives you the chance to create a Minecraft server in any of its multiple locations as SeekaHost's Minecraft European servers are located in London, UK. SeekaHost from London offers excellent server speed and performance to its customers around the world. As a big lot of its customers are UK based, so UK Minecraft servers are the best options at the lowest prices. 
Moreover, SeekaHost is having multiple servers and high-performance data centre connectivity, SeekaHost provides the fastest servers for thousands of players, playing Minecraft online utilizing SeekaHost's Server.
Help setup your Server
SeekaHost can support you with that, and all the instructions are on its website, and also you may ask for personal support via the client areas. SeekaHost's support team is available to help you all the way to get your Server up and running.
Displays its services by providing the best hardware
SeekaHost Minecraft Server hosting services utilize safe, reliable and robust hardware like AMD Ryzen 5 3600X Processors, DDR4 RAM, SSD or NVMe SSD Storages. Here SSDs speed up computers significantly because of their low read-access times and fast throughputs. While DDR4 RAM because of its higher speed, gives you increased transfer rates and less voltage, leading to overall less power consumption.
In the end, I will say that SeekaHost deserves to be the best provider of Minecraft server hosting services as it has various facilities that make it reliable.
I see many children play the game in 2020 more and more people play Minecraft while at home.
Importance of your kids playing Minecraft online with friends during the lockdown
Minecraft, being a safest and a popular game amongst the children, is played online. But it is seen in the covid-19 period during lockdown children are taking more interest in play Minecraft game with their friends and enjoying it. Now your kids may be the part of those children who play Minecraft during lockdown with their friends. Now the question comes what the importance of your kids playing Minecraft online with their friends during the lockdown is. Many importances will be supportive of your kids ` while playing Minecraft online with their friends during the lockdown. Some importance we are going to see in further talking:
Playing Minecraft enhances teamwork.
While playing Minecraft in a multiplayer mode, can raise the player's confidence, allowing them to lead a game, provide instructions, make decisions and support each other. Here, is player collaborate and work together rather than going against each other to get a win of the game.
Playing Minecraft keeps your kid healthy.
Because Minecraft is an online game, there is no physical contact between the players, that keeps your child distances away from familiar childhood diseases. As we are aware, from eight to nine months the whole world is facing a pandemic of covid-19, in such situation playing the game like Minecraft keeps your kid in a proper social distance, making him healthy and keep safe. If your kid is vulnerable, it mainly is an excellent alternative to regular playdates.
Minecraft intensifies learning
On being played Minecraft game with his friend during the lockdown, your kid can learn how to play the game, what keys must be utilized, and how they can set up a world or built something inside it and so on. Moreover, this game also teaches skills such as problem-solving, coding, boost creativity and raise focus.
Playing Minecraft reduces safety risk through a private server.
While using a private server for playing the game by your kids with their friends creates a safe place. Also, problems like swearing, inappropriate content become non-existence as the private server is incepted as it is only reachable by the players that have been set up, and parents can keep track of this.
Minecraft increases your social circle.
During the lockdown, when your kids play Minecraft with their friends, your kid can socialize with many players, whether known or unknown, leading to an interaction with them. Your kids can also add them with skills such as effective communication, networking, etc. Also, your kid can learn how to conduct themselves online, which is also a crucial part of digital school learning.
Minecraft increases your kid's creativity.
When playing Minecraft at lockdown with their friends, can increase the creativity of your kids. That can be possible when your kids will try to explore the cave system underground while other players might build a great house, or by making structures, your kids can become more creative.
Minecraft teaches resource management.
Once a kid gets through the Minecraft game, they start to calculate the costs of their resources, making them understand resource management.
My thoughts on kids playing Minecraft. 
Knowing that Minecraft game becomes significant for your kids when they play it with their friends during the lockdown, yet more has to be done to make it more strengthened.