Top 160 Guest Posting Sites (SEO Niche) List: Free & Paid Guest Blogging Websites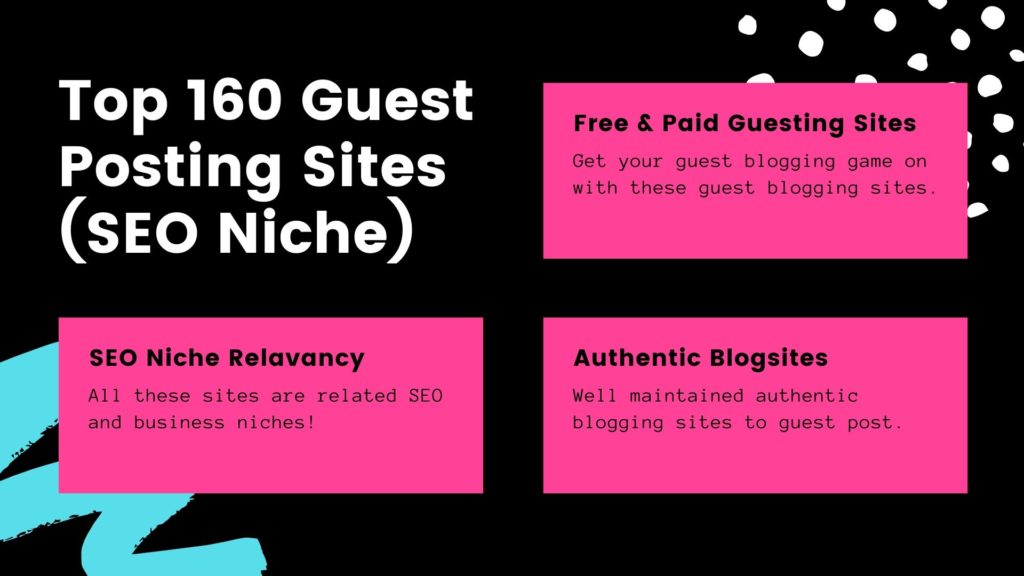 The best guest posting sites list for SEO niche is updated and listed for your guest blog post. Most of those sites are free to guest post but even the changing ones are good to pay and guest post on them.
If you are in the SEO and business marketing niches these are the best guest posting websites to guest post for backlinks.
Guest posting is still the best way to get authentic backlinks to rank higher on Google. 
As a part of our SEO services for small businesses, we start doing the guest posting as soon as we fix the on-page SEO issues.
Guest Posting to Improve SEO
Guest posting is the process of outreaching to the niche relevant website and publishing blog posts in other sites with a backlink to your website/client website. If you are planning to publish a guest post in high authority sites like UK Business Blog, UK Business Magazine, London Business News, then you need to pay a nominal fee for publishing your post. It's worth paying for such guest posts as the backlink from such sites will add huge value to your website.
If you are a business owner or an SEO Consultant, you should spend more time on outreaching to niche relevant sites to publish guest posts about your business and get backlinks. When it comes to guest posting, you should give importance to the quality of the link than quantity. While building links, You should give importance to the factors like domain authority, domain rating, spam score of the domain, niche relevancy and many more factors. On top of all, you should make sure that your blog post is indexed by Google.
Even though there are many ways to get build backlinks to the website like Infographic Submissions, Video Submissions, Blog Commenting, Forum link, etc, Backlinks from authentic guest posting still have more value and authority. Backlinks from niche relevant websites will increase the authority of your website and will help you to improve the ranks of your website in Google SERP.