The UK Business List website for free local business listings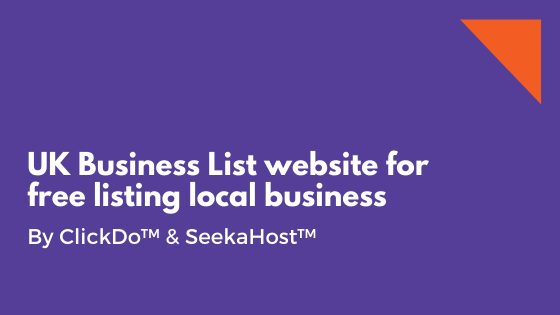 Last week my team and I at ClickDo worked hard to launch the UK Business List website.
Kasun Sameera planed the design and Madushan Abeysignhe did the all important site building using the images designed by Praween Galawtta.
Nuwan assisted the team according to Kasun's guidance and we managed to get the website up fast, but also with effect.
Neil Franklin created the business message and contents for the main pages and the business advisor hotline gives the opportunity for anyone to reach Neil for 24/7 business advice.
The website hosting services was done by the SeekaHost team and Kasun led the project with Gowdham right by his side.
This is a powerful team that can accomplish almost anything and I am extremely proud not only of them but their hard work, effort and their single mindedness when it comes to customer service and satisfaction.
What's the mission for UK Business List?
The mission is to help 1 million UK business owners to get their business details listed on the UK business directory and get more reach and ultimately profits for their business.
We offer the business support and SEO/Marketing advantages as well as this platform that helps UK business owners get their online business pages live with and with the option to get reviews from their customers.
The business directory pages are designed in a manner to get reviews and easily put business information live on the website.
The search engine function on the https://www.ukbusinesslist.co.uk/ works well:
For example, if you search for "waste clearance" you will see the listed companies are showing up!
"Any business owner can … and should be LIST THEIR BUSINESSES FOR FREE.
We are 100% committed to generating millions of customer visits and you want to make sure you're featured.
The platform also offers business owners the option to publish key facts about their business on the trending section.
Talk to our business advisory and support team if you want help with how best to do this.
This is an example https://www.ukbusinesslist.co.uk/best-place-to-buy-loose-diamonds/ of how Ovadia Jewellery looks like.
So, if you are a business owner of into SEO services, you know it's time you get listed on the best UK business directory right now!