Best Blogging Platforms to Start Your Blog (Top 10 Blog Sites Listed)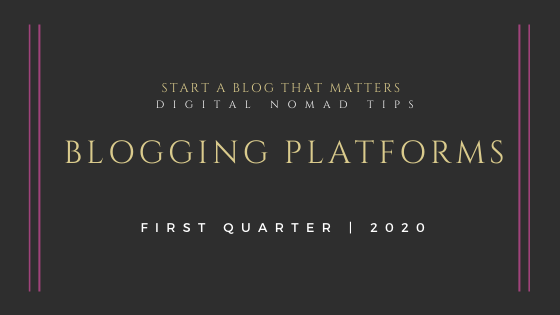 Looking for the best blogging platforms?
We have listed the top blog sites to get started for free.
Starting a blog is one of the best ways to earn money online blogging.
I've started many blogs and grew hundreds of money-making blogs. The ClickDo blogs like a business blog, the tech blog and the UK SEO blog are some of the top blogs that make money every day.
You can join the blog for profits course at the ClickDo Academy if you wish to learn how to create a blog that makes passive income.
In this guide, I will share with you some of the best platforms for blogging.
First, let look at what is the blogging platform?
Blogging platforms provide space on their web hosting servers to your blog.
These blogs can be accessed by anyone from any part of the world if they have internet.
Usually, blog host providers charge some fee to store your blog on their server. However, there are free blog hosting companies, but some features will be limited.
One example of a blog hosting provider is SeekaHost. Let's get to that later.
The established blogging platforms have many ancillary services and even blogging software to make it easier for you to start blogging.
How to identify best blogging platform;
There are blogging platforms that provide domain names with a discount if you do not have one. Such a discount includes providing a free domain for the first year or free web hosting when you buy a domain name for your blog.
Examine the different levels of services offered plus their features and select a package that meets your needs.
If not very sure, begin with the basic plan then with time you can upgrade.
Some features to look out for include;
Low cost hosting for a domain name
Check for a service that may allow you to use your domain name
24/7 support services
Free Software's to build your site
Free SSL Certificate for security purposes
Storage amount and email accounts
Storage amount space for your server or blog.
All blogging platforms have both positives and negatives and can easily be identified by a skilled blogger. However, the more you blog, the better you become and can know what suites you best.
A good blogging site should be able to meet your present needs and be able to adjust when you need to make changes as you grow and advance.
Below we examine major blogging platforms looking at their pros, cons, and pricing;
WordPress.org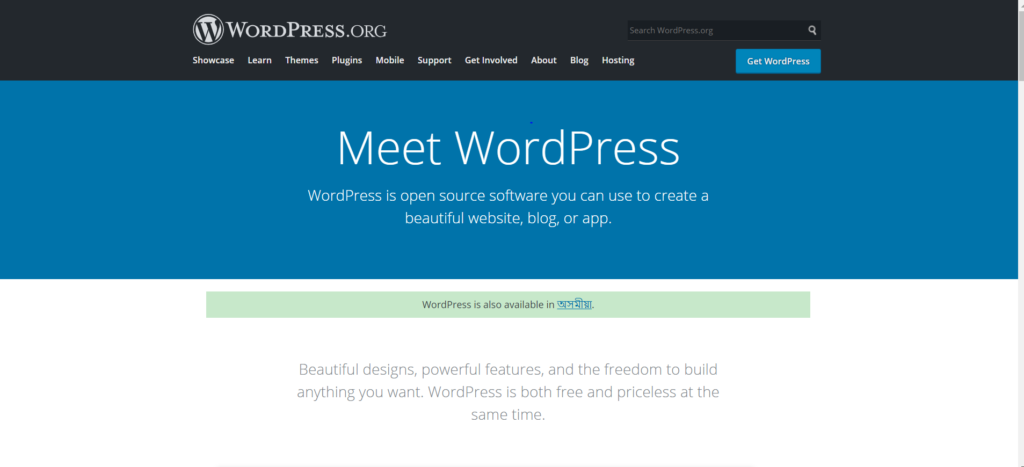 WordPress.org software is the most popular blogging platform, globally. It was started in 2003 and currently hosts over 30% of all websites on the internet.
WordPress is a free blogging site, and you can build your blogs and websites within minutes. It is self-hosted; hence, you sign up using with a WordPress hosting provider. If you intend to have full control of your blog, monitor traffic and monetize your website in future, then WordPress is the best option.
WordPress.org allows you to have control over various aspects of your website
With WordPress.org, you can grow your blog by adding other features like an online store, forums, and paid membership. Hence making WordPress.org the best platform for making money.
WordPress.org has thousands of free themes; with this, you can create an excellent beautiful website that's unique.
With WordPress.org you have access to over 54,000 free plugins. With these plugins, you can add in features like galleries, contact forms, etc.
WordPress.org is known to be search engine friendly. It's easy to create SEO friendly URLs, tags, and categories for posts. There are also several SEO plugins to do additional features.
To be able to manage your website in WordPress.org successfully, you need to take time and learn intensively how to run the platform.
With wordPress.org, you manage your security and backups.
WordPress.org software is free, but you need to purchase a domain name for about $14.99 per year and hosting roughly starting from $7.99 per month.
You also need web hosting and a domain name to start any website. https://www.seekahost.com/is a recommended hosting provider for WordPress.org beginners.
WordPress.com

WordPress.com was created by Matt Mullenweg, a WordPress.org co-founder. It's offered by AutomatticCompany.
WordPress.com offers free essential blog hosting services. Additionally, you can purchase options like additional storage, domain name, and premium services.
WordPress.com was started in 2005, having a goal to bring its experience to a greater audience. It's an excellent site for a user who doesn't need advanced features.
Does not require setup
Very easy to manage and use
Completely free if you are comfortable with the WordPres.com subdomain. A free website name looks like this: https://xyz.wordpress.com
Cannot expand your website because of limited options. Can't use plugins and custom themes to customize your blog.
Can't run advertisements on your blog, but WordPress will use your free website to show their ads.
Because you do not own your blog WordPress.com can shut your account in case they discover anything that is happening against their terms and conditions in your account.
Basic WordPress.com account is free. However, it bears a WordPress.com branding and advertisements.
Their Personal Plan billed yearly for $4 per month allows you to remove the WordPress.com logo and their advertisements from your website. You also get a chance to get a custom domain.
A yearly payment of $8 per month allows extra storage and additional tools.
Blogger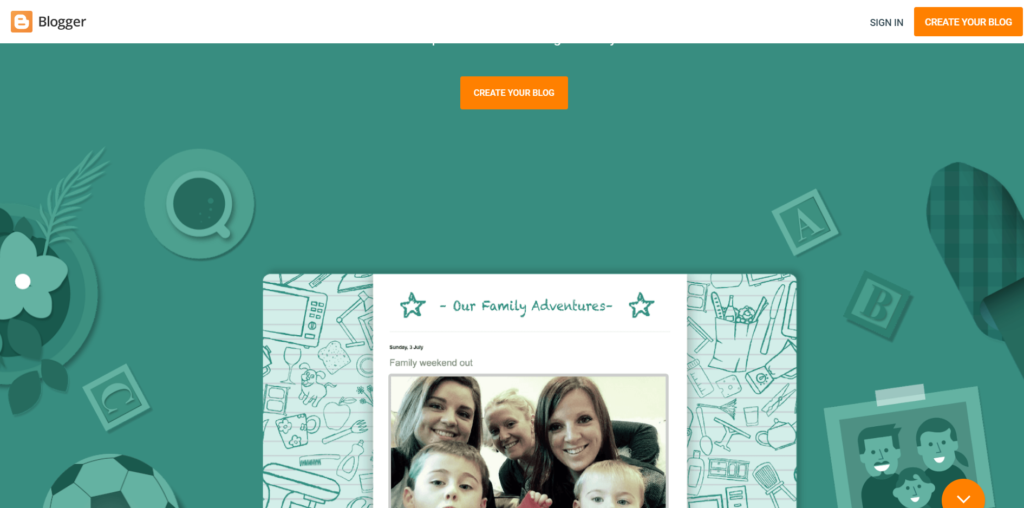 Google offers blogger, and it's a free blogging platform. It is one of the most accessible platforms for beginners, especially those who are non-tech-savvy.
Pyra Labs created a blogger and officially launched in 1999. Google later acquired Blogger in 2003 and redesigned it to its current state.
To start a free blog on Blogger, all you need is a google account.
Blogger is free
It is easy to manage and use even without technical skills
Being run by Google makes it secure and reliable.
Has limited blogging tools so not reliable for a growing blog.
Limited design options and a few templates. Their third-party templates are low in quality.
They can suspend or cancel a blog anytime without warning
Blogger is free. It uses a blogger subdomain like https://xyz.blogspot.com. 
Tumblr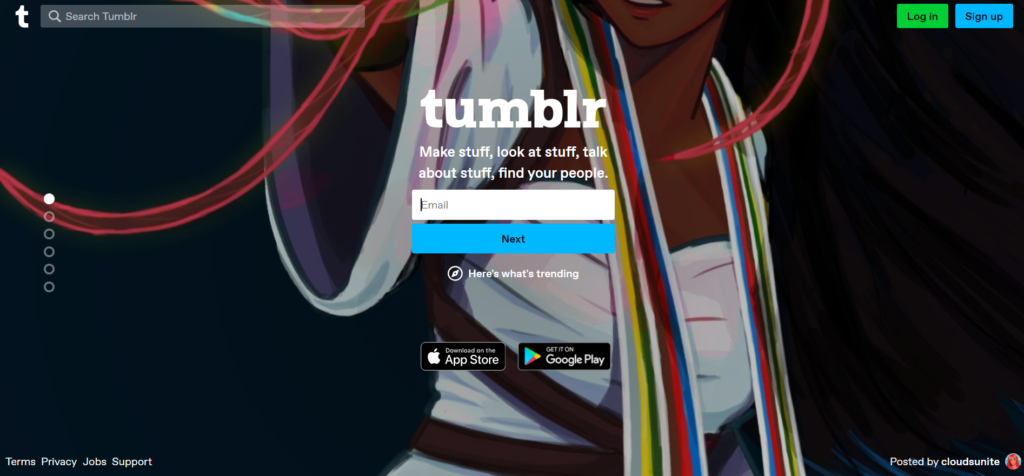 Tumblr.com is more popular with the young age audience. Tumblr.com is more focused on community blogging; hence, their options for reblogging and sharing. It focuses more on GIFs and photos and less on content. Due to the idea of reblogging being used in this platform, it may not appeal to bloggers who would prefer having control of their copyright and any other protections.
Tumblr.com is offered for free using a Tumblr subdomain like https: xyz.tumblr.com. There is also an option of connecting to a premium custom domain.
Tumblr.com is easy to use and set up.
It has an integrated component of social media.
Being a microblogging tool, Tumblr can easily blog videos, images, GIF, and audio formats.
Tumblr.com has limited features hence can't extend a growing blog
Even though there are many themes they still cannot offer more features
It is hard to import or back up a Tumblr blog.
Medium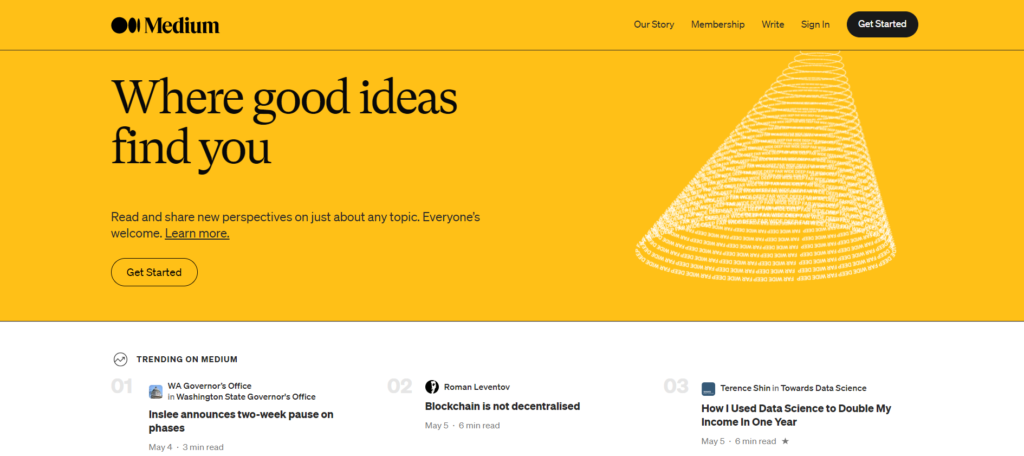 The medium was launched in 2012. It is a community of bloggers, journalists, writers, and experts. It has limited features of the social network but a very easy to use platform.
In Medium you create an account and then you start publishing articles. Once you sign up your address looks like this; https://medium. Com/@yourname.
The medium does not require setup or coding skills to start.
It allows you to reach people online that have similar interests to you.
You don't have to design a website you can focus on writing solely
Limited features when it comes to building a brand or designing.
All your audience belongs to Medium, so if you happen to lose you account you lose your followers too.
It's not possible to use your domain name. You only have access to a profile page
No provision to run own advertisements
Medium is free to use
Squarespace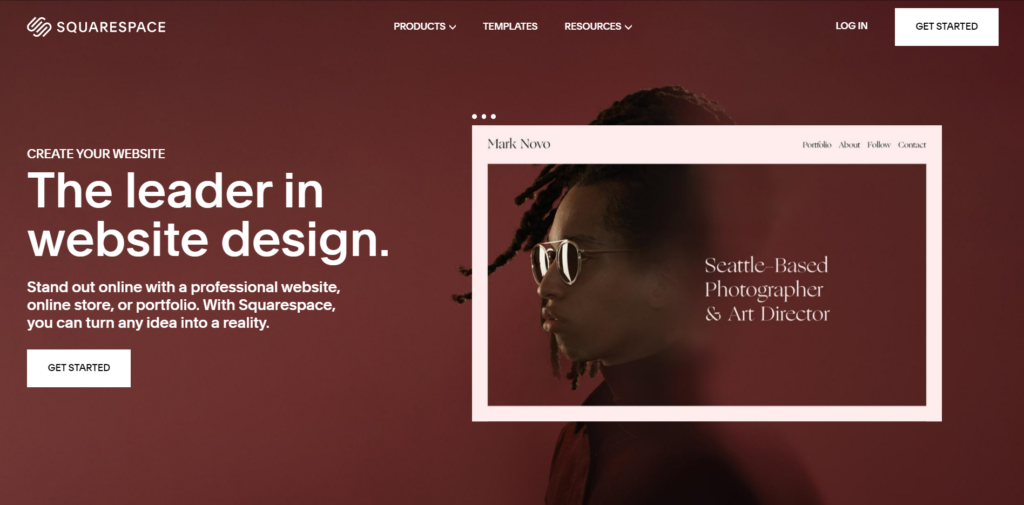 Squarespace was started in 2003 and currently hosts millions of websites.
Squarespace allows you to build other beautiful websites by using easy to use drag and drop tools. It's an excellent platform for small business owners looking for a way of creating an online presence.
Very easy and straightforward to use for beginners who may not be very tech-savvy.
Has very beautiful designed templates
Offers separate domain name with SSL/HTTPS together with eCommerce stores
Squarespace proprietary platform has limited built-in features
Limited integrations to select a few tools and services.
Squarespace varies in pricing for online stores and websites. General pricing for personal websites begins from $16 per month, $12 per month if paid in advance for a year. Business plan pricing starts from $26 per month, $18 per month all billed annually. Online stores pricing begins from $26 per month to $40 per month.
Wix.com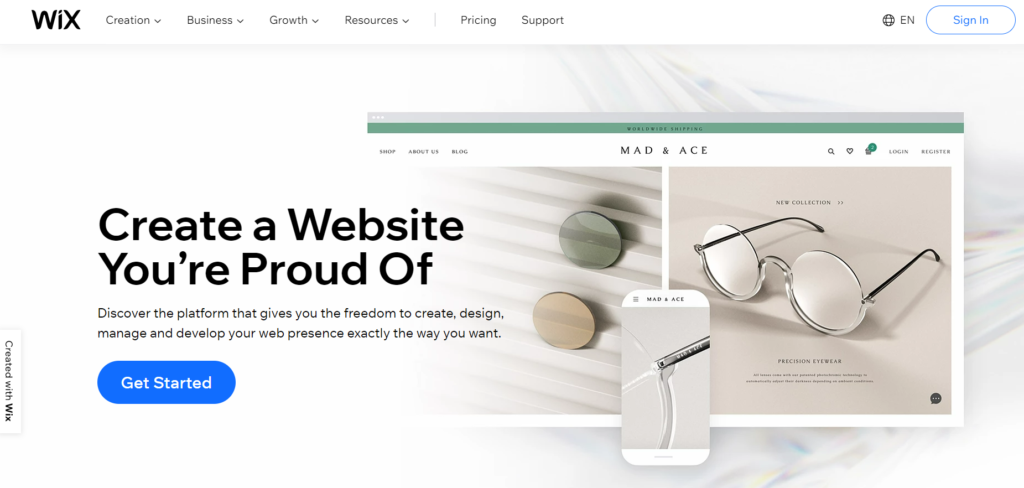 Wix was founded in 2006 as a platform for building websites. Wax.com works best for small business to enable them to build websites using drag and drop tools. Using a Wix Blog app, you can add a blog to your site.
Wax.com currently has over 110 million users worldwide.
Wax.com can be easily customized using third party apps and templates.
To build your site, you can use drag and drop tools without requiring to do any coding.
Easy and quick setup
Wix.com account is limited and runs Wix advertisements and branding on your site.
Limited free third-party apps
Chosen template are permanent and cannot be changed
Limited eCommerce features
Basic Wix.com Website is free. It comes with a subdomain https://username.wixite.com/xyz
A custom domain costs $4.50 per month. Premium plans charged $8.50 going up to $24.50 per month. 
Ghost

Ghost features mainly focus on bloggers that major in writing. It is available as software and a hosted platform.
Ghost focuses on writing and blogging
It is an intuitive user interface, clutter-free and clean.
Ghost is super-fast because it's written in JavaScript
The hosted version does not require setup
Does not customize very well with apps
Minimal options because of the simplified user interface
Limited theme to allow changing appearances on your site
Has a complicated setup
The self-hosted version requires a custom domain costing $14.99 per year together with web hosting costing $7.99 per month.
Hosted version costs $29 per month with two staff users and 100k pages.
Constant Contact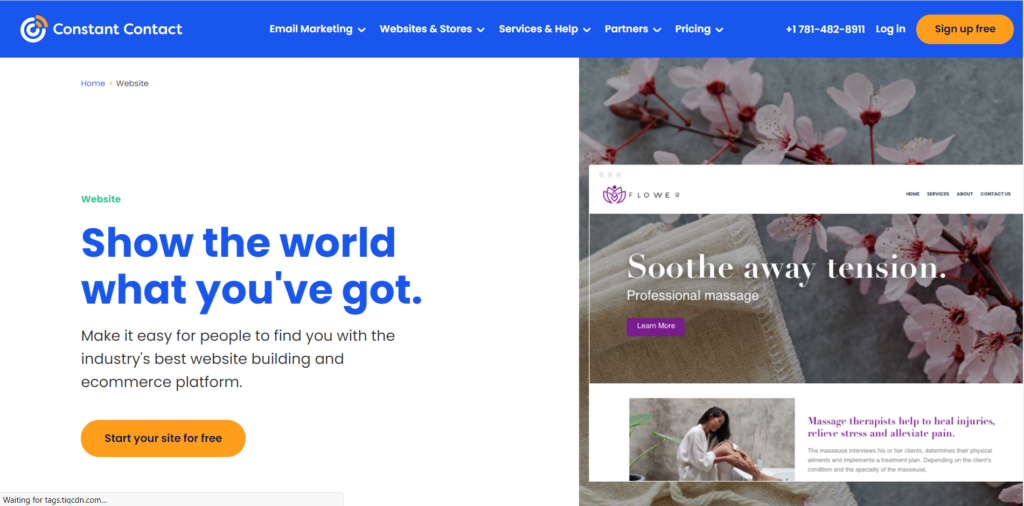 Constant Contact is a website builder with an intelligent (A.I.) website builder that can build a website, blog, and online store within minutes.
It has helpful tools like a professional photo library with over 550,000 images, a custom logo maker, and many more.
Has any easy to use drag and drop builder that doesn't require technical skills.
Easy and quick setup since they host the website for you
A generous free plan to build an online store even before purchasing
With all paid plans a free SSL and Domain is offered
Small developer ecosystem
When it comes to the third party platform, there is limited integration
It's difficult to export your website from Constant to another platform
Free to create a business website, blog and online eCommerce store
Starter plan cost $10 per month
HostGator

HostGator created gator for building websites and blogging. It is also used to host the WPBeginner website. Gator has a drag & drop tool which is used to make online stores, business sites, and blogs. NB Gator builder is different from HostGator website hosting.
An easy drag and drop builder for customizing your website design and blog
No technical hassle hence quick setup
Issues to do with security, performance, and backups are handled by HostGator
All plans have an SSL certificate and Free Domain
With just a few clicks you can add on online store
No free account even though there is a 45-day guarantee of money back
Ecommerce features only offered to higher plans
Limited extensions and apps
55% off for WPBeginners on Gator builder plans.
Starter plan costs $3.46 per month including SSL Certificate and free domain
In Conclusion
WordPress.org outperforms all the other blogging sites. It is the most flexible, powerful, affordable, easy to use blogging platform. The benefits of using WordPress.org outdo all other platforms.
To enjoy the services of WordPress.org, you can now get hosting from https://www.seekahost.com/.
It is a UK based WordPress hosting provider. You can also read the 'Beginners guide to building a WordPress site'. To learn how create a website on WordPress.org.
WordPress is the better option for anyone who desires to have full control of their blog's now and in the future.