10 Important Reasons to perform a WordPress Website Backup daily!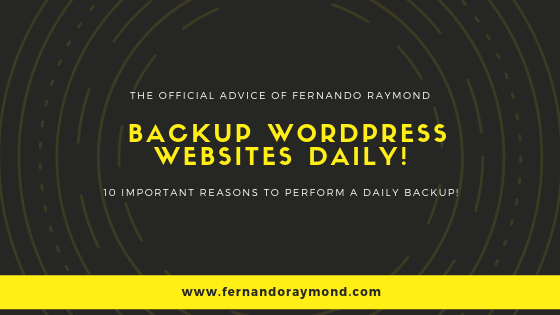 I have created thousands of WordPress websites and blogs and my agency manage hundreds of WordPress websites and backup them daily.
So in this article, I want to advise you about the importance of doing it daily
Why do you need to perform a WordPress website backup?
WordPress website backups are essential to managing your WordPress website with maintenance, if not considered seriously can simply leave you empty-handed.
At some or the other point we all must have taken a backup of your WordPress website files, images or videos just in case we don't lose them.  The same approach must be taken forward when dealing with your WordPress website. Just building a website and hosting it doesn't make you sit and relax that all will be taken care of automatically.

If you are that kind of person sign up for the ClickDo WordPress maintenance services and you can focus on your business leave it for them to looks after the backups.
A WordPress website backup will ensure that your data remains safeguarded in case of any mishap.  Let's look over 10 most important reasons for performing Website Backup.
Accidents are inevitable
There are obvious chances that some file may get accidentally deleted or corrupted which may as a result of other files too. If regular WordPress backups are being taken of your WordPress website or blog content within no time you can fix this issue and make your site functional again.
Security of Data
This being the most essential reason of all. Ultimately the whole idea of performing a backup is to prevent loss of data. Since this data or content is the foundation of your website. Since online data is prone to theft and threat, there should be a complete and multiple back-ups of your website and possibly kept at a different location so that your data can be recovered at any cost.
Preventing Issues During Updates
Sites are often updated for proper functioning and performance. There are chances that during this process suddenly your data get overlapped or sweep away. Before performing an update set the recent restore point to which your site can revert in case of such malfunction. In any case, maintain your regular backup even if no other options work.
Compatibility issues Post New Installations
While making use of any Content Management System, one incorporates many add-ons for enhancing the website. These useful and easy to install tools may not gel up with the existing ones.
Cleaning Malware
Websites are vulnerable to various attacks. They do get affected by Malware. Though you take up preventive measures and guard your website, infectious malware can sweep in through using various ways. Resolving malware can be a tedious and tricky process. Also, cleaning can be time consuming and unpredictable. After all this, your site may remain vulnerable to such attacks. The best remedy is to backup your site which will make the other process quick.
Keeping Hackers Away
As mentioned earlier, online data is highly prone to various threats and risk factors. Your website getting hacked is one of them. Once they get access to your credentials, not only your important information can be altered and misused but you can be blocked too in accessing your site. In such a situation one way of recovery is using by using your email but if that's is also being altered then you are left with only one alternative and that is restoring your backup to immediately gain access to your site, then modify the credentials and block the hacker.
Simplifying Switching Web Hosts
If there occur a need and requirement of migrating your web hosts then you have to transfer all of your website content from one place to another. But the wise ones who already have a backup of their backup can just ready, steady and go. You can carry out this process manually by copying files, which will hardly take any time, or your host provider can help you out in performing the same.
Testing Version
When trying something new in your website, it's better to run a trial version, by using something called staging site. Here all the testing or updating can be tested, if not satisfied or things don't work, your live site remains unaffected. Now, what's the role of backup here? Well, you need to put the entire data in the staging site for running the test. Those with backup can do it at once.
No interference in Revenue generating
Any obstruction or non-functionality of any component in your website can be bothersome especially when the website is a revenue-generating one. Rectifying issues and fixing them up can be time-consuming. Your site will also face downtime, severely affecting your business. But if the regular backup is maintained, you can quickly be online and back to business.
Inculcate Security Regime
As we have good practices in building a website, getting conversion rates, maintain standards, one of the best and essential practice should be taking regular or timely backups. Moreover, backing up process is simple, fast and involves various ways to do it. You can say it's a digital security ethic.
Now you know the 10 Important Reasons to perform a WordPress Website Backup daily!
So, backup your data right now!