What is an SEO Specialist & How to Hire the best for business?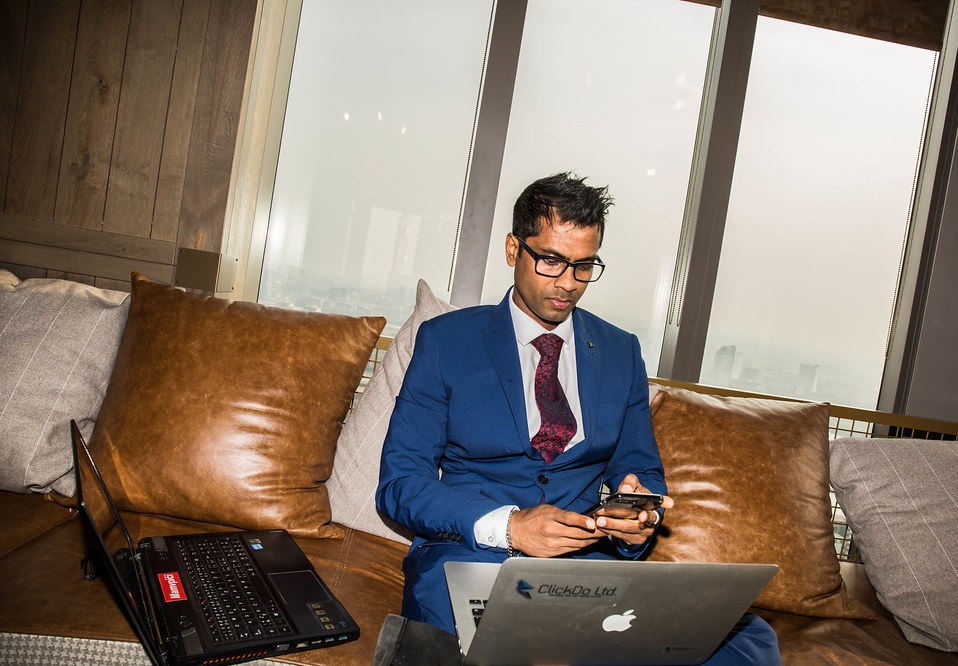 If you are looking to know whats is an SEO Specialist, who else should you ask from?
I'm Fernando Raymond and I'm a self-taught SEO expert and being doing SEO consulting for over 7 years.
I started as a freelancer and then set the roadmap to London's best SEO agency – ClickDo Ltd.
Currently, my team of SEO consultants runs the agency and servers over 600 clients with the mission to help 1000 local business owners with search engine optimization services.
SEO is the most amazing internet marketing skills I learned as an internet entrepreneur
So let me tell you everything about SEO specialists and how you can get the results-driven person to get higher ranks on Google or any other search engines.
Every other person on the Internet today is an SEO specialist. They'll all promise to get you to the premiere spot at the top of the Google search results.
But that's what they do. They promise. They don't deliver.
And how do I know that?
Well, because every other day, I meet businessmen whom these so-called SEO specialists have duped.
Many of these business owners didn't even realise that the people they were trusting were not even SEO experts. They just know a few fancy words. And that's how they lure those who don't fully get what 'SEO specialist' means or what these specialists are supposed to do.
And as an SEO specialist myself, this deeply pains me. That's why I have decided to put together this guide to help businessmen like you find the best SEO experts.
Who is an SEO Specialist?
An SEO specialist is someone who can help your website rank on top of Google search results. He/She should be able to analyse and audit your website from an SEO perspective. And then implement the necessary changes that are important to get search engine rankings.
Now, that sounds like a simple enough job. Just one thing needs to be done. But that's far from the truth.
A lot of things have to be analysed, audited and implemented to get complete results. And SEO specialists should be experts in all these fields. The fields include –
Website audit – Finding what's wrong and needs to be fixed.
Website designing/redesigning – Correcting the website structure and design.
SEO implementation – Optimizing the website to rank higher.
Backlink generation – Getting more pages on the Internet to point back to you.
Getting business listings – Getting business listings aids backlink generation as well as helps get qualified leads too. A lot of top UK business listing blogs allow free listings. And I often use these for my clients.
Content creation (or sourcing) – Gathering a dedicated readership, and creating/sourcing content that can help you rank higher. This includes guest posting and PR campaigns too.
Reporting – Letting you know what was done and what results were achieved.
Someone who can all do this is an SEO specialist in the true sense of the term.
Ask Before Hiring An SEO Expert
When you meet an SEO expert, here are the six questions that you need to ask them. The answers to these questions will help you decide whether to hire the said professional or not.
1. How much experience do you have?
A lot, several years, almost a decade – all these are vague answers. Do not fall for these.
I have been working as a freelance SEO consultant for the past six years. That was when I started to get commissions from business owners who used my strategies to grow their business online.
Look for definite answers like the one I gave right here.
2. What kind of clients have you worked with before?
Search engine optimisation is not a one-size-fits-all kind of coat.
Every type of business needs a different plan. If you see an expert who has worked with only one type of business or businesses in a specific niche, they might not be as successful outside that niche.
I have worked with cleaning companies in London, orthodontists, photography studios, online jewellery stores, lawyers and people from several other walks of life.
Irrespective of what business you own, I can create a customised strategy for your business.
Unless you get someone who can confidently say this, it will be a waste to hire them.
3. What can you do for my business?
Everything, whatever you want, take your business to the top – vague answers again.
Don't hire anyone unless they explicitly mention all the aspects of SEO that I mentioned earlier.
The one who doesn't know what all SEO includes will never be able to offer fulfilling results.
4. How long will the process take?
SEO is not a time-bound process. It requires continuous efforts. But that doesn't mean you have to wait indefinitely to see tangible results.
When an SEO specialist looks at your website and understands your business goals, he/she should be able to give you an approximate timeline.
When clients contact me for SEO consulting services, the first thing I do after understanding their needs is to tell me how soon they can expect to see their website's ranking rise. Depending on the competitiveness of your niche, it usually takes around 30 days to start seeing results.
5. How much do you charge and what payment modes are accepted?
If you don't want to see shocking footlong bills at the end of your partnership with your SEO specialist, it is best to talk about payments beforehand.
Whether you contact ClickDoTM Ltd. (my digital marketing firm) for search engine optimisation services or need me to be your SEO consultant, you will get a quote. And that is before we start working. We like being clear about the payments and accept a lot of payment options to give you complete ease.
6. What sets you apart from the rest?
Now, this is really an open-ended question. There could be countless possibilities of answers to this question.
And no answer is right or wrong. The only deciding factor is what answer strikes a chord with you.
However, here's what I'll say –
I don't make promises when we start working. I set goals that I will achieve, come what may. My purpose is not to take you to the top of search results. My purpose is to help you stay there. And reap the advantages that come with higher rankings.
Now, if that answer satisfies you, you can get in touch with me. If not, you should keep looking for an expert who can satisfy you with their answer.
Do I fit the bill?
Before I ask you to question all others claiming to be SEO specialists, it is important that I satisfy the criteria first, right?
Well, I've already answered the questions that you should ask. And let me tell you a little more about myself and what I do. And then you can decide whether I fit the bill or not.
I started out as a freelance SEO consultant 7 years ago. That's when I was living and operating from my rented box room in Queensbury. And I also launched a blog, FernandoBiz, where I shared SEO tips and strategies for small business owners.
Here's a quick video of how I landed my first client back then.
And when business owners started contacting me for full-time services, I realised I couldn't do it all alone. The workflow was overwhelming. That's when I joined hands with 2 others, Kasun and Logesh. And then I launched ClickDoTM Ltd.
Today, ClickDo is among the top digital marketing companies in the UK. And the agency serves clients based not just in London or the UK, but even in the US, Australia and several other countries.
I also laid the foundation of SeekaHost, which is a web server hosting platform. And SeekaHost University offers courses that I created with my knowledge and experience of SEO and digital marketing. I also have a Facebook group where I share tips and strategies.
Now, I started as a freelance SEO consultant. I applied the principles of SEO, which helped me get found online. And since then, I have been replicating the same model that I used, for all my clients. And not one of my clients would say that they didn't see the results.
Whether you contact my team at ClickDo for digital marketing services or want me (I'm not available to hire but you can talk on my team at ClickDo) to be your SEO specialist and consultant, my team will start by analysing your website. Then will give you a comprehensive audit report stating all that needs to be done. Once you have understood that, the specialists will start implementing the SEO strategy that I'd have created for your business.
If you are looking for SEO services to get higher ranks on search engines get in touch with Dinesh Kumar at ClickDo!
And soon enough, you'll see visible results. Not only will your website rank higher, but you'll also be getting more qualified traffic. Thus, better days for your business won't be far away.
Here's what else I have to offer?
If you do not wish to hire me or my company for your business, I can still help you. You can make use of the SEO blueprint that I have created. It works for me and plenty of others who use it the right way. And it can work for you too.
If you are an SEO beginner, you can enrol yourself in the SEO training course that is available at SeekaHost university.
This will help you become an SEO specialist yourself. And you'd be able to manage the search engine optimisation affairs of your business on your own.
Whichever way you decide to go, before you begin, first take a look at these ten affordable SEO services that small businesses absolutely need. This will help you better identify who's the best specialist for the job.
While SEO is undoubtedly essential. But what's more important is that you hire a specialist who not just talks the talk but walks the walk.
And now, that you are equipped with all the information that you need, get the right experts (me or anyone else that you feel is right for the job) onboard at the earliest