How To Start An SEO Consulting Business: 7 Tips to Starting An SEO Business in 2021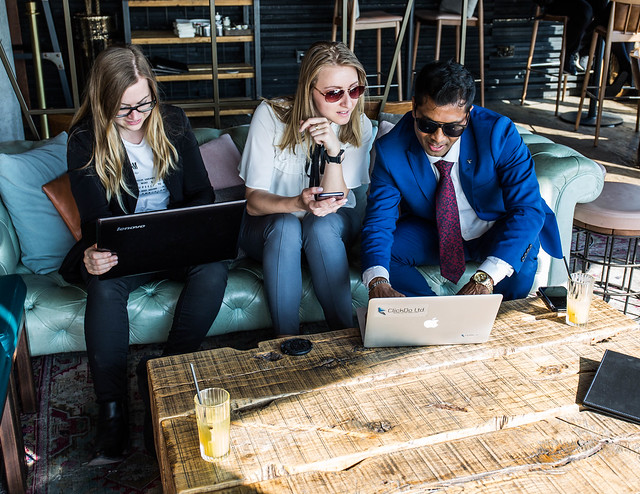 If you want to learn how to start an SEO consulting business this year, this is the ultimate guide that will show you how to start providing SEO services and get paid thousands of $s or £s or Euro each month.
Search engine optimization is among the most in-demand skills today. Businesses all over the world, in all niches, and of all scales need SEO.
Everyone wants to be on page one.
Now, if you want to earn money helping businesses land on top of Google SERPs, starting an SEO consulting business is the right option for you.
And in this guide, you'll find everything that you need to start your own consulting business.
What Will This Guide Help You With?
This guide can be used to start any kind of SEO consulting business. Whether you want to become a freelancer or if you want to establish an SEO agency, this guide will provide you with the top tips that will help you get started.
Don't want to earn money by offering SEO services to others? You can also use the tips to learn how you can perform SEO for yourself.
So, let's get started…
First things first, it is important to understand what SEO is. No, I am not going to define SEO for you. You already know that search engine optimisation is the art and science of ranking a website/webpage on the top of Google search results.
But what you don't know is that SEO is not about tricking Google's crawlers and getting to the top spot. SEO is about working hand-in-hand with Google's crawlers and landing on the top spot.
Google's crawlers will love you only when you are loved by everyone else first. And that will happen when your website has valuable content, good design, and seamless functionality. Thus, in essence, that is what you need to do as an SEO expert.
What is SEO Consulting?
SEO consulting is the act of guiding businesses towards getting higher search engine rankings. As an SEO consultant, your job is to analyse, audit, and optimise a client's website, so as to help them land on the #1 position in SERPs.
You'll have to first strategise a plan, implement the necessary changes, report the efforts and results to your client, and work based on the feedback received.
Why Start An SEO Consulting Business in 2021?
The SEO industry has a valuation of well over $70 billion. And now, that is enough to prove that it is a booming business.
Every business needs SEO. You'll never suffer from a lack of demand. But that is when you are good at what you do. And you keep updating yourself with the changing digital landscape.
Why Am I The Right Person To Guide You?
As the proud owner of a digital marketing agency and an SEO consultant, I have followed these tips myself. And because they worked for me, you can be sure that they have a proven track record. If you follow the tips religiously, success is guaranteed.
7 Tips For A Successful SEO Consulting Business
I believe that building a business shouldn't be complicated. That is why I have broken down the entire process into seven simple, do-able steps that you can take.
These are just tips that I am sharing based on my experience. But if you follow all of these tips, in the correct order, it will also double as a process plan that will guide you in your journey.
1. Plan to Perfection
I have said this before, and I will say it again, "People buy from people who they like and trust." And to be liked and trusted, it is important that first, you have a plan in place.
Just like any other business, your SEO business also needs a blueprint. Well, I have done most of that part for you. You can make use of the SEO blueprint that I have created. Or you can also start with the local SEO blueprint if you wish to start with local SEO. These blueprints will help you understand what needs to be done and how.
You can also enrol in the SEO course available at SeekaHost University. I have created that course to help people like you get all the information that I have gathered with my years of experience in the field. Also, you can join my SEO Consultants group on Facebook.
2. Set Up Your Shop
Before you can help people get the best results for their website, you need a website for yourself too. Even if you are interested in becoming a freelancer, having a website is important.
Set up a WordPress website (there are a lot of benefits to using WordPress as your CMS) and buy a domain name. You can buy a domain name from SeekaHost and refer to my blog post to learn how to register a domain name. My blog on creating a website will help you set up your website in the right way.
You will also server hosting to set up your website, and you can check out SeekaHost business website hosting plans for that.
Once you have set up your website, you should start by applying the SEO blueprint for your site to rank higher in SERPs and get clients. You can also make use of the Ultimate Blogging Course that I have developed to create great content and rank higher.
3. Market Yourself in The Right Way
You will get clients only when they can trust you. And you need to develop this trust using effective marketing methodologies.
I had previously written a blog on personal branding strategies that you can read to get some insightful tips.
Also, make sure you reach out to people using different platforms. YouTube is a very powerful platform. You can create videos from your smartphone as well. Also, you can use social media channels like Facebook for networking.
SeekaHost University's Facebook Remarketing Course can come in handy for this.
4. Find Your USP
If you start your consulting business by offering the exact same services that your competitors are already offering, your chances of succeeding will be slim.
To be able to succeed, you need to offer something different. Now, this is a step that I cannot help you much with. You need to find your Unique Selling Proposition yourself.
But what I can do for you is, give you an example.
The value I bring to my clients is my hands-on experience. I started as a freelance SEO consultant, and then I went on to start my own digital marketing firm, ClickDoTM Ltd.
And my experience in the field is what sets me apart from others. And most of the new business I get is in the form of referrals. That is because my clients have seen that I deliver what I promise, and they then recommend me to others.
Using the courses that I have created and reading the blogs that I have written, you can get an edge over your competitors. And maybe that knowledge can be your USP.
5. Offer Different Options
Finding the right clients is not tough. You just need to identify the most competitive niches and then use networking to get clients.
But to be able to effectively retain those clients, you need to make them happy with your offer. Whether you are offering specialised content writing services, backlinking service or all SEO services under one roof, you need to offer different packages that suit the diverse budgets of your clients.
For example –
For $500, offer to optimise a site to get the email address of the visitor. Email marketing is an irresistible offer to start with.
For $1500, offer to manage the social media accounts of the client. And you can post up to two blogs per week for them.
For $5000, offer everything that is available in the first two packages. Plus, offer them Facebook and Google Ads-related services too.
With different options, negotiation becomes easy, and you can get clients even if they have a limited budget.
Also, you can create custom plans that are specifically suited for your clients' needs.
6. Deliver What You Promise; Don't Cheat.
I cannot stress this point enough. And this is not just for SEO consulting business.
Every business needs to be honest in its offering to be able to succeed.
My clients refer me to others, and that's how I get most of my business. But if I would not have delivered what I promised, these businessmen would have never recommended me. In fact, they would have told others in their circles to not trust me. And such a situation is disastrous for business.
If you properly follow my guides and courses, you will have no trouble in delivering great results to your clients. But if you try to cut corners, and deceive your clients, you will inevitably fail.
7. Don't Stop Growing
Once you have started getting good business, don't stop there. Keep growing your business by getting new clients and expanding into other services like PPC ads. I did that with ClickDo, and you can do it too.
Digital marketing has a lot of scope and options. And with time, you can diversify your skills and knowledge and thus, your business too.
Don't shy away from hiring other experts for this. Nobody expects you to do everything yourself. When I started my business, I too joined forces with two of my good friends, Kasun and Logesh. And even now, I have a team of experts with me at ClickDo, who help me offer my clients a wide range of services.
Where To Get Started?
Now that you know what needs to be done, it is time to get started.
So, take the first step on how to start an SEO business, and get your SEO blueprint or enrol in SeekaHost's courses. Give wings to your dreams (and the dreams of your clients) and fly high in the digital sky.