Top 5 Best Internet Plans in India for Home-Based Remote Workers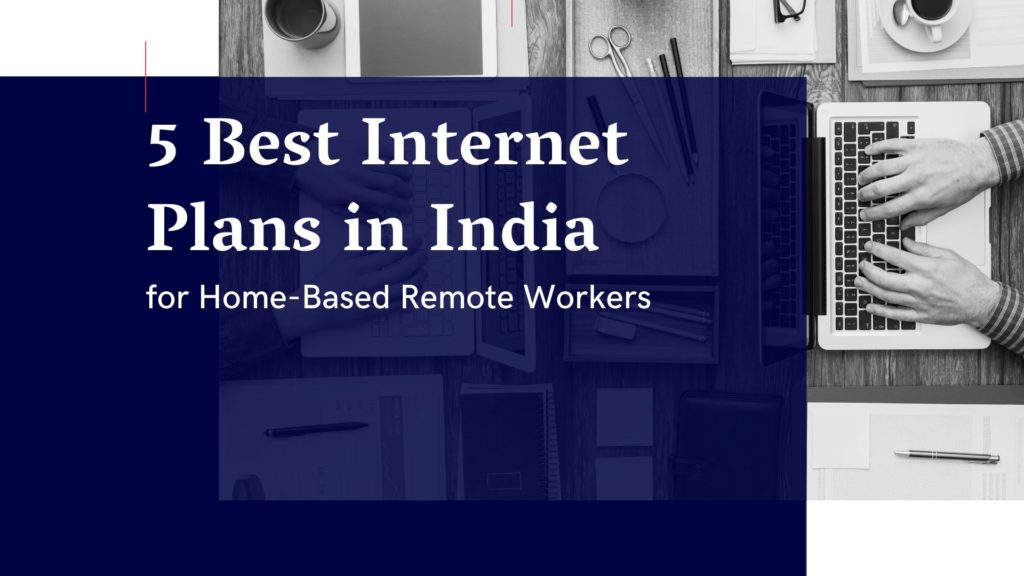 Are you constantly refreshing your router for a better signal? Or is your work getting delayed because of the glitching internet? Aren't you tired of having to refresh your page while researching? If you're looking to earn money online by working from your home, or have already landed a project to work on from your home, you need high-speed Internet.
Then you have come to the right place as we have analyzed every broadband service provider in India and curated this list. Say goodbye to lag in video calls and video streaming, with the fastest internet services in India.
5 Best Internet Plans in India
Airtel: A Free Router With Every Plan 
Bharti Airtel Limited has been part of India's telecommunication services for 25 years. Its broadband plans are particularly alluring as the company offers a free router for any of the Wi-Fi plans you choose. The reviews and testimonials from customers show it delivers on its promise of high-speed.
All you have to do is fill out a form on the Airtel website and the connection gets set up within 48 hours. Airtel's broadband plans have four categories; Basic, Entertainment, Premium and VIP. The internet speed varies from 100 MBPS to 1 GBPS and the data limit begins from 150 GB to unlimited for the better plans.
What do you need to know about choosing Airtel?
Plan prices start as low as Rs. 799 and go up to Rs. 3999 and activation fee waiver depends on your location. 
The customer service team will confirm the speed limit as it varies based on your location.   
The activation fee is waived if you opt for a bulk payment i.e 6 or 12-month payment plan.
All the plans except the basic package come with free Netflix, Amazon Prime, Zee5 Premium and Airtel Xstream for a limited period.
YOU: An Affordable Option
A subsidiary of Vodafone, YOU is an up and coming broadband service making its way through India. It promises high-speed internet for corporates, SMEs and residents in 18 cities. The company is slowly expanding to the rest of the country and already has gathered reasonably good reviews.
This service is perfect for solo workers looking for cheap and fast internet to support a maximum of two devices. The plans range between 50 Mbps to 200 Mbps depending on the area. Check out the YOU website to choose from the various offers based on your home city.
How does the YOU registration process work?
Apply on the website by entering the required details and await confirmation.
YOU customer care will contact you once the area is verified to confirm your plan and installation date.
You will receive an email with a link to make an online payment to activate your connection.
Installation charges are applicable for payment plans of 4 months or less. This does not include the refundable deposit charged based on the available network.
You will need to submit a copy of your address proof and identification card (PAN or Aadhar).
Jio FIber: The Prepaid Plan
If you work from home or are looking to start a business online or just love browsing, Jio Fiber is equipped to meet your requirement.
Reliance's broadband service Jio Fiber is all about reasonable plans just like its telecommunication offers. They are divided into 6 categories; Bronze, Silver, Gold, Diamond, Platinum and Titanium. The basic plans offer up to 100 MBPS while the premium ones go up to 1 GBPS.
What benefits come with Jio Fiber?
Every internet plan includes TV video calling, gaming and home networking.
Compared to the other broadband services, Jio provides access to the most number of streaming websites. They include Amazon Prime, Disney, Voot, Zee5, Jio Cinema, Hotstar and many more.
Premium content like first-day first-show movies and special sports channels are restricted to Diamond, Platinum and Titanium categories.
ACT: The Dependable Network
ACT Fibernet has been around for many years and has proven to be a consistent and reliable broadband service in India. The company offers up to 1 Gbps internet speed with 2000 GB monthly data for download and upload.
If the monthly data doesn't meet your requirement ACT provides FlexyBytes+ that allows you to add more GB to your pre-existing plan. You can add anything from 25 GB to 500 GB excess data which will be valid for 90 days.
Download the ACT Fibernet app as it makes connectivity and payments easier. It also offers discounted rates for 6 or 12-month payment plans. This broadband service uses high-end fibre optic technology leaving every customer well connected.
What sets apart ACT Fibernet from the rest?
This internet service has been around for a long time but is not as expensive as Airtel and Jio. 
The internet speed is just as good as Jio and Airtel.
As many service providers struggle to make ends meet during this pandemic, ACT has managed to keep up with the growing demand.
TATA SKY: Impeccable Customer Service
Available in over 21 cities, TATA SKY broadband offers services that delight, with unlimited data plans. TATA SKY's internet speed ranges from 25 Mbps to 300 Mbps depending on your city. Even though the speed is considerably low TATA SKY network is dependable for home-based work.
What are the advantages of getting a TATA SKY connection?
You get a free router with free installation if you opt for a 3 month or more payment plan.
TATA SKY provides a smart router which is an Optical Network Terminal (ONT)+router.
If you pick a 6 or 12-month payment plan, TATA SKY offers a 10% and 15% discount respectively.
TATA SKY's customer service is highly applauded for their ability to solve grievances with utmost priority.
Chances are you are working from home and a high-speed connection is now a necessity. The above broadband services are upping their game to meet the increasing demand to ensure their loyal customers stay happy. Make an informed decision by comparing these 5 services and pick the one that suits you best.
Each of these broadband websites has easy access to sign up for a new connection. This includes a quick revert from the company to set up your new internet service. So what are you waiting for? Get the best internet plan in India and enjoy unlimited browsing and flawless speed for uninterrupted work.