Top 35 Work From Home Jobs In India (Hottest Online Working Careers)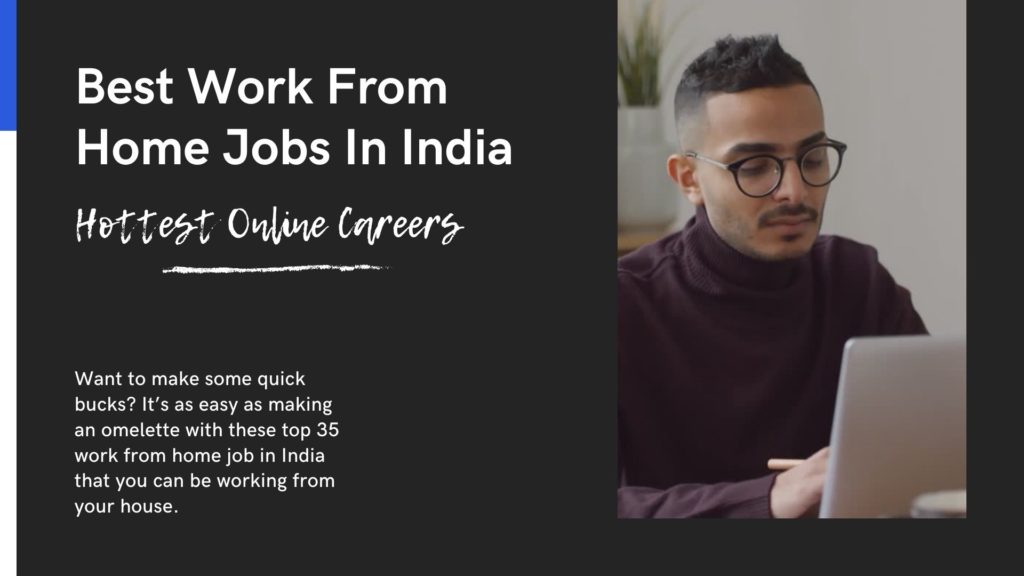 Want to make some quick bucks? It's as easy as making an omelette with these top 35 work from home job in India that you can be working from your house.
The trouble is, you're going to hate your method of making quick money, just as you'd hate eating the same omelet every day. 

Pursue a sustainable method of earning while doing something meaningful, and working from home. 
If you have a laptop/PC and a dependable Internet connection, you are all set to start earning. 
The hottest online careers don't need a resume or a hefty bank balance. They demand common sense, the ability to research and learn, and a beastly balance of stealth and aggression. 
How I do online work from home
I have been working remotely and mostly from home, and it's fun to be working from home at my own terms. Not only me my teams that work at ClickDo digital agency and SeekaHost India offices work from the conform of their own house.
[Tweet "The remote work lifestyle involves in learning digital skills and that's what you will be learning from this guide to work from your home in India."]
And in this guide, I want to educate you on how to find and do the best work from home.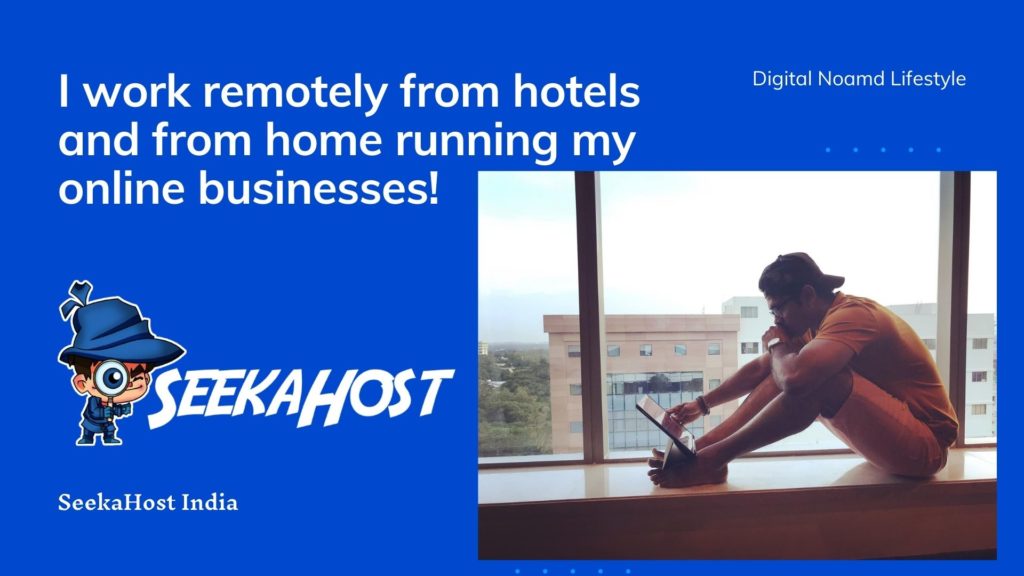 Start from the basics, learn, and upgrade along the way. And make a steady income right from your couch. And in my guide to make money online in India I go in detail about how me and my teams based in Indis have done it to earn from the internet while working from. 
All of these ways are proven to work and not like many other sites that just link you up with jobs sites to get an affiliate commission, I want to help you know what are the best jobs that you can do and how you can learn the skills to work from home online.
Before going further I want to give you the support to learn digital marketing at home so you can basically apply for any of those jobs that you can be working from home.
Also, if plan A doesn't work for you, you have Plan B. And till Plan Z to try and see what works for you.
Best Work From Home Jobs In India
1. Affiliate Marketing

Affiliate marketing means getting paid for promoting products or services. 
Find a product/service that you like and are willing to promote.

Sign up with the affiliate program, promote the link through networking, your blog, or other platforms, or through SMS or email marketing. 

Collect your commission when someone buys the product from your link.
The best part about affiliate marketing in India is that you can get up to 80% of the commission.
Top affiliate marketing programs that you can sign up for include:
2. Blogging 

Do you have a knack for a special topic? Do you have the ability to write your thoughts in a coherent and engaging manner? 
I have written how to start a Blog in India and that will teach you how to earn from blogging.
If you enjoy writing, then a small investment in creating a blogging platform can certainly help you create an income stream from your blogging work. You can join the free blogging course at SeekaHost university which is the best uide to fine-tune your talent are all that you need. 
Place ads, do sponsor posts or sell your own products to earn money.  You can learn it all at the blog for profits blueprint course.
The only precondition? Write genuine, quality, and engaging content. 
3. Community Building

You can be that ambassador for various brands by online community building. Facebook and Instagram are the perfect platforms to build social groups and communities.
Build a community, establish your authority, partner with the right brands, and make easy money online. You can take training about how to get a job as a Facebook group manager and there are many people on Facebook who teaches that. 
4. Crowdfunding

Do you have a groundbreaking idea that can revolutionize the market scenarios? Don't let the lack of funds stop you. 
Crowdfunding platforms like FuelADream, Fundable, or Crowdera can help you get listeners to your story and investors for your business idea. You just need an idea that moves hearts and convinces people about the potential in your idea.
5. Data Entry

Okay, take this quick quiz
Do you have good grammar skills?
Do you know basic computer operation?
Do you need quick cash from the comfort of your home?
Did you say yes to all three?
The simplest job available on the Internet for you is data entry. 
While there isn't the need for any specific skill and basic grammar and computer skills will do, you need to offer perfection in what you do.
Job portals like Naukri, Monster, and Indeed have plenty of data entry jobs.
It's not scalable though, unless you branch off into the agency model, by hiring other freelancers and gunning for bigger projects yourself. Easier said than done. 
6. Digital Marketing Services 

Okay, so this requires some skill. You need to know the digital landscape and you need to know how you can make your clients stand out. If you have previous experience in digital marketing and eye for detail and new opportunities, you can make this work for you. 
Networking and proper portals like Upwork will help you find clients. And the payments that you receive will depend on what kind of results you offer. 
Don't forget to keep upgrading your skills to stay competitive. 
And when you read the online money guide which I linked above (if you did not read it go read it) you can see starting a career in digital marketing is one of the best jobs you can be done from home.
I started by offering digital marketing services and I got really good at SEO for local business and I worked for years from home.
7. Domain Name Trading

Can you identify domains that have the potential to be in demand? 
That is all that you need to do to set up a domain name trading business. Buy domains from SeekaHost and then wait for them to bring you big bucks when you sell them at the right time.
8. Ebook Writing

Make next-level use of your expertise with ebook writing. Write a comprehensive guide book on any topic that you have a mastery in and then start selling. 
Adopt an extensive and rigorous marketing strategy and partner with platforms like Amazon Kindle. You can also sell it directly from your own platform. 
9. Ecommerce Website

Setting up an eCommerce store is easy, affordable, and rewarding. No matter what product you choose to sell, an eCommerce store can help you reach audiences far and wide and make money fast.
Find a trusted supplier, build a store on Shopify, WooCommerce, or other sites, and have a spectacular marketing strategy. With these 3 basic things, skyrocket your eCommerce earning.
10. Forex Trading

Does the foreign exchange market excite you? Do you have an eye that spots trends at the right time? 
Forex trading is a 24×7 money-making market. The market never sleeps and your earning will never stop. 
If you have the skills for trading the forex market and the right resources to help you, it won't take you long to go from earning pocket money to full-fledged income from forex trading.
11. Freelancing Services 

The world at large is moving towards becoming a gig economy. And the Indian workforce is in-demand across the globe. 
Whatever skill or talent you have, they can be marketed. Indian freelance marketplaces like Youth4work, WorknHire, and Freelance India can help you make the most of your time and skills. 
Keep brushing up your skills and upgrading with the latest industry trends to stay ahead of the competition. 
12. Online Gaming

Now if someone says playing games is a waste of time, you can show them your bank statements and the money you get for playing games. 
Most game developers want their games to be tried and tested before release. You can get hired for testing these games and make money while playing exciting games. 
13. Hosting Services 

Tourists today love experiences more than tangible products. If you can offer an experience to people that is unique to your geographical area or culture, you can host people at your home and earn money for that.
You market your services (the experience that you can offer) online and then invite a couple of people to your place each month. Inviting tourists for traditional Indian meals is fast becoming a hot trend. Capitalize on culture and earn money!
14. Invest in the Stock Market

The world is shifting online and so is the stock market. And now, you don't even need brokers. You can make your own money online with a Demat account and the necessary trading skill set. 
Depending on your risk tolerance and how much time you want to give to this, investing in the stock market can give you long-term rewards.
15. Journalism

Where does the Indian youth get its news updates from? Online portals, right? 
This has opened up a new arena for journalism aspirants to become online panellists, speakers, and online journalists and earn money from their homes.
17. Knowledge Sharing Through Online courses

If you have expertise in any area, you can make an online course for that subject. With online education becoming the new normal, you have plenty of opportunities. 
You can sell your course independently or partner with educational platforms like SimpliLearn and Vedantu. 
18. Leasing or Renting Property

Do you have some spare space in your house? Well, the best to monetize it is to lease or rent it. 
Publish an ad on independent real estate portals or partner with Airbnb and make money from empty spaces. 
19. Modelling Work 

If you have good looks, good looks, and good looks, you can become the next top online model. 
Social media has become the best platform for marketing and brands are willing to spend a sizable budget on online promotions, which include hiring models for billboards and other platforms. 
20. New Product Testing

Increasing competition in all spheres makes it imperative for brands to make sure that customers like their products. Before targeting the actual customers, brands hire testers to get genuine feedback.
You get the products for free and get paid for honest opinions and reviews. Well, it cannot get better than that right?
21. Online Consulting

Most people are baffled with choices. They need someone who can offer information, guide, and provide solutions. 
Use your talent and field specializations to become an online consultant
22. Photo Selling

A picture speaks a thousand words. And the right picture can help you earn several bucks too. 
Clean your camera lenses and click away. You can sell your pictures at Adobe, Shutterstock, etc. Adding the right tags can help widen your reach.
23. Question Answers

Are you the designated advisor in your group of friends? It's time you make some money out of that by answering questions on the right platforms. 
People have questions and queries. If you have the right answers and advice, you can get paid. Just Answer is a platform where you can get paid well enough.
24. Real Estate Agent

The real estate market is always ripe with opportunities. And the online real estate market is expanding by the minute. 
If you can help people find, buy, and sell properties online, you can easily become an online real estate agent. 
25. Social Media Marketing
Social media is the new battleground for brands. But not all brands know social media success secrets. 
If you know how to manage social media accounts for brands and can build a likeable social presence and functional social marketing strategy, brands will not shy away from paying you. 
Use your social media skills to gain followers for brands and money for yourself.
26. Surveys

People might say that opinions are free, but you can give your opinions in the right place and actually earn money. 
Fill in surveys in your free time and earn rewards and easy payouts in no time. You can start with OpinionWorld or Valued Opinion.
27. Transcription

Want to make some quick bucks? It's as easy as making an omelet. 
The trouble is, you're going to hate your method of making quick money, just as you'd hate eating the same omelet every day. 
Pursue a sustainable method of earning while doing something meaningful, and working from home. 
If you have a laptop/PC and a dependable Internet connection, you are all set to start earning. 
The hottest online careers don't need a resume or a hefty bank balance. They demand common sense, the ability to research and learn, and a beastly balance of stealth and aggression. 
Start from the basics, learn, and upgrade along the way. And make a steady income right from your couch.
Also, if plan A doesn't work for you, you have Plan B. And till Plan Z to try and see what works for you.
28. User Reviews

Companies need to hear what their users are saying. And they are willing to pay you for that. 
Just like testing products, you can also get paid to write reviews too. 
29. Viral Videos

Everyone wants to go viral right now. And if you can create viral videos, news and entertainment portals will pay you for those. 
No matter what is the subject of the video, it just has to be funny or informative. Ensure that it isn't offensive and you are ready to earn money with the power of the Internet. 
30. Virtual Assistant

When people work in offices, they need an assistant. And when they work online, they still need a virtual assistant. Manage things for people and be their virtual assistant from home. And get paid lucrative sums for your services.
31. Voice Over Artist

Do you have a beautiful/strong/bold/assertive/impressive voice? Do you have great voice modulation skills? 
You can become a voice-over artist for brands, media companies, and advertising agencies and talk (well, voice-over) your way to riches!
32. Website and App Development

Websites and applications are the need of the hour. If you can build websites and develop apps, you can easily find companies willing to pay you for your tech skills and expertise. 
[Tweet "You can get web design jobs at UpWork and many other sites and get paid via Payoneer or transfers."]
33. (E)Xpert Advising

If you have an area of expertise, there are several options that you can use to monetize your talent. 
Offering expert advice on dedicated platforms like Quora, along with brand collabs can help you earn a lot of money very quickly. 
34. YouTuber As a career

If you can talk to an audience and keep them engaged, then being a YouTuber is the perfect career option.
Fame, money, and fun are guaranteed. And you can make a lot of money from ads and influencer marketing.
35. Zoom Tutoring

Schools and education are turning online. If you are good at teaching online and engaging students, you can host your coaching classes over video calling platforms like Zoom, teach and earn money. 
No matter which one of these options you choose, here are 3 things you'll need.
Stable Internet – check the best internet providers

Legit Job Portals

Proper Guidance
Career Support
Help to get online work from home jobs
Now you know how to work from home and earn money online from the comfort of your house and build a safe, stable, and rewarding career for yourself.
If you have a question, let me know by email and I will personally help you with answers and guidance.
I have all the training courses for you at the SeekaHost university to signup and learn digital markeintg skills online.