Blog writing jobs for work from home in India (Easy to get the work online)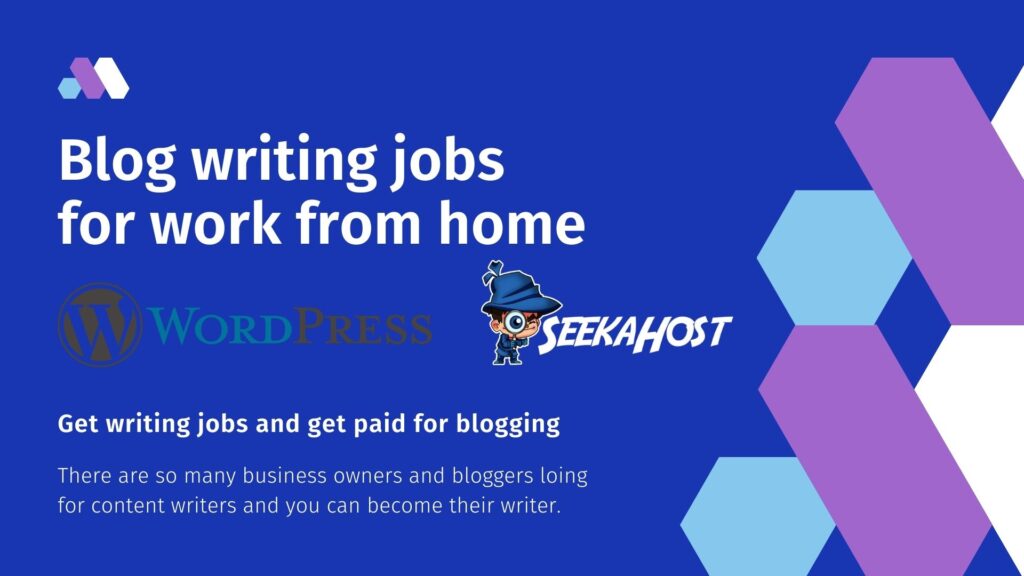 Looking for blog writing jobs to work from home in India?
Blogging and blog writing is on the rise in the world with 77% of all Internet users regularly reading blog posts.
There are many blogs at ClickDo where we post regularly and hundreds of blogs we own and manage at SeekaHost. Also, our clients need blog writing services, and we are always on the hunt for good blog writers who can create SEO friendly content.
With many writers writing for our blogs on a regular basis earning each month, you can become one of them with the strategies I share here with you. You can land more clients and generate more income as a writer for the web.
However, first you must know how to write SEO friendly content and then create a website with a blog, where you publish content for everyone to see the quality content you produce. The blog will act as an online portfolio that all potential clients you email or advertise your work with can view for reference.
I have published a guide about building a professional online portfolio on Entrepreneur.com that will provide you with more insights: https://www.entrepreneur.com/article/377510.
You can learn more about SEO and SEO copywriting at the SeekaHost University.
Starting a blog is one of the best things you can do for your content writing business.
Back in 2013 I started my blogs and they provided me with the opportunities to write for business owners' websites.
If you are here looking for blog writing jobs, but do not have your own blog, then I would recommend you investigate creating a blog as it will support your job search and online career prospects.
So use this the day to start your first blog and more can be discovered about what a blog and how you can use it in this guide.
If you are concerned about the cost of a blog, you can watch this short video to see how cheap, easy, and fast it is to register a domain and host it with the SeekaPanel:
How to get blog writing jobs online?
7 Steps to land your first blog writing jobs:
Create a website with a blog.
Publish at least 10 blog posts written by you about relevant topics for your target audience.
Do SEO for each article and try to rank them on Google for relevant keywords.
Aim to grow your blog to get 1000 monthly visitors per month. This is easier than you think however takes some strategic SEO work.
Pitch business owners in the digital marketing niche. SEO consultants and digital marketing agencies always need content.
Do not stop with one email, keep emailing and offer a no obligations free article/s. If they like your pitch and what you have to offer, you will land them as a client.
Keep pitching and put your profiles up on job platforms like Upwork, Fiverr etc.
These are the basic 7 steps to land your first blog writing jobs and clients to provide with web content. As most blog content aims to improve ranks of websites and provide readers with additional useful information about the business, products, and services, you should acquire some SEO skills also to improve your own blog's performance.
At ClickDo and SeekaHost we are always looking for bloggers who can create high-quality and SEO friendly content.
So, if you are looking for blog writing jobs to work from home in India, you can fill out the form below and apply for writing for us to get paid.