How to Promote A Webinar For More Signups and Showups?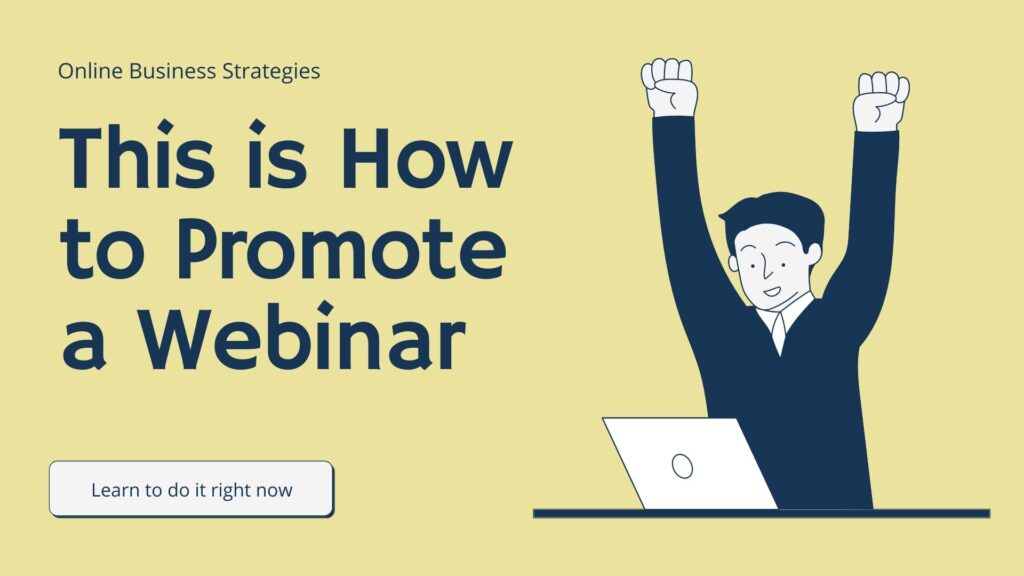 The world is moving online and if you are looking for how to promote your webinar for more signups, this is how to do it.
Why host Webinars?
People shop online, do business online, and even meet other people online. And in the long-running list of things that we are now doing online, we have the good old seminars, albeit with a new name, webinars.
A contraction for the words 'Web' and 'Seminar', a 'Webinar' is a powerful B2B marketing tool that can help you generate leads, make conversions, and earn high returns on investment.
For one, hosting a webinar doesn't cost much. You just need a laptop/PC, a webcam, and a microphone — things you probably already have. If you are aiming at something fancy and hoping for a lot of people to attend, then a webinar hosting platform would also be needed. The monthly subscription to such a platform is the only investment you'll have to make.
And you can earn many times more than you invest. Like Scott Britton made $11,286 (That's around £8406) from a single seminar.  The webinar was for his online course, Udemy Fast Track and with as little as 40 attendees converting, he could get a prolific ROI.
However, before you get too excited about making money off of a webinar, here's a quick reality check:
Webinar data from web 
84% of people say that they would like to attend only 1 webinar per week.
With more and more people hosting webinars, it gets tough to convince people to sign up for your event at the expense of someone else's.
Only 40 to 45% of those who register for a webinar actually attend it.
So you don't just have to get people to sign up for the webinar but also get them to show up.
Only 20 to 40% of webinar attendees turn into qualified leads.
Even if you have a sizable volume of registrations for your webinar, actual leads will only be a small percentage of the number.
And to top, it all, 67% of marketers in 2020, went on record to say they were increasing their investment in webinars. So, now you also have a higher competition to beat.
What you need here is a foolproof strategy to promote your webinar for more signups, better showups, and higher success rates.
And having hosted quite a few successful webinars myself, I do know a thing or two about doing just that.
So here are 6 strategies that I can see have worked for many people to promote webinars and get both signups and showups. There are many who has done webinars and there are data online that I gather for this.
6 strategies to promote a Webinar
1. Let data guide you
Q: What day of the week should your schedule your seminar?
A: Data suggests higher attendance in seminars held on Wednesday and Thursday.
Q: What time should your webinar be?
A: According to study data 10 to 11 am is the best time.
Q: How long should your webinar be?
A: If we believe the data, 30 to 40 minutes is the ideal time frame for a webinar.
You get the hint, right?
Every decision related to your webinar should be data-backed. However, don't forget to factor in industry-specific considerations.
2. Have actually useful webinar content
What does your audience want to listen about? That's exactly what your webinar should talk about. Content is the king, in webinars too.
Find out what topics interest your target audience the most. Then rope in speakers who are experts and popular in the field.
When people will see that your webinar helps them solve a problem, learn about something they are interested in, or gives them access to information that would benefit them, they are more likely to signup and then actually attend the digital event.
Pro tip: How-to guides and walkthroughs that teach people how to do something are the most popular type of webinars.
3. Use promotional emails to your best advantage
Emails have time and again proved to be the best mode of B2B communication. And using the right email sequence can make sure people register for your webinar and also attend it.
Start by sending emails to your subscriber list with details about what the webinar has to offer them. Because your subscribers are already family with your brand and business, they are likely to be more open to what you have to say.
Pro tip: A countdown timer in the email creates a sense of urgency and gives an impression that people will be miss out on something if they don't sign up.
Once people register for the webinar, send them a couple of reminder emails. But don't overdo it (you don't want to pester people!).
A reminder email 24 hours before the event and one on the day of the event would be enough. Clearly mention the date, time, and process for joining the webinar in these emails.
4. Know what to advertise about your webinar
Your webinar will be uploaded to your YouTube channels later? Great. That way you can ensure that the content keeps bring you traffic, leads, and brand awareness.
But if you advertise that at the beginning itself, people would rather watch the video later than attend a webinar. That's not what you want.
Be cautious about what you advertise about your webinar.
Things you should advertise:
Names of the guests and speakers who will be present.
Any freebies that the attendees would be getting (ebook, white paper, etc)
What will the attendees gain (in terms of information)
Option for attendees to ask questions (either by submitting the questions beforehand or through the Q&A section during the webinar)
Things you shouldn't advertise:
The fact that the webinar will be available for viewing later too.
You'll be sending the seminar slides to the attendees via email after the event (It will increase the signups, but negatively affect the showups).
The webinar will be streamed live (Streaming live webinars should be avoided as it reduces the signup rate and you won't be able to get to know who all attended).
5. Don't forget social media
The efforts you took to build a brand for yourself online would pay off while promoting your webinar. [if you need brand building advice, I have a quick guide available right here]
While email is the most popular channel for promoting a webinar, social media isn't any less effective. Creating a social buzz around an event has a psychological effect on people.
Picture this: You see an event on Facebook. Over a thousand people have marked that they are going to attend the event. You are bound to get inquisitive, right? You might also signup and attend it just because you see some other people in your friend circle are going.
The same thing works for webinars too. If people see that their competitors or contemporaries are attending a webinar, they are more likely to signup too.
You can also use online press release services to promote your webinar. You can learn more about getting online PR services here.
6. Create a great landing page
When promoting a webinar, no matter what platform (email, social media, or even paid media) you use, you need to have a great landing page.
All your promotions should direct people to one sign-up landing page. This page should follow page design best practices, like:
Clearly understandable information displayed in easy-to-consume content formats.
Complete details without creating any confusion.
One single and prominent Call-To-Action. (In case of your webinar landing page, this should be the signup button)
The incentive to attend the seminar should be clearly displayed (Will the attendees get an exclusive ebook or white paper? Will they get to talk to an industry expert? Will they learn something new or get information that isn't accessible elsewhere?)
Bonus Tip: Your blog is also a great way to promote your webinar. People who are regular readers of your blog already like your content and they are more likely to want more of your content in the form of a webinar. However, you'd want to avoid the five common and costly blogging mistakes to get the required results.
I believe this helped and gave some tips on how to promote your webinar for more signups!
Start planning for and promoting your webinar today
With that, you have all the basic information you needed. Go start planning and promoting your webinar today.
And if you have any more queries, don't shy away from posting your question in the comments section.
==================================