6 ways to use expired domains for SEO advantages in 2022 & Beyond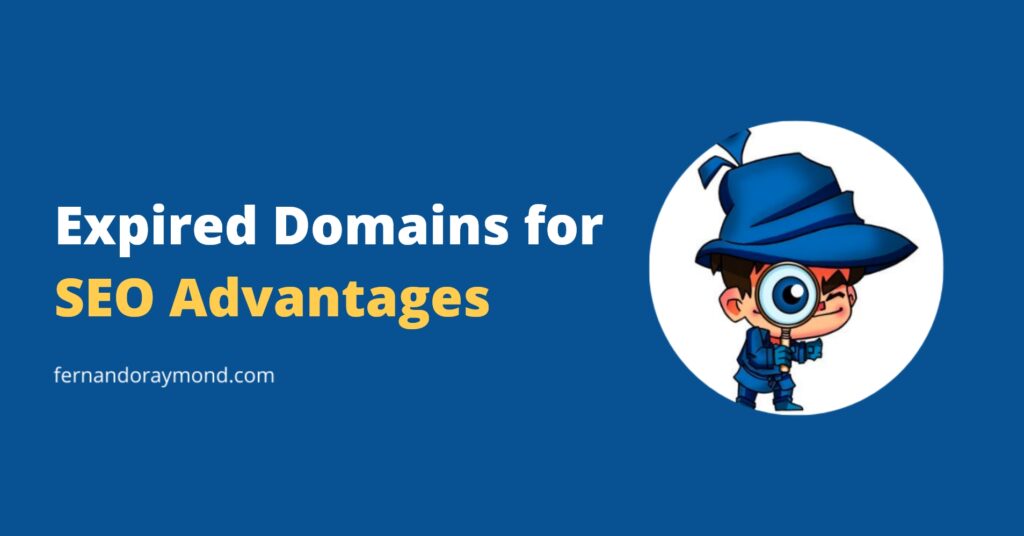 The internet contains 153,210 expired domains as of 09 Jun 2022 according to DomCop site. 
Why should you care? Expired domains help improve the backlink profile of a website. Thus, buying expired domains for SEO is essential for performing better on search engines.    
However, if you don't use expired domains in a strategic way, the trick can backfire. Therefore, how to make sure you're doing it right? This article will help you with the same.
In this article, we will discuss 6 ways to use expired domains for SEO advantages. 
6 ways to use expired domains for SEO advantages
1. Direct traffic to your website via 301 redirects
301 redirect is a piece of code that tells search engines and web browsers that a web page has been permanently moved to a new location. Thus, the search engines consider the latest webpage as the updated location for the previous webpage. Therefore, the new webpage will receive all the traffic and link value.  
After you redirect a web page, update all backlinks you have on other sites so the backlinks directly point to the new webpage. The process makes sure the new webpage receives all the link values. 
Here's how 301 redirects help in SEO:
301 redirects pass on 90% link equity from the redirected page. 

Whenever a search engine spider comes across a 301 redirect while crawling your website, the redirect indicates the search engine spider to replace the old URL in the search engine index with the new one. The process makes sure the users never see a 404 Not Found page upon their search request.

301 redirects keep the PageRank of the old page intact. If you don't know, PageRank is one of the ranking signals Google use to determine where to put a webpage in search results.
2. Backlink content to your website
The higher number of backlinks a webpage has from authority webpages, the higher the page will rank in search results. If you don't know, authority web pages are where users receive the most accurate and latest information on the topic.
An expired domain with a high number of backlinks from trustworthy websites can offer you the above-mentioned benefit. Furthermore, here's why you should buy expired domains with high-quality backlinks:
An expired domain with a proven ability to rank high in the Google index in the past ranks better on search results. The reason behind the phenomenon is Google considers domain age as one of the factors in search engine rankings. Try to find an expired domain with a high domain age (over one-year-old) relevant to your business.

Expired domain names offer a significant number of web traffic. Thus, if you

buy an expired domain with traffic

and a target audience similar to yours, you won't have to spend months and years building up your website traffic from scratch.

 

If you're building a new domain from scratch, you must request similar businesses for guest posting, ask registries to add your domain to their sites or build credibility and reputation so relevant sites choose to reference yours.
3. Develop a microsite
A microsite is a cluster of relevant web pages that work independently with a principal site. 
A microsite acts as a filter to direct only the most interested and qualified traffic to the main site, quite similar to that of a landing page. Furthermore, a microsite helps the principal site to rank higher in SERP results as well.    
Microsites are most beneficial if you want to:
Promote an event

Promote a new product line

Offer information about niche topics in your ad campaigns

Offer users an interactive experience

Appeal to a specific subset of your audience 
4. Build Broken links
Broken link building is a white hat method of gaining backlinks. Here's how the process works:
Find broken pages with backlinks. You can use third-party SEO tools to find the same. Furthermore, you can use third-party backlink checkers to check the number of links each broken page has. Check for broken links on resource pages, competitor websites, and on your competitor's broken pages with backlinks.

Check the quality of the link. Choose links with over 20 domain traffic and 5+ domain ratings. Furthermore, never opt for subdomains such as from platforms like Blogspot. 

Develop a replacement page.

Reach out to webmasters who have linked to the page and request them to replace the broken link with your new one. Make sure to personalise each email to have better results.   
5. Build Private Blog Networks (PBNs)
A Private Blog Network (PBN) defines a network of websites set up to build links to other websites. The process helps those other websites to rank better in search results.
You can buy expired domains and set the same up as online blogs to achieve the same. However, making a spammy site on a low-authority domain won't do the trick. Instead, follow the below-mentioned ways:
Choose an expired domain with a high number of backlinks from authority websites.

Set up the blog with custom logos, a well-defined about us section, and separate social media channels. The process will make sure visitors find the blog as an independent and trusted source, not a blog set up to build links for your primary website.

Publish at least 10 well-written articles of over 600 words each. Furthermore, add images and share information that'll attract the reader's attention. Google bots and crawlers reward the process. 
However, you'll need to spend both time and effort to get success in the PBN backlink building strategy.
6. Recover old sites
You had a website which you abandoned. Perhaps you didn't have the time or the skillset to manage the site in the past. The domain expired but is still available for anyone willing to buy it. You want to be that person as you know the site offers great content. 
Here's how you can recover an old site with expired domains:
Analyse the dead site content. You can use Google's cache to achieve the same. Go to Google and type cache:

www.websiteurl.com

and let Google do the rest. However, you won't find a cached copy if the website disallowed search crawling.

Set up a Content Management System (CMS) of your choice. Buy the hosting as well because only buying the domain can cause issues in uploading the past content you archived. 

Perform a content audit. Delete or update low-quality content. Check if any piece of content is plagiarised or contains broken links. Furthermore, remove pieces of content with outdated events, and incorrect, or discriminatory information.      

If you want to link the recovered site to your primary website, opt for in-context opportunities from one piece of content to another instead of a homepage or a landing page. 
Expired domains for SEO advantages — boost your website on the SERP results 
Expired domains help in building backlinks and thereby improve SEO. Thus, using expired domains for SEO advantages is essential. 
However, when you choose an expired blog domain, check:
Domain metrics

Domain history

Niche relevance

Referring domains 
to pick the top expired domain.  
Below are some sources you can read for further knowledge about using expired domains for SEO advantages.