Learn How to build a Blog Network: Private and or Public Blogs for PBN & Money Site SEO Advantages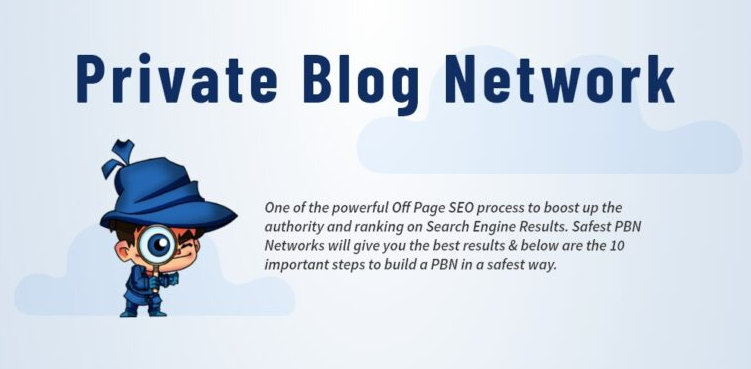 I have written a detailed guide on how to create a private blog network and you can read it at SeekaHost.
In this guide, I will tell you how to build a blog network that you can use for PBN SEO and earn money through the guest posting services business model. **You must learn how to do this, so your blogs become virtual passive income generators for you for years to come.
I have built hundreds of blogs since 2014 and after 6 years now in 2020, each blog is still well hosted by SeekaHost, running smoothly, generating money daily.
The private blogs are not just great for SEO support, but you can earn money from publishing guest posts from people who are looking for PBN backlinks. You will learn about it in more depth later in this guide and I have added links to the resources.
Before going further, I must say that building a PBN is just as simple as creating a WordPress blog. And you just have to know what domains to use and how to pick the right unique multiple Class IP hosting.
The world's best blog hosting control panel makes it all easier to build blogs and get online in less than 60 seconds.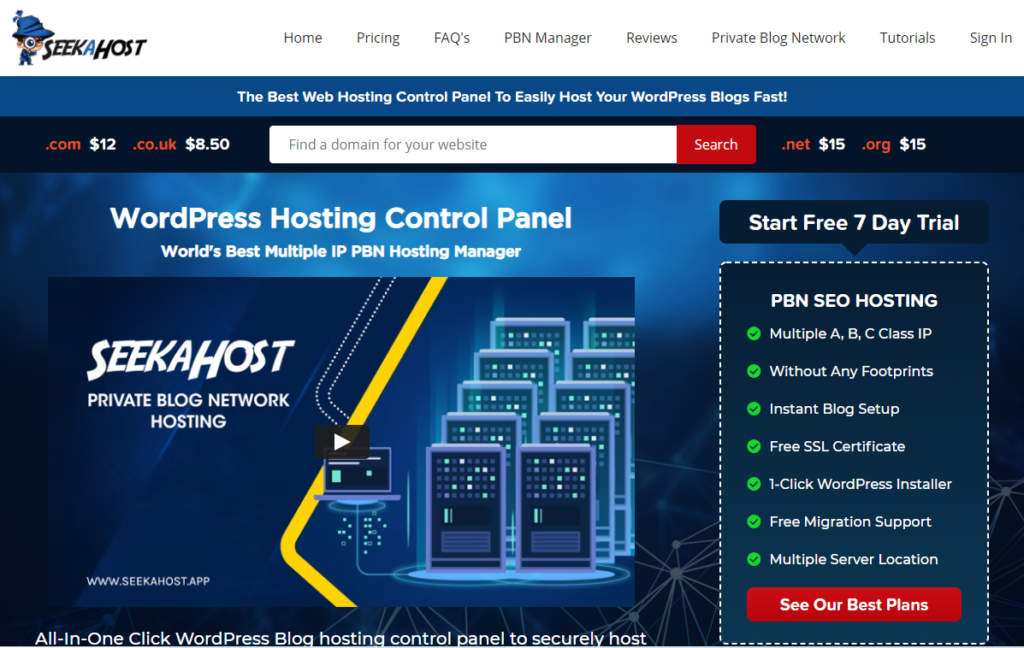 I have built hundreds of blogs on WordPress over the years and that is what led to offer the best WordPress Blog Hosting services at SeekaHost.org for bloggers and PBN SEO services providers who need C Class, A and B IP hosting.
**You can build a private blog network or a public blog network and that's what you will learn by reading this detailed guide.
What is a Blog Network?
A blog network is a set of blogs owned by one or multiple people which are mostly related to one niche within group of niches that bloggers publish articles for.
A blog network is a public network of blogs and they can be on the same IP address on the same server.
The person/s who creates a blog network would not worry about using unique IP addresses and multiple location-based servers when hosting the blog.
Blogs on a blog network can be built on WordPress, HTML, Medium, Blogger or any blog hosting platform.
Read about which hosting is best for WordPress Blogs.
If you are looking to create a blog network, just go ahead and create the blogs using WordPress blog hosting to make them self-hosted WordPress Blogs.
Hundreds of my blogs are built on WordPress and you can see some below.
What is a Private Blog Network?
You can read more about what a private blog network is here. So, you know about it in detail and how it is commonly used in the SEO community for PBN SEO activities.
To create a private blog network, you must use unique IP addresses for each blog to showcase the uniqueness and ownership to avoid any issues with PBN SEO.
Using unique multiple IP address hosting helps to keep each blog on your private blog network loading up from a unique IP address. This is good to diversify your backlink profile to give Google bots signals to pick links from each blog and pass on the SEO power to linking websites which you intend to rank higher on Google.
In general, I have been using Class C IP hosting till 2020 and this year I started to dig deep using A Class IP hosting.
This blog is hosted on A-Class IP hosting and the server is owned by SeekaHost Ltd. where the data centre server is based in Liverpool.
I am still working on rectifying the greater advantages of using A Class IP Hosting, but I could see that it is the best of the Class IP address that a blog can use.
And that is why I have introduced A Class IP Hosting for anyone to buy at SeekaHost.com on this page.
Soon we will have the A-Class IP packages available to buy at SeekaHost.org for WordPress Blog hosting requirements.
You can buy 1 A Class IP or up to 20 IPs.
By now you have got a good idea and understand the difference between public and private blog networks.
Now let us start learning the best way to create your own blog network.
How to Build a Blog Network?
THIS IS EASY AND YOU JUST HAVE TO BUILD BLOGS ON WORDPRESS USING WORDPRESS BLOG HOSTING.
ALL YOU NEED IS POWERFUL EXPIRED DOMAINS TO BUILD YOUR BLOGS TO HELP YOUR SEO.
With that being said, if you were actually looking to build a private blog network, then let's head further.
How to Build a Private Blog Network in 10 steps?
Why do you need a private blog network?
One of the powerful Off-Page SEO processes is to boost the authority and ranking of a blog on Search Engine Results.
And using Blogs Aka PBNs will give you the best results if you build the PBNs in the right way.
Below are the 10 important steps to build a PBN in the safest and most successful way.
Step 1: Find High-Quality Expired Domains

Finding quality expired domains can accelerate the SEO process as there are tons of domain names getting expired each day with already existing content and backlinks that can help with ranking it faster. You should consider the important factors like backlink history, domain niche, domain authority, space score and backlink ratio to pick the best-expired domain for your purposes.
And if you are not sure how to find expired domains, you can check the free expired domains listed at SeekaHost.
Using the best-expired domains is crucial and that's why you must always look at the backlink profile and history of the domain before registering it at SeekaHost.
Also, check the domains auction page at SeekaHost for good expired domains bought and sold by people or see some of our tutorials on the SeekaHost YouTube channel to learn how it is done.
If you require a custom domain search done for you, check the "PBN Domains" page as well and ask us any questions via the live chat support.
Below you can see some good expired domains used to build WordPress blogs for content marketing services at my SEO agency.
All the above domains are registered via SeekaHost.com hosted using the SeekaHost PBN Hosting application and autopilot PBN Manager at seekahost.org.
Step 2: Registering Domains Safely

Register all your domains with trusted registrars. If you have bought the domain name in any other registrar auction, it is better you move it to a trusted registrar. That is to make it easy for you to manage and keep it safe.
You can register domain names at SeekaHost where the prices are fixed and you won't encounter any gimmicks like companies that offer the first year free and then markup, trying to charge you more in the second year.
Step 3: Footprint-less Hosting

In general, web hosting providers will give custom nameservers and single IP hosting which leaves footprints when you host multiple PBN Domains on the same package.
There are a lot of hosting packages customized on IP Class as A Class IP Hosting, B Class IP Hosting and C Class IP Hosting.
Using unique Multiple Class C hosting has been a proven method used by thousands of private blog network builders.
Tens of thousands of blogs are built using the Class C IP hosting at SeekaHost. And you can build Class C Hosting for very little at SeekaHost.org for your private blogs.
If you have more questions about private blog hosting, send me an email and I will respond to you or arrange a call back by one of our PBN hosting experts at SeekaHost.
Step 4: Safest PBN Hosting Package

A Class IP Hosting is the safest package as you will get different A Class IP addresses for each domain.
If you can get multi-location A Class IP Hosting from SeekaHost then that is much better and safer.
You can also get B Class and C Class IP Hosting which is also safe but for premium blogs, it is recommended to go with A or B Class Hosting.
And if you are building a blog like my blog, use A Class IP hosting and it is the best you can get to host your own premium blogs with a long-term plan.
Step 5: CMS for Private Blog Network

WordPress CMS is quite easy to integrate and it will take extraordinarily little time compared to other CMS. Also, you will find a selection of free themes and plugins at your fingertips that help you to easily differentiate your websites and blogs from each other.
An easily manageable CMS is highly recommended for better performance and time saving. You will not have to be a WordPress expert to create blogs that stand out.
So, build your blogs using WordPress Blog hosting to create self-hosted WordPress blog networks.
Step 6: Build a Blog without a Footprint

Footprints do not rely only on hosting. They also depend on the way you create a website or blog and how you structure the content.
Do not use the same plugins and themes which will act as a footprint. Same duplicate content also should be strictly avoided as you should show it's all unique.
Many people use copied content or cheap writers who used copied content. And when you publish low quality and duplicate content your blog will get penalized by Google, which affects ranks and domain authority amongst other factors.
So, make sure you use professionally written and SEO-friendly content and ideally publish your few first articles before you submit the blog to web master tools to get indexed by Google.
By building the blogs well you can apply for Google news approval and that is where you get the best advantages for content marketing and PBN SEO.
See some of the Google news approved Blogs
Step 7: Show it's Natural

Treat the private blogs in your network just as you treat all your other blogs and don't just use them for links. Build them properly and show the trust to Google, so that the power of your blog network increases and finally helps your money site. The more you showcase natural or relevant content, the more power you get from that.
Saw the above-mentioned blogs?
That is how your private blogs should be built so you can publicly present them to anyone on the web. They should look attractive and invite your readers to find more information to keep them hooked longer.
Step 8: Structure & Indexing
You should carefully plan the blog page structure to link to the money sites to gain the full benefits of your network.
The structuring of the menu and the pages added, the URL slugs and indexing of the blogs are more important when building a Private Blog Network.
Do things in a structured format and do not show it as an artificial linking process.
Step 9: Regular Updates

Regular updates should be done on PBN networks to show Google that the domain is active and natural.
Just stuffing random content every now and then may spoil the domain trust. Also, you can block the bots used by competitors to check the status of the domain.
Step 10: Track on Spam Score and Backlinks

You should track the spam score and backlinks of the private blog network as it indirectly affects the link that powers your money site.
Proper monitoring and maintenance help with increasing the trust and authority of blogs to make them more powerful.
Keep working on your blogs, publish good content, check any backlinks to see if they are lost, broken or any new ones have been gained and scale the blog network.
PBNs that don't block SEO crawlers can be found with regular backlink checkers like Ahrefs, Moz or Majestic, but this requires manual searching.
Finding backlinks originating from PBNs isn't as easy as finding ordinary backlinks because SEOs usually block crawlers of backlink monitoring services on their PBN sites. The most popular ways to achieve this are simple .htaccess rules and other server-side mechanisms which effectively hide PBN sites from other SEOs.
To easily and reliably find hidden PBN backlinks, you can use hidden backlink checker tools like Linxact, which specifically crawl hidden PBN backlinks.
It's not an easy task to build a Private or Public Blog Network and it takes dedication, but if you follow the steps listed here with all your blogs then you should soon see some results on Google for them.
As you go along you will learn more blogging skills, and these will help you with your future online ventures.

Got any question still about how to build a blog network to use privately or publically? – Email me or join the PBN Demystified Facebook group.
You can get your easy blog network hosting solution at www.seekahost.app where you can register expired domains, host with multiple IP address hosting plans and all the tips at the knowledgebase full of information.