How to Start a Business in Sri Lanka: 7 Steps to Starting a Company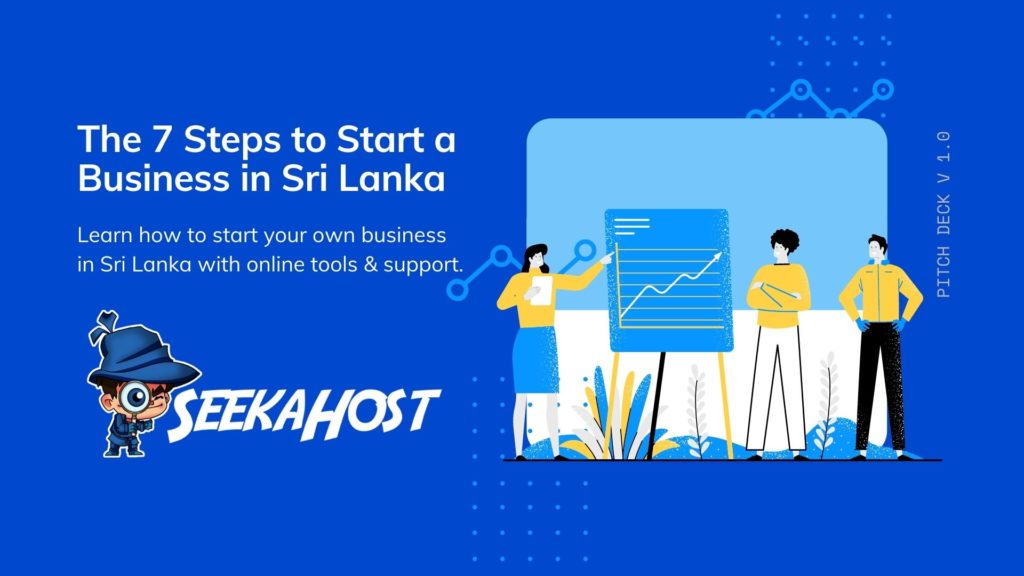 Why start a business in Sri Lanka?
The Sri Lankan economy is transitioning.  
From a rural farm-based economy it is moving to manufacturing and service-based economy. 
On the basis of social indicators too, Sri Lanka fares the highest amongst its economic peers. And almost at par with middle-income countries.
And when all this is happening, now, is the right time to materialize your ideas and start a business. 
Even the government is taking steps under the Vision 2025 plan. They aim to promote good governance, which in turn, results in all-inclusive growth.
The iron is hot and you think you are ready to strike the hammer. 
But, wait a minute.  
Before you take on your hammer (and most probably break something!), think again.
Are you all set to make use of the opportunity? Do you really know how to set up a company in Sri Lanka? The business environment in Sri Lanka is favourable. But, not without volatility. 
There are many jobs created in Sri Lanka and everyday people look for the best jobs online that they can do from home. Can you build a company that offers work from home jobs and help them earn money online?
I have done it by starting several companies and in this guide, I will share the steps to get started.
To help you set sail, and reach the shore of success, here are 7 simple steps. 
These 7 are the steps to successfully starting a company. And the roadmap for turning dreams into reality.
The Steps to starting a business
Step 1: Idea Generation and Validation

For the first part of this step, you are all alone. Nobody, literally nobody, can help you. There could be a thousand business ideas right in front of your eyes. And you might not see even one of them. And you might get an idea while doing the most mundane of tasks. 
I cannot give you a business idea. But here is a trick that you can try:
Think of a problem. Something common. Anyone and everyone could face it. Anytime.
Think about a solution to that problem. Boom! That's a business idea!
Once you have a solution and business idea in mind, validate it. 
Do people really need the solution you are offering? Even if they need it are they willing to pay for it? Will you be able to convince them to pay for it?
Try out the idea. Brainstorm with people. Be open to criticism and differences of opinions. Listen to, observe, and understand the people who will be your target market. 
Find suppliers. Look for the right set of employees. Arrange infrastructure (if your business needs it).
Get a fail-proof business plan ready.
Once you get affirmative results, proceed to the next step.  
Else, quit gracefully, and you'll save yourself plenty of grief. 
Step 2: Planning your business registration

Okay, so this is completely optional. 
As optional as it is to add sugar to a sweet dish. 
Well, maybe that's an analogy taken too far. But, you get the gist, right?
Registering your business not just gives authenticity, but several other benefits too.
With business registration, you get:
The ability to open a business bank account. And avail several banking facilities available to businesses. 
The ability to bid for tenders. And list or register yourself as a supplier of goods or the provider of services. 
The ability to market yourself with a professional outlook. 
The ability to limit your personal liability.
The ability to preserve the unique name of your business. Your brand name is a major aspect of your marketing strategy and presence.
Now, this brings us to our next step
Step 3: Name Approval

Your business's name is extremely important. Once you have a unique and suitable name for your business, you can visit the website of the Department of the Registrar of Companies and get the approval process started. 
Charges involved: With the registration, a fee of LKR 2,000 + 15% VAT also has to be paid only. 
Time required: This process of the registration of the name and approval for the same takes no more than a day and is valid for 3 months. 
Step 4: Signing Consent and Filling the Relevant Forms

Article 221(1) of the Companies Act No. 7 of 2007 mandates that every company needs to have a director and a secretary. 
The Director and the Company Secretary should be designated before incorporation as they need to sign Form 18 and 19 respectively.
You can get the forms online at www.drc.gov.lk. 
Along with Form 18  (Consent of Director) and Form 19 (Consent of Company Secretary), Form 1 (Registration of the Company) needs to be filled.
Step 5:  Articles of Association and Submission of Forms

Besides Form 1, 18, and 19, you are required to submit an Articles of Association to the Registrar of Companies.
You can simply adopt the standard Articles of Association listed in Table A of the Companies Act of Sri Lanka. Or get your own text drafted. If you draft new Articles of Association, you would have to pay higher professional charges.
You need to scan all the original documents and upload them through the e-ROC website. The payments are also made online.
Charges involved: This process involves the following charges:
Form 1 – LKR 4000 +15% VAT
Form 18 – LKR 2000 + 15% VAT
Form 19 – LKR 2000 + 15% VAT
Article of Association – LKR 2000 + 15% VAT
Time Required: The entire process takes up to 2 days for completion. 
You will be provided the registration number by email and SMS. Once the process of incorporation is complete, you will have to collect the Certificate of Incorporation from ROC.
Step 6: Public notice of incorporation

The Section 9 of Sri Lanka's Companies Act No. 7 of 2007 and Section 3(a) of the Gazette Notice No. 1566/32 dated 12/09.2008 require that a public notice be issued within 20 working days from the date of incorporation.
The notice should include the full name of the company, date of incorporation, registration number, and registered address. It needs to be published in the Government Gazette along with any daily newspaper in English, Sinhala, and Tamil.
You then need to file the proof of publication with the ROC. The Government printer issues a receipt that acts as valid proof.
Charges Involved: The cost of publication in the newspaper varies depending on the size. For publication in the Government Gazette, there is a charge of LKR 7000.
Time Required: The newspaper publishings appear within 3 to 4 days. The publication in the Gazette takes 2 weeks.
While the incorporation process is underway, there are some other legal formalities also that you should fulfill:
Registering for VAT with the VAT Registration Branch of the Inland Revenue Department
Step 7: Domain Name, Website design, Advertising, and Marketing 

Once your company has been incorporated on paper, you need to start the operations. To begin with, you need phone and electricity registrations, a website, and an effective advertising and marketing strategy
For the phone registrations, you have an option to choose from 3 fixed-line phone operators and 5 mobile service operators. 
You can get a website developed at an affordable cost. How much you spend on website design and development depends on your requirements and investment capacity. 
For a global online presence, a website is a must. 
However, while making a marketing plan and allocating the advertisement budget, you cannot ignore mass media solutions like TV/radio commercials and print media ads. 
There are 15 TV and radio channels and around 50 newspapers and magazines in Sri Lanka that you can choose from. 
Grow your business online
Once you have completed these steps, you can be on your way to make money through your company in Sri Lanka. 
To make things one notch simpler for you, here are some Do's and Don't that you can follow while doing business in Sri Lanka.
Do's
Find reliable business professionals to work with. Your team is your core strength. 

Follow the formal business culture. Keep your handshakes firm and business cards ready to be handed out.

Build close ties with your suppliers, associates, and other parties. 

Read between the lines. Business communications may not always be direct. Patience, persistence, and partnerships are the cornerstones to building your business in Sri Lanka
Don'ts
Hasty decisions. Before you take any step, make sure you have understood the situation and its implications well. Whether it be your feasibility study or an investment decision, think, understand, and then react.

Ignoring Local Sentiments. Culture and local sentiments play a pivotal role in the success of any business. Ignoring how the local customer base feels about your business will be a grave mistake and will prove to be detrimental for your business.
No matter what kind of business you plan on establishing, the legal formalities and the processes of due diligence are a must. Depending on your specific business model, you could also start an online business in Sri Lanka
Online businesses are easy to operate and handle, can be started right from your home, and yield great returns. Of course, you will still need a dependable idea, proper research, and complete registrations to start earning money.
There is no right time to take the big leap. Either it is now or never. And now that you know how you can register a company and start a business in Sri Lanka, you better get up and start moving towards your goals.
Sources: